ARM Holdings (NASDAQ:ARMH) has had enormous success designing chips for mobile applications and more recently for the Internet of Things ("IoT"). ARM has an innovative business model - it develops technology, licenses it for a fee and gets a royalty on each chip sold using its intellectual property.

Source: ARM Holdings
ARM's revenues thus comprise license fees and a stream of royalties. The license fees are periodic, but the royalty stream persists for many years.
As the mobile communications market exploded, ARM grew smartly in lock-step. Virtually all mobile devices not powered by Intel processors contain ARM chips and substantially all industry players pay license fees to ARM. ARM's growth paralleled the growth of key OEM's like Apple (NASDAQ:AAPL) and Samsung and the many OEM's using Android OS in their devices. Microsoft's Surface RT uses an ARM based processor from Nvidia (NASDAQ:NVDA). Fabless semiconductor companies like fast growing Mediatek; Allwinner; and, Taiwan Semiconductor (NYSE:TSM) all produce chips based on ARM designs.
Mobile markets are growing. The IoT is advancing rapidly. ARM is moving into Microcontrollers. Many would say the outlook could not be better. And I agree with that, it can't. But it could be a lot worse.
ARM is facing three headwinds that will slow its growth materially and could even reverse it somewhat.
Mobile markets are reaching maturity. Growth in units is somewhat offset by lower ASP's. While ARM believes it will see earnings growth of 15% to 25% in mobile those forecasts are at risk of much slower growth and faster declines in ASP'S. The introduction by Mozilla of a Firefox OS smartphone with a $25 price is an example of the rapidly changing smartphone space and the likelihood that the devices will become commodities.
Intel (NASDAQ:INTC) is making a serious attempt to penetrate mobile. ARM has a 90% to 95% share of mobile according to its own estimates. Success by Intel in taking any material amount of market share from ARM will do damage to its growth rates and profitability.
Intel is also making a determined attempt to develop IoT applications for its Quark processors. The Quark is a Pentium class processor in a form factor about the size of a baby fingernail. It represents serious competition to ARM processors.
Mobile markets reaching maturity
ARM estimates that its addressable market for mobile in 2013 comprised 2.3 billion devices and that it enjoyed a 90% share in smartphones; a 95% share in feature and voice phones; and, a 50% share in mobile computing devices including tablets, net books and laptops.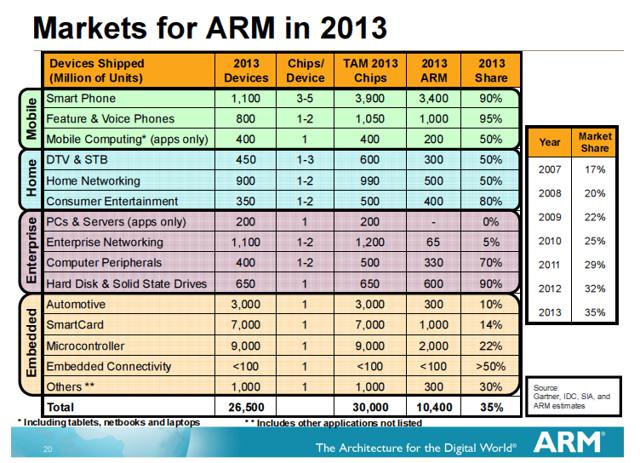 Processor licenses and royalties for those 2.3 billion devices provided $878 of ARM's 2013 revenues or about 79% of its total sales in 2013. ARM estimates its total addressable chip market for mobile in 2013 was 5.4 billion units and that is share of those units was 4.7 billion or in round number an 88% share. The $878 million in revenues amounted to about $0.19 per chip.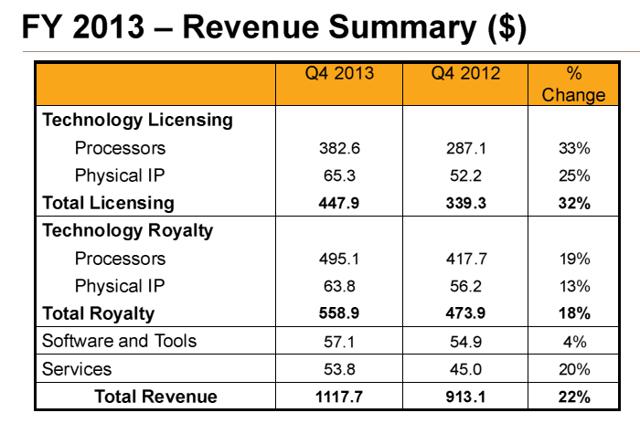 Source: ARM Holdings
ARM sees the 2018 addressable market totaling 7.8 billion chips with its key growth areas forecast to show growth rates of 3% to 15%. With declining ASP's somewhat offset by more cores in each chip, I believe ARM could realistically garner $0.18 per chip in 2018 (that $0.18 per chip comprises both royalties and license fees amortized over all chips, for convenience). If ARM held its share at 88%, its 2018 revenues from mobile would rise to $1.24 billion. As I will argue later, that market share is vulnerable.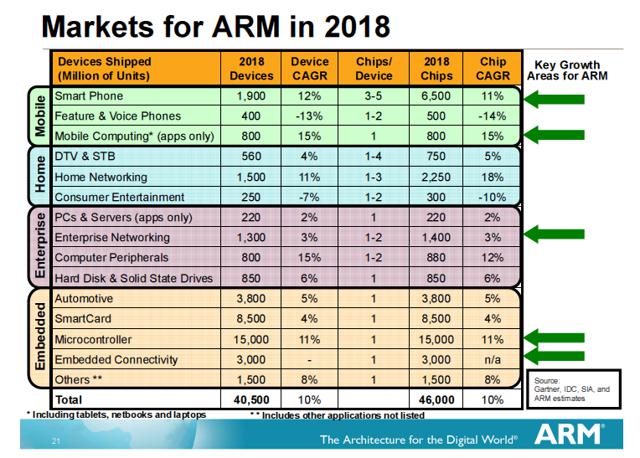 Source: ARM Holdings
Intel Mobile Penetration
Intel is targeting having its processors in 40 million tablets in 2014, which will make up about 10% of the market. In my opinion, Intel will keep taking share and by 2018 I believe will have at least 40% of the tablet market. Many will disagree, but Intel's history of capturing major market share in target markets its extraordinary, and I am confident it will demonstrate industry leading applications' processors and competitive modems long before 2018.
Intel is also advancing its integrated SoC for smartphones and while it has had very little success to date, I am of the view that it will gain at least 20% of the smartphone market by 2018.
If Intel is successful in those efforts, the impact on ARM will be to reduce its chip volumes in 2018 by 1.1 billion units, taking $198 million out of ARM 2018 revenues from mobile. Every 10% of the smartphone market taken by Intel will reduce ARM revenues by a bit more than $100 million; and, every 10% of the tablet market taken by Intel will reduce ARM revenues by about $7 million, by my arithmetic.
Internet of Things
ARM sees chips for the IoT totaling a 35 billion unit market in 2018, about 7 times what it is today. Chips for the IoT are likely to be $5.00 items in my view and royalties on ARM technology in the IoT should be about $0.10 per chip. If ARM and Intel split this market, total revenues for ARM of $175 million are possible.
ARM is also targeting Enterprise applications such as personal computers, servers, networking and hard drives. I think ARM will have very limited success in personal computers and servers, where the Intel capabilities are formidable and where Intel will defend its turf. ARM could enjoy more success in disk drives and peripherals but these are not fast growing markets; are crowded today; and, in my opinion will not be major sources of sales or profits for ARM.
Conclusion
With its simple but effective business model, there is very little risk that ARM will fail to grow both in terms of sales and profits. It serves growing markets where its intellectual property is highly valued.
ARM's own forecasts show its served markets growing from $40 billion today to $60 billion by 2018. ARM revenues in 2013 were 2.8% of the $40 billion revenues earned by its customers in its addressable market.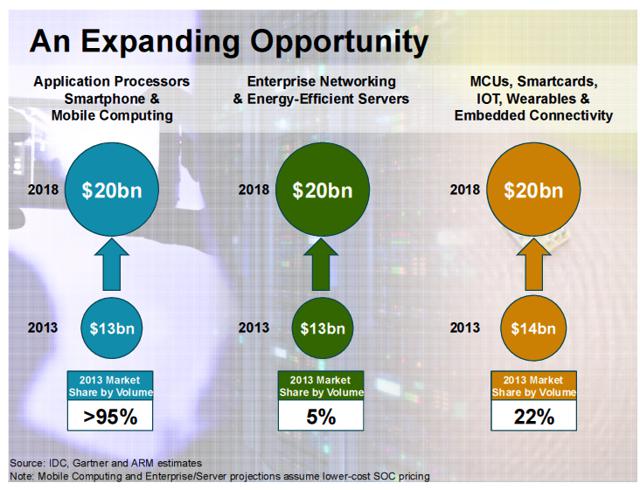 With declining ASP's and some market share losses to Intel, I think that will fall to more like 2.5% of the $60 billion it sees for 2018, or $1.5 billion in ARM revenues. Profits should follow the same pattern.
Most analysts are more bullish than I am. For those bullish calls to work out, either the market in 2018 has to be larger than ARM thinks, or ARM's revenues as percentage of its customers' revenues will have to increase. Maturing markets and declining ASP's put pressure on everyone's earnings and draw closer attention to costs. An investment made on the bet that customers receiving less for their products will pay ARM more for the privilege of using its IP is not one that passes my test of common sensibility.
If I am right, ARM's growth will not be enough to support a market value of about $23 billion today. At well over 100 times trailing earnings and over 30 times forward estimates, the stock appears overvalued. As I see it, the current $49 stock price should fall to the low $30's over the next few years. I am short the name.
Disclosure: I am short ARMH. I wrote this article myself, and it expresses my own opinions. I am not receiving compensation for it (other than from Seeking Alpha). I have no business relationship with any company whose stock is mentioned in this article. Apple is mentioned in the article and I am short Apple stock.