Although there are not as many deals, nor anywhere near the value of past deals, we do have a decent sized merger today in the pharmaceuticals sector. This should be good news for the biotechs that are trading at reasonable valuations, and there are quite a few, but we doubt that any deal under $10 billion can cause this market to stop its decline on a dime and reverse higher. Instead investors should look to this as further evidence that there are valuable franchises out there trading at attractive valuations and use what appears to be a correction right now to start nibbling.
Friday saw the tech heavy Nasdaq get crushed, with a large decline that outpaced the other indices by a wide margin. The momentum names are running into headwinds right now and it appears that earnings season might be exactly what we needed. Unfortunately for investors there is a bit of lag time between now and when many of these names report, so the pain will probably not just suddenly end unless the Fed Minutes show a more dovish stance or economic data shows a large improvement.
Chart of the Day:
When the 4,200 level did not hold again on Friday we knew the tech stocks were in for some trouble. For guidance on the Nasdaq (NASDAQ:QQQ), one needs to look towards the momentum internet names and biotechs. The movements in those two segments of the index will pave the way for the general index.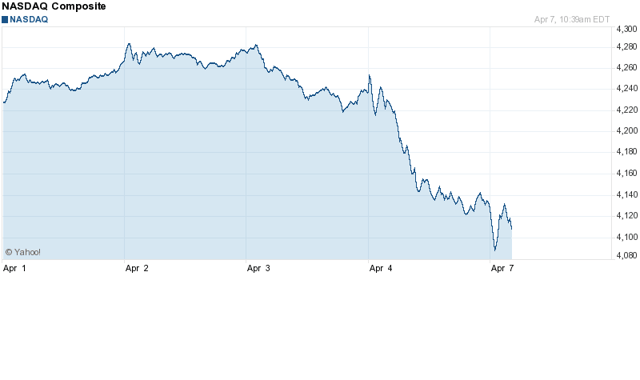 Source: Yahoo Finance
We have economic news today, and it is as follows:
Consumer Credit (3:00 p.m. EST): Est: $14.3 B
Asian markets finished mostly lower today:
All Ordinaries -- down 0.17%
Shanghai Composite -- up 0.74%
Nikkei 225 -- down 1.69%
NZSE 50 -- down 0.94%
Seoul Composite -- up 0.08%
In Europe, markets are trading lower this morning:
CAC 40 -- down 0.66%
DAX -- down 1.51%
FTSE 100 -- down 0.78%
OSE -- down 0.67%
Merger Monday Again
Mallinckrodt (NYSE:MNK) has entered into a deal to buy Questcor Pharmaceuticals (QCOR) for $5.6 billion in order to bring their multiple sclerosis drug Acthar Gel into the fold. Both stocks were up early on the news that Mallinckrodt would be paying a roughly 27% premium over Friday's closing price for Questcor. Since the open Mallinckrodt has seen gains dissipating, but overall this does look like another good acquisition as the company looks to gain exposure to the specialty drug/treatment segment. Readers might remember the acquisition that Mallinckrodt announced in February, a $1.3 billion purchase that also added to its portfolio in this fast growing segment.
The deal will be funded with cash on hand and debt financing. Mallinckrodt believes the Questcor deal will have a near-term positive effect on earnings.
Cancer Drug Results Pushing Agios Higher
Speaking of specialty drugs, Agios Pharmaceuticals' (NASDAQ:AGIO) AG-221, an experimental drug to treat acute myeloid leukemia or AML, showed promise in a Phase I trial that had 7 patients that were evaluated after a 28-day period. Investors are pushing shares sharply higher this morning on the results from the small sample size because three patients went into total remission and two went into remission but their bodies had not returned to normal platelet levels.
As great as these results are, investors need to remember that it was a small sample size and that the drug cannot treat the entire AML patient universe as AG-221 targets specific genes that are only present in 10-15% of those who suffer from AML. We do think that this is a name everyone should put on their watch lists at this time though as the drug does sound quite promising. With the current rise of about 20% in this market we are not chasers.
Retailer Getting Hit Hard
Now that Eddie Lambert's Sears Holdings (NASDAQ:SHLD) has finished spinning off its Lands End (LEDMV) brand the stock is falling hard. Shares are down about 16% on the session as investors assign a new valuation to the company now that a large asset has been carved off. Today's move is not based on new negative market news, just the adjustment to the market capitalization now that a $1 billion+ piece of the retailer has been distributed to shareholders and is no longer on the balance sheet.
It has been a rough ride for Sears shareholders since the real estate play fizzled with the 'Great Recession'. Outside of spinning off assets, we wonder what Lambert's grand plan is.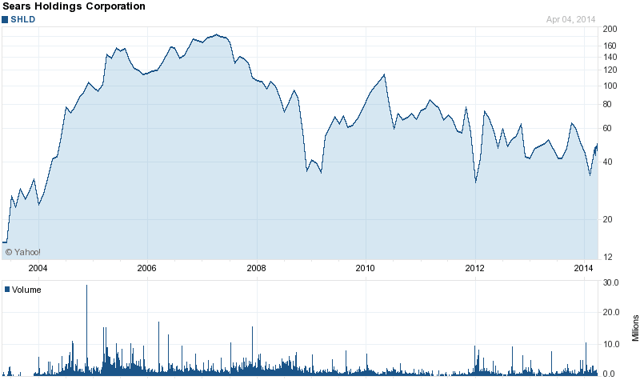 Source: Yahoo Finance
The Wall Street Journal had an article yesterday that called into question what all these deals would ultimately mean for bondholders. Those who own shares in the company have received a number of spin-offs over the last few years that unlocked some value and separated good assets from the bad. What is a win for the equity holders can only be categorized as a loss for the bondholders, per the article, if what is left of Sears Holdings cannot generate enough cash flow in the future to pay the bondholders.
Disclosure: I have no positions in any stocks mentioned, and no plans to initiate any positions within the next 72 hours. I wrote this article myself, and it expresses my own opinions. I am not receiving compensation for it (other than from Seeking Alpha). I have no business relationship with any company whose stock is mentioned in this article.