Share price of AT&T (NYSE:T) has recently rebounded by almost 12% from its 52-week low of $31.74 reached in early March. Based on my cash flow and valuation analysis, while the fundamentals still look healthy, my view is that AT&T is less likely to outperform the sector given that the stock appears to be appropriately valued now and better telecom opportunities can be found elsewhere.
The stock currently offers an attractive 5.2% dividend yield, which is above the yield of 4.4% from Verizon Communications (NYSE:VZ). The company's board of directors recently authorized a new round of 300M shares repurchase with no expiration date. Including the remaining 125M from its previous buyback plan, the total 425M authorized target represents approximately 8% of the company's total shares outstanding. I have performed a cash flow analysis to gauge AT&T's share buyback capacity over the coming 3 years. My conclusion is that while dividend can continue to grow comfortably at historical rate the value of share buyback over the forecast period will be considerably lower than the historical level in 2012 and 2013.
My calculation started with current consensus revenue estimates for 2014 to 2016, which predict the top line to rise from $128.8B in 2013 to $134.7B in 2016, at 3-year CAGR of 1.5%. I noted that AT&T historically was able to maintain operating cash flow to revenue ratio within a tight range between 27% and 31% in the past 5 years. Hence, I assumed a flat 28% operating cash flow margin through 2016. In terms of capital expenditure, I projected the figure to grow by 3.0% per annum through 2016, which is lower that a 5.3% CAGR over the past 5 years (for conservative purpose in the analysis). It is noted that this item excludes cash investment (averaged at $2.2B per annum in the past 5 years) that is for business acquisitions such as spectrum purchase. I then projected annual dividend payment to grow by 2.0% per annum. Based on the assumptions, AT&T would only have cash capacity for an annual share repurchase of around $5B from 2014 to 2016 (see chart below). Hence, at $35.55 per share, the 425M repurchase program will take about 3 years or more to complete.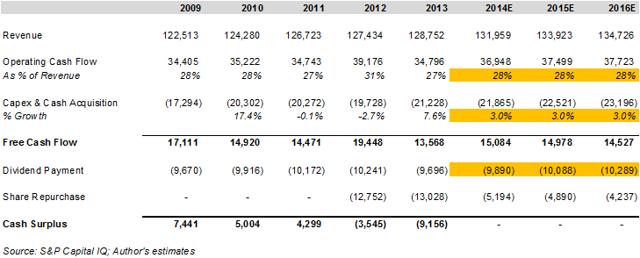 It should be noted that management also announced a target to maintain the firm's net debt to EBITDA ratio in the 1.8x range or lower. Given that the ratio now stands at 1.5x, before breaking the 1.8x threshold, I estimated that the company can incur additional ~$8B debt on top of the current $75.3B by the end of 2016 based on consensus EBITDA estimate of $44.5B in 2016 (assuming no material change in cash balance). Given strong data traffic growth, I expect AT&T to continue purchasing spectrums and the spending level should exceed historical average due to increased market competition. This means that we may see cash acquisition to trend closely to or above the 2013 level over the next few years (see chart below). As such, I believe there is a fair chance that AT&T would incur additional borrowing over my forecast period unless the company can make sufficient divestitures to fund the acquisition costs.

At ~$35, AT&T trades at 12.7x consensus 2015 estimated EPS, which is at 20% discount to the same multiple of S&P 500 Index at 15.9x (see chart below). While this valuation gap appears to be large as the discount averaged at just 11% in the past 12 months and AT&T's 5.2% dividend yield is substantially above S&P 500's at just 1.9%, one should be aware that the company's consensus long-term earnings estimate is just 5.5% now, compared to average estimate of 9.5% for S&P 500 companies.

Further, AT&T's forward P/E multiple now trades in line with Verizon's despite the latter has much better long-term earnings growth potential and higher profitability margin. Based on the above analysis and my recent article on Verizon, at ~12.5x 2015 EPS valuation, I believe Verizon offers a better value given its network advantages, stronger free cash flow outlook, and potential deleveraging story.

In conclusion, I believe AT&T can continue generate steady operating cash flow and drive dividend growth, so current shareholders should hold on to the shares. Given my view that AT&T's share buyback would likely reduce in the coming years and debt level would remain at the current level or even climb up modestly, potential buyers seeking telecom exposure should find better opportunities elsewhere in the sector.
All charts are created by the author, and data used in the article and the charts is sourced from S&P Capital IQ, unless otherwise specified.
Disclosure: I am long T, VZ. I wrote this article myself, and it expresses my own opinions. I am not receiving compensation for it (other than from Seeking Alpha). I have no business relationship with any company whose stock is mentioned in this article.