New information confirms a trend that has been in the works for the last year or so. Texas had supplied approximately 25% of total U.S. oil supply. As of preliminary March Energy Information (EIA) data, Texas provided nearly 35%. North Dakota was the second-largest supplier at 12%. U.S. crude oil production grew 15% in 2013 to 7.4 million barrels per day (m/b/d). Offshore Gulf of Mexico produced 17%.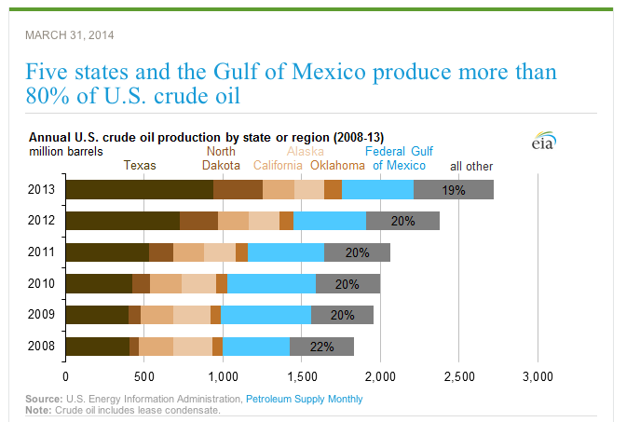 Interestingly, of the top ten producing states, Colorado, with part of the Niobrara Shale, grew production 93% from 2010 to 2013; Noble Energy (NYSE:NBL) is a top firm producing in the Niobrara. Oklahoma and its Woodford Shale saw production growth of 62% over the three-year span; Devon (NYSE:DVN) and Newfield Exploration (NYSE:NFX) are large Woodford Shale producers. Apache (NYSE:APA) is a big player in the Anadarko Basin of Oklahoma. Even Exxon (NYSE:XOM), via its unconventional production subsidiary XTO Energy, has shown interest in the Woodford Shale. And New Mexico, overlaying part of the Permian Basin, realized 51% growth in the time period; Concho (NYSE:CXO), Devon, EOG Resources (NYSE:EOG) and Cimarex Energy (NYSE:XEC) are active in the Delaware part of the Permian Basin.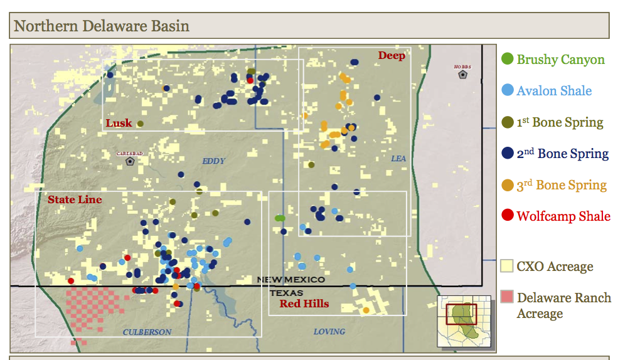 Source: Concho 3rd Q 2013 Investor Presentation
Back to Shale Oil
Shale oil (aka tight oil) production averaged 3.22 m/b/d at the end of 2013. U.S. crude oil production, averaging 7.84 m/b/d, grew to 10.4% of total global oil production. Shale oil was 4.3% of the global total. The EIA notes that in February 2014, 63% of shale oil production came from the Eagle Ford (36% for 1.21 m/b/d) and the Bakken (28% for .91 m/b/d). The "other U.S." shale plays are increasingly contributing to U.S. production.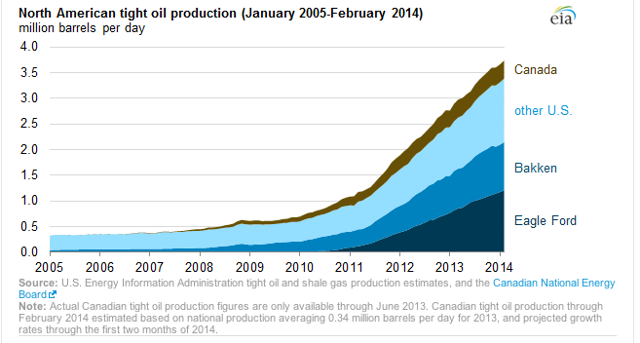 In fact, backing out the Eagle Ford, Bakken and Canada's contribution, the other U.S. shale or tight oil production is increasing, and presents opportunity for investors. As discussed in previous articles about the Permian Basin, it is a major contributor to the U.S.'s increasing oil supply. From a Pioneer Natural Resources (NYSE:PXD) presentation, TPH Research estimates production of 4.8 m/b/d by 2025, one decade hence.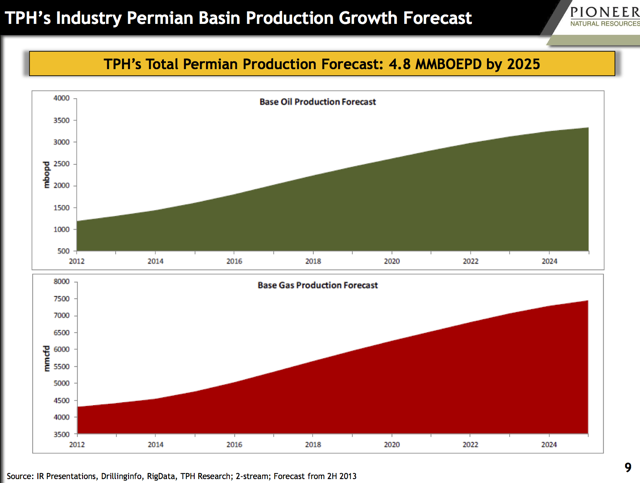 This Permian figure surpasses overall tight oil production contributions estimated by IHS across all periods to 2035, with an estimated peak of 4.5 m/b/d. It follows that "other Permian production" could be ~ 2 million b/d, if the Spraberry/Wolfcamp (S/WC) portion of the Midland Basin achieves its estimates of ~2.5 to less that 2.75 m/b/d, as estimated in Pioneer presentations past.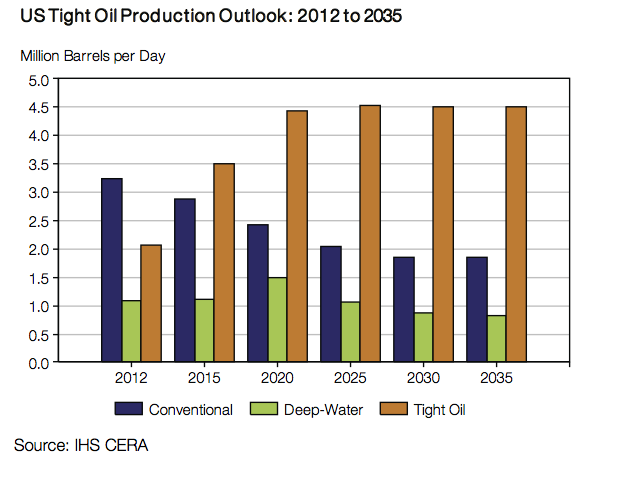 Obstacles to the growth of the Permian include lower oil prices and infrastructure and labor constraints. Production in the S/WC increased ~400,000 boepd since 2009 to ~550,000 by the latter part of 2013, notes IHS Energy.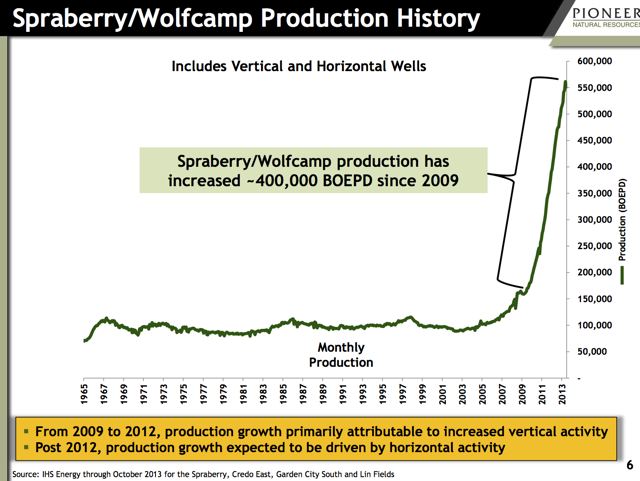 Lower oil prices would be a function of subdued global demand, though the U.S. appears to be holding steady on demand. China, now the largest net importer of crude oil, is expected to hold its demand in check through 2015. China imported 5.6 m/b/d from the Kingdom. In 2013, the U.S., with declining oil imports, received 1.3 m/b/d from Saudi Arabia. "U.S. net crude oil imports in 2013 declined 10.2% to 7.6 million barrels per day (bbl/d), the lowest level since 1996," says the EIA.
Even Russia Wants to Frac
The EIA's reporting of tight oil indicates that Russia is using hydraulic fracturing to produce 1% of its total oil production, mainly in Western Siberia. The technique is taking hold in other shale basins across the world - in Canada, Argentina, Ukraine and others. In the UK, with ample shale gas resources, the debate about accessing resources through fracing is being waged. Again, this adds opportunity for oilfield services firms like Halliburton (NYSE:HAL), Schlumberger (NYSE:SLB) and Weatherford (NYSE:WFT), and nimble drilling companies that can find ways to reduce the environmental footprint, especially with respect to water resources, to gain acceptance. In Argentina, Chevron (NYSE:CVX) is partnering with YPF SA, the state oil company, with plans to spend $16 billion to unlock shale oil and gas in the Vaca Muerta formation; this would change Argentina's resources calculus considerably. As written about in the recent past, the shale genie is out of the bottle. Countries with shale potential want to learn how to produce unconventional resources and not be left behind the technology curve.
Acknowledging the recent IPCC climate change report, obviously lowering carbon emissions is a key factor now and in the future. The U.S. has reduced its carbon footprint ever so slightly by using more natural gas and the continued growth of renewables in power generation mainly. Fuel economy is a growing trend globally, and is one way forward in the case of oil. A primary transportation fuel, oil continues to dominate the market. Growing economies in Asia, the Middle East and "Other" countries will comprise the growing demand for liquids.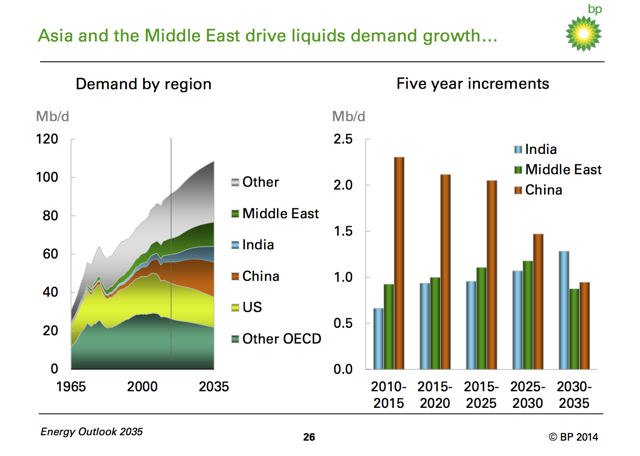 Given this outlook, and if supply growth in the U.S. holds to the trajectories estimated, a full-blown export ban on crude oil may not be warranted. The U.S. will largely consume much of what it produces, and other imports will re-route to markets where it is in demand. The U.S. can avoid a painful production oversupply situation, which has happened with natural gas, and the future price volatility that could yet be experienced. This scenario obviously changes given a demand shock that drives prices down. As noted previously, U.S. oil supply has been a moderator of prices in 2013, and thus far, the fundamentals of 2014 indicate this trend continuing.
Surely, we have learned about the conditions of politics, economics and policy, which drive instability - and how to deter them - a discussion way beyond this oil market update. Importantly, there are many niche investment opportunities in shale oil (and gas), as well as obvious big plays.
Disclosure: I am long APA. I wrote this article myself, and it expresses my own opinions. I am not receiving compensation for it (other than from Seeking Alpha). I have no business relationship with any company whose stock is mentioned in this article.