Wal-Mart's (NYSE:WMT) slogans are "Save Money. Live Better," and "Every Day Low Prices." They represent what Wal-Mart is about: reducing expenses to offer customers the lowest price possible. As Wal-Mart grows, its size gives it leverage over smaller suppliers, allowing the company to cut prices further. Wal-Mart has become the largest retailer in the world because of its dogged focus on cost. Wal-Mart has 10,700 retail units in 27 countries with 245 million customers served weekly.
Wal-Mart has 3 operating divisions: Wal-Mart U.S., Wal-Mart International and Sam's Club. The percent of revenue delivered to the business is broken down below:


Source: Wal-Mart 2013 Annual Report
Growth
Wal-Mart expects to add 220 to 240 retail units this year, an increase of about 2% over last year. Revenues by division increased as follows:

Total revenue for Wal-Mart grew by 5.00% in 2013. I expect similar numbers going forward.
Source: Wal-Mart 2013 Annual Report
Wal-Mart is investing aggressively in e-commerce. E-commerce currently makes up only about 2% of Wal-Mart's revenue. They expect e-commerce revenues to grow from about $10 billion to $13 billion in 2014. In late 2012, it purchased a majority stake in Chinese e-commerce retailer Yihaodian. Yihaodian had over 24 million users as of late 2012, and is expected to grow rapidly.
Source: Wal-Mart Press Release and Wal-Mart 3Q Earnings Transcript
Potential Problems
Comparable store sales were down about 0.40% for the fourth quarter. Wal-Mart attributes this to bad weather conditions and reductions in SNAP (Food Stamps). Wal-Mart estimates SNAP reductions negatively impacted comparable sales by 0.30% to 0.40%.
Source: Wal-Mart 4Q Earnings Transcript
Wal-Mart increased its dividend by 2% this year. This small increase comes as a disappointment to shareholders. Wal-Mart has a payout ratio of only 31%. It has ample room to increase its dividend substantially. Such a small increase is not a positive sign for shareholders. Wal-Mart has historically been very shareholder friendly, which makes this move more shocking.
One of Wal-Mart's core strengths is the supply chain. Inventory has increased faster than sales for 10 of the last 12 quarters. Further, there have been widespread reports of empty shelves. Wal-Mart's focus on cost control has reduced their ability to stock store shelves adequately because there is not enough labor to do the job.
Source: Bloomberg, Wal-Mart Sees $3 Billion Opportunity Restocking Shelves
Valuation
Wal-Mart's P/E ratio is below its peer group average. Only Family Dollar (NYSE:FDO) has a lower P/E ratio in the discount variety store industry.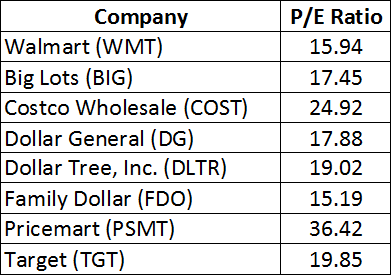 Wal-Mart's historical P/E ratio over the last decade is 15.57, which is very close to its urrent P/E ratio of 15.94.
The S&P 500's P/E ratio sits at 18.61, about 20% above Wal-Mart's P/E ratio of 15.94.
Wal-Mart appears to be fairly valued based on its historical P/E ratio. It may be slightly undervalued compared to its peer group and the S&P 500.
Comparison to Other Dividend Aristocrats
Wal-Mart compares very favorably to other dividend aristocrats (stocks that have paid a rising dividend for 25-plus years in a row) using the 5 buy rules from the 8 Rules of Dividend Investing.
Rule 1: 25-plus Years of dividend increases
Pass: Paid increasing dividends for 41 consecutive years.
Why it Matters: The Dividend Aristocrats (stocks with 25-plus years of rising dividends) have outperformed the S&P 500 over the last 10 years by 2.88% per year
Source: S&P 500 Dividend Aristocrats Factsheet, February 28 2014, page 2
Rule 2: Rank Stocks by Dividend Yield
Rank: Wal-Mart has a Dividend yield of 2.48% which ranks it at 48 out of 102 stocks with increasing dividends for 25-plus years
Why it Matters: The highest yielding quintile of stocks outperformed the lowest yielding quintile of stocks by 1.76% per year from 1928 through 2013.
Source: Dividends: A Review of Historical Returns by Heartland Funds, page 2
Rule 3: Rank stocks by payout ratio
Rank: Wal-Mart has a payout ratio of 31.00% which ranks it at 39 out of 102.
Why it Matters: High yield low payout ratio stocks outperformed high yield high payout ratio stocks by 8.2% per year from 1990 to 2006.
Source: High Yield, Low Payout by Barefoot, Patel, & Yao, page 3
Rule 4: Rank stocks by revenue per share growth
Rank: Wal-Mart has a revenue per share growth rate of 8.63% over the last 10 years, ranking it 11 out of 102.
Why it Matters: Growing dividend stocks have outperformed stocks with unchanging dividends by 2.4% per year from 1972 to 2013.
Source: Rising Dividends Fund, Oppenheimer, page 4
Rule 5: Rank stocks by their standard deviation
Rank: Wal-Mart's long-term standard deviation of 19.14% ranks it at 8 out of 102.
Why it Matters: The S&P Low Volatility index outperformed the S&P 500 by 2.00% per year for the 20-year period ending September 30th, 2011.
Source: S&P 500 Low Volatility Index: Low & Slow Could Win the Race, page 3
Shareholder Return
Wal-Mart has returned about $7 billion to shareholders in the form of stock repurchases over the last 2 years. It should continue these repurchases in 2014. If Wal-Mart repurchases $7 billion in stocks this year, it will result in about 2.80% of shares. This 2.80% combined with Wal-Mart's dividend yield gives shareholders a return of about 5.30% before any revenue growth. With growth, Wal-Mart shareholders can expect a return of approximately 10% going forward.
Conclusion
Wal-Mart is a strong global business. Its focus on cost reduction has made the company the largest retailer in the world. Wal-Mart faces short-term weakness from reductions in government aid, rising labor costs and inventory control issues. Wal-Mart shareholders will be rewarded in the future through dividends and share repurchases.
Disclosure: I am long WMT. I wrote this article myself, and it expresses my own opinions. I am not receiving compensation for it (other than from Seeking Alpha). I have no business relationship with any company whose stock is mentioned in this article.