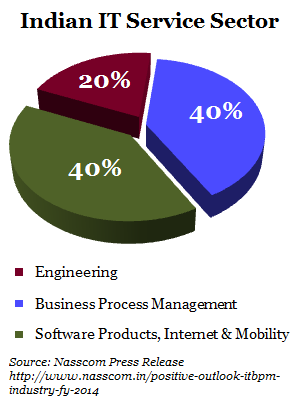 In the last 15 years, India has emerged as a favorable long-term investment destination for global IT companies across different segments of the industry including - IT services, Business Process Management (BPM), engineering and R&D, internet and mobility, and software products. According to the National Association of Software and Services Companies (NASSCOM), the Indian IT industry is a US $50 billion sector, BPM alone is a US $20 billion sector, the size of engineering has crossed US $10 billion. Software products and internet & mobility are the biggest emerging opportunities.
Most large global IT companies like Accenture (ACS), IBM (NYSE:IBM), Cognizant (NASDAQ:CTSH), Capgemini (OTCPK:CAPP), etc. have established their development centers in India. Microsoft (NASDAQ:MSFT) and Google (GOOG, GOOGL) have a big R&D presence in the country, and many other MNCs have set up large captive centers in India.
Why is India a leading destination for offshore technology services?
During the initial years of the IT boom (in the late 90s), the Indian IT industry got a boost mainly from outsourced business process services of large American and European companies. Over the last few years, however, Indian IT companies have developed capabilities to offer innovative and effective IT solutions at far lesser costs in comparison to their peers operating out of Silicon Valley. IT-BPM exports from India are estimated to grow by 13%-15%, and reach US$97-US$99 billion by the FY 2015. There are several key factors contributing to the growth of IT and IT-enabled services (ITES) in India, and by Indian companies. The two most prominent reasons being:
Large pool of engineers graduating each year;
Low-cost labor force - ability to offer economical solutions which meet the requirements of global corporations.
Domestic Market
According to Mr. Krishnakumar Natarajan, Chairman, NASSCOM,
"India is now becoming home to a new breed of startup companies focused on high growth areas such as mobility, e-commerce and other vertical specific solutions - creating new markets and driving innovation".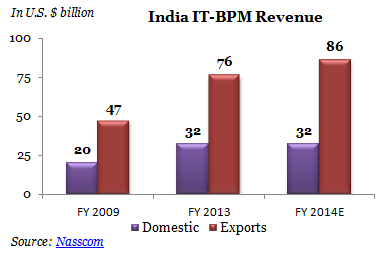 In FY2014, the Indian IT-BPM industry is estimated to account for revenues of U.S. $118 billion (domestic + export), strengthening its leadership position in the global sourcing area, and highlighting its increasing importance in the domestic market.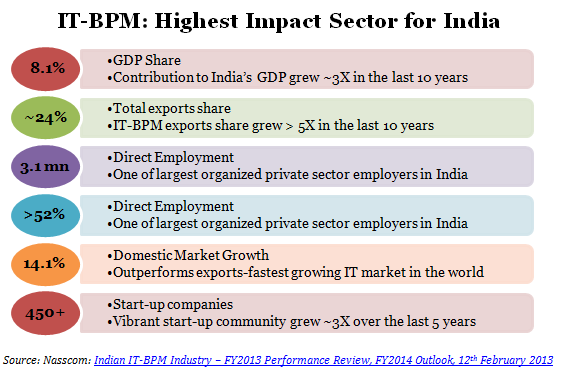 For investors in the Indian IT sector, there exist various investment opportunities, ranging from large diversified companies to mid-market and small technology players. The big four players of Indian information technology are Infosys (NASDAQ:INFY), Tata Consultancy Services (TCS.BO), Wipro (NYSE:WIT) and HCL Technologies.
Long-Term View: Competition from mid-sized and smaller IT companies in India
The ability of smaller IT companies in India to offer services at par with their domestic peers will pose a challenge not only for the big four players in the Indian IT industry, but also for other large multinational companies. Improvement in technology and the ability of servicing clients across geographies will result in a much larger share of work going to these mid-sized and smaller IT companies. Over the past 2 years, mid-cap companies in India have managed to outperform their larger peers, such Infosys, Wipro, HCL Tech and TCS primarily due to their:
cost effectiveness;
expertise in select verticals, such as insurance, capital markets, transport and aviation;
focused client servicing approach; and,
ability to cater to clients of any size, whereas large IT companies target large orders to stay cost-effective.

From a valuations perspective also, mid-cap companies in India offer the best long-term investment value. At current valuations, mid-cap IT stocks look quite attractive; most of these stocks are available at a discount to their large-cap peers. Companies such as Infosys, TCS, HCL Technologies and Wipro are trading at a price-to-earnings (P/E) ratio of 15-22, while mid-cap companies such as NIIT Technologies, Mindtree and Hexaware (OTC:HXWRY) are trading at 7-11 times P/E multiple.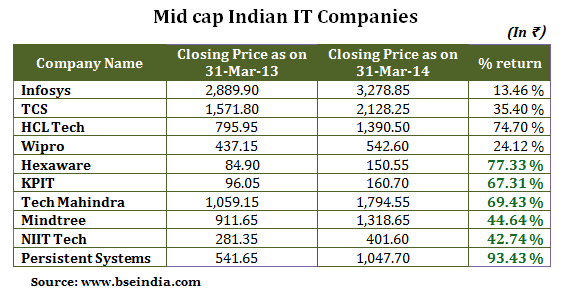 Another reason which makes these companies more attractive is the fact that they cater to a more diverse market in comparison to large IT companies. For example, NIIT Technologies' geographical revenue break-up for FY 2013 is 38% from the U.S., 39% from Europe and 23% from Asia (including India). Similarly, Polaris' 46% revenue came from the U.S., 22% from Europe and 31% from India and Asia. Large IT companies, on the other hand, have major client concentration in the U.S. and the EU region.
If you want to start investing in Indian stocks for the long term, the mid-cap IT space is emerging as one of the most promising opportunities.
Over the long term (i.e. next 4-6 years), there will be a gradual shift by customers in favor of cost-effective IT companies. As newer technologies evolve, smaller players will be able to scale up their operations at much lesser cost, and large IT companies, both domestic and overseas, are likely to face increasing competition and margin pressures.
Disclosure: I have no positions in any stocks mentioned, and no plans to initiate any positions within the next 72 hours. I wrote this article myself, and it expresses my own opinions. I am not receiving compensation for it (other than from Seeking Alpha). I have no business relationship with any company whose stock is mentioned in this article.