The short-term upswing in the price of gold last week, following lower-than-forecasted jobs data, should not be construed as indicative of long-term investment potential.
When gold goes up by 1 percent or more during a few trading hours as it did on Friday, this could reflect short-term traders covering short positions-instead of a fundamental and lasting change in long-term investment prospects for gold.
Investing in Gold and Broken Watches
For some, gold continues to be an investment of choice during unexpected financial crises. However, gold and other precious metals have been losing credibility as solid long-term investments, based on erratic performance during the last three years.
See our previous article on the uncertain outlook of gold here.
Gold (NYSEARCA:IAU) has lost over 33 percent from peak prices during this time, while numerous gold-related securities have incurred losses of over 50 percent during the same period. For example, a junior gold miners exchange-traded fund (NYSEARCA:GDXJ) decreased in value by 73.7 percent during the most recent three-year period.
A chart of IAU's decline is shown below.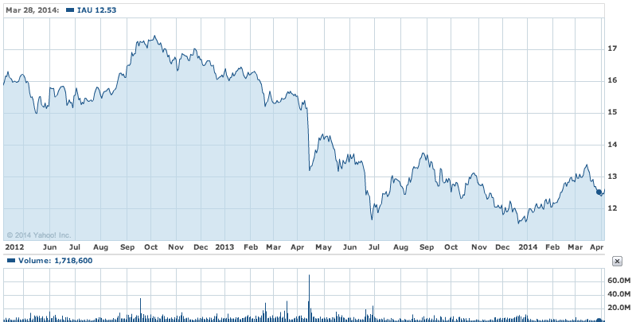 (Yahoo! Finance)
Will The Broken Watch Index Eventually Move Up?
Despite such a dismal investment return, gold continues to have supporters who point to the possible upswing in gold prices during crisis conditions. Such dire predictions might eventually prove to be at least partially accurate.
Gold has periodically demonstrated its historical safe-haven role for investing during political instability and economic chaos. But as an astute observer once noted, "Even a broken watch is right twice a day." With a similar view toward gold, precious metals investments might eventually prove to be profitable for some patient investors. Nevertheless, buying low and selling high can be a daunting challenge if your investment has already depreciated by 73 percent.
When Warren Buffett Talks, Investors (Should) Listen
Here is what Warren Buffett ([BRK.A]],BRK.B) had to say during October 2010 about investing in gold:
"You could take all the gold that's ever been mined, and it would fill a cube 67 feet in each direction. For what it's worth at current gold prices, you could buy -- not some -- all of the farmland in the United States. Plus, you could buy 10 Exxon Mobils, plus have $1 trillion of walking-around money. Or you could have a big cube of metal. Which would you take? Which is going to produce more value?"
At the time of Buffett's observation, gold prices were at about $1395 per ounce. Short-term gold prices continued to increase to $1900 in 2011; however, recent spot gold prices have retreated to $1300 per ounce.
Investors Should Seek Truly Solid Investments
With any investment choice such as gold, prudent investors should compare their potential risks and profits to other opportunities. Gold has proven unreliable; why not try a company producing consistent, solid dividends instead and our favorite core growth stock-Berkshire Hathaway?
Disclosure: I have no positions in any stocks mentioned, and no plans to initiate any positions within the next 72 hours. I wrote this article myself, and it expresses my own opinions. I am not receiving compensation for it (other than from Seeking Alpha). I have no business relationship with any company whose stock is mentioned in this article.