Avis Budget Group (NASDAQ:CAR) is a leading global provider of vehicle rental and car sharing services, operating three of the most recognized brands in the industry through Avis, Budget and Zipcar. The Avis and Budget brands have more than 10,000 rental locations in approximately 175 countries around the world.
I originally became an investor in Avis Budget because I was an early investor in Zipcar, a company Avis Budget acquired in 2013. Zipcar is the world's leading car sharing network with more than 860,000 members and operations in more than 25 metropolitan areas and at more than 300 college campuses in the United States, Canada and Europe. Sine my Zipcar shares were converted to Avis Budget shares I've more than doubled my position in the company.
In addition to the vehicle rental and care sharing operations, Avis Budget also operates Budget Truck, one of the leading truck rental businesses in the United States. The company has a fleet of approximately 23,000 Budget trucks that operate through a network of approximately 1,300 dealer-operated and 350 company-operated locations throughout the United States.
Avis Budget also owns Payless, a car rental brand it acquired in 2013 that operates in the deep-value segment of the industry, and Apex, which is a leading deep-value car rental brand in New Zealand and Australia.
For financial reporting and performance Avis Budget uses the following three operating segments:
North America - provides car rentals in the United States and vehicle rentals in Canada, as well as ancillary products and services, and operates the company's Zipcar car sharing business. During 2013, this segment constituted nearly 64% of the total revenue.
International - provides and licenses the company's brands to third parties for vehicle rentals and ancillary products and services primarily in Europe, the Middle East, Africa, Asia, South America, Central America, the Caribbean, Australia and New Zealand. During 2013, this segment constituted 31% of the total revenue.
Truck Rental - provides truck rentals and ancillary products and services to consumers and commercial users in the United States. During 2013, this segment constituted 5% of the total revenue.
The following table presents key operating metrics for each of the three reporting segments.

The graph below also presents the composition of rental days and the average rental fleet in 2013, by segment

One of the main reasons I like Avis Budget is their diversified revenue sources. The acquisition of Zipcar was a brilliant move but the graphs below also demonstrate their diversification in different aspects of the car rental industry.

Zipcar
As I mentioned before, I owned Zipcar stock before it was acquired by Avis Budget in 2013. I saw the early growth potential in Zipcar and I believe Avis Budget has the ability to significantly expand the long-term growth opportunities for Zipcar.
Zipcar is very scalable for Avis Budget through its fleet of vehicles. The company is already refining, innovating and improving Zipcar's operations and fleet management systems to accelerate the already impressive growth growth rates.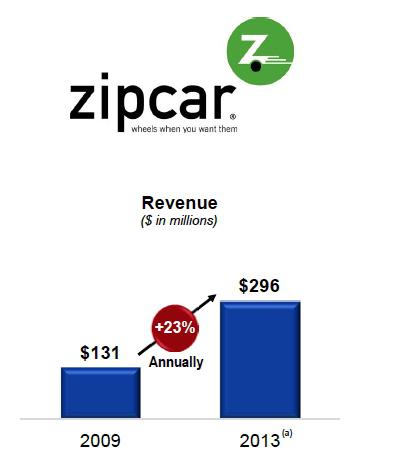 Stock Performance vs. Hertz
The chart below demonstrates how investors have rewarded Avis Budget's results over the last two years.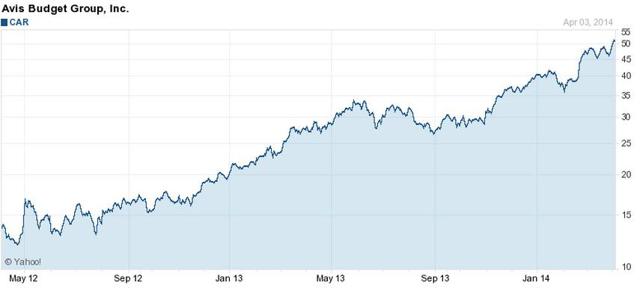 The major competitor to Avis Budget is Hertz Global Holdings (NYSE:HTZ). By looking at the chart below, it's easy to see how much better Avis Budget has been executing compared to Hertz.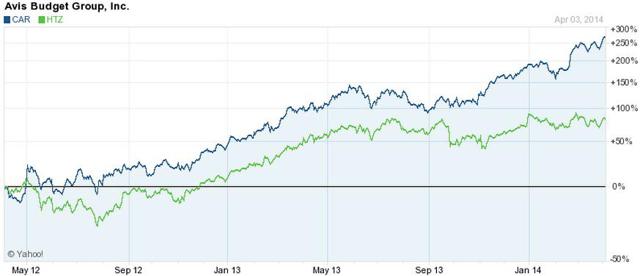 2014 And 2015 Outlook
In 2013, Avis Budget reported revenue of $7.9 billion, an increase of 8% compared with 2012. The Avis, Budget, Budget Truck and Zipcar brands accounted for approximately 65%, 26%, 5% and 3% of total revenue in 2013.
Full-year 2014 revenue for Avis Budget will be approximately $8.3 billion to $8.5 billion, a 5% to 7% increase compared to 2013. In the company's North America segment, rental days are expected to increase 3% to 5%, and pricing is expected to also increase approximately 1% in 2014.
Margin expansio has increased 180 basis points of improvement since 2010 and I expect that trend to continue.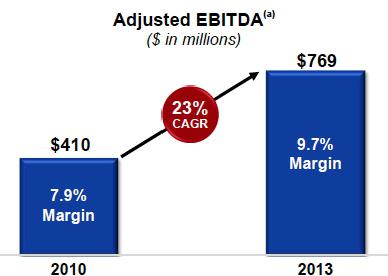 As you can see below, increased revenue, increased pricing and improving margins will enable Avis Budget to produce strong growth in 2014.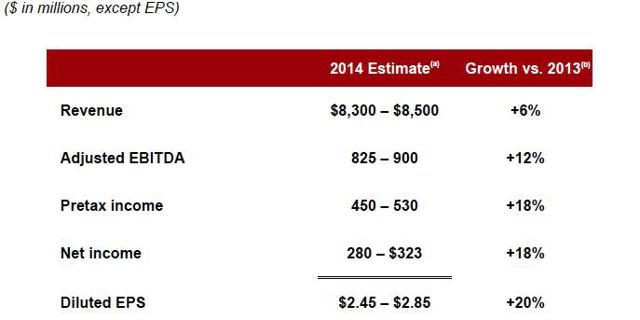 Avis Budget is also producing substantial free cash flow. As shown below, the company will generate $410 million, $4 per share, of free cash in 2014. I believe the company will be able to generate more than $1 billion of free cash flow by 2015, that's more than $8 of free cash flow per share over next two years.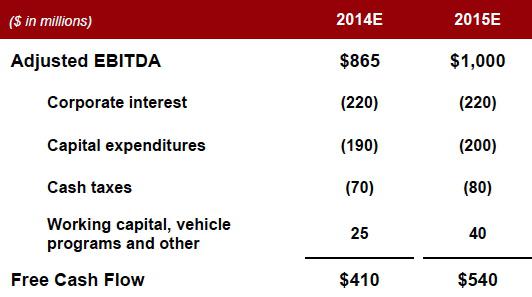 I believe that the full integration of Zipcar will accelerate future growth that's not reflected in these estimates. For example, Avis Budget has already made Zipcar available at 28 airport locations and piloting one-way rentals. This could eventually be expanded to thousands of locations.
I also see Avis Budget continuing to aggressively expand into new global markets were Zipcar will be implemented and I believe Avis Budget will continue to diversify its revenue sources.
Avis Budget has provided an impressive forecast for fiscal 2014 and 2015. I'm confident they will deliver and the stock will speed much higher.

Sources: Avis Budget Group's financial filings and investor materials.
Disclosure: I am long CAR. I wrote this article myself, and it expresses my own opinions. I am not receiving compensation for it (other than from Seeking Alpha). I have no business relationship with any company whose stock is mentioned in this article.
Additional disclosure: This article is intended to provide information to interested individuals. As I have no knowledge of individual investor circumstances, goals, and/or portfolio concentration or diversification, readers are expected to complete their own due diligence before purchasing any stocks mentioned or recommended.