A while back in November 2013, when the insurer conglomerate American International Group (NYSE:AIG) released its third quarter earnings report, CEO Bob Benmosche told investors that the company may not fulfill its aspirations in the time they originally allocated for themselves. Many investors were very disgruntled by this announcement and the general financial media was critical. However, the I Know First algorithm was certain that this asset's value would grow and we shared this forecast in early November. Since then AIG's share price has grown just shy of 5%. A little over month ago we published another recommendation and released another bullish algorithmic forecast. The common theme I asserted in each article was that AIG was positioning itself to excel. This effort is predicted to actualize and now is the time to become invested in AIG.
On April 3rd, Sanford Bernstein stated that American International Group could double over time. The latest algorithmic forecasts are congruent with this statement. AIG has maintained a bullish signal from the algorithm for quite some time but in the past few weeks the stock has garnered an extremely strong signal for all six time horizons that the algorithm makes predictions for.
AIG suffered notoriety receiving a government bailout of approximately $180 billion, becoming a flagship of the 2008 financial crisis. Since then the company has made real progress under CEO Benmosche. The strategy that brought AIG back was to divest from businesses and divisions that simply did not match AIG and to realign the company's focus on insurance. As a result of an overall strong year in 2013, AIG raised its dividend 25% to 12.5 cents from 10 cents and authorized a buyback of $1 billion, bringing total authorization to $1.4 billion. AIG has a payout ratio of 3%, while Allstate (NYSE:ALL) has a payout of 21% and MetLife's (NYSE:MET) ratio is 35%, leaving room for AIG to grow its payout ratio much higher in the future. Since May 2011, AIG deployed approximately $19 billion through share repurchases, dividends and liability management. Although this is old news, it highlights management's commitment to providing real value for shareholders and should not be forgotten.
AIG still trades under book value. While the stock is currently traded around $50, the book value per share is around $68 compared to others in its industry which are trading at premiums to book value. The company has a high target price of $64 and a low target of $48, with a mean target of 55.95 on Yahoo finance out of 20 brokers.
As Federal Reserve Chairman Janet Yellen signaled an increase in interest rates in approximately 12 months, investors recognized that companies such as American International Group are poised to profit from this policy. When policies are written, insurance companies know they will need to pay out for claims in the future. Consequently, the premiums collected today must be invested well to be able to payout for claims received tomorrow. Hence the life insurance companies benefit from higher interest rates. Furthermore, higher interest rates discount future claims further.
Our Prediction
Last year, AIG was our number one stock pick from the I Know First: Daily Market Forecast Top 10 Stock Picks on March 24th 2013 for the 1-year time horizon. The stock did not have the greatest return of the forecast but returned 32.38% in accordance with the forecast. The market prediction system (the algorithm) works by modeling and predicting the flow of money between markets. It separates the predictable part from stochastic (random) noise and then creates a model that projects the future trajectory of the given market in the multidimensional space of other markets. The system outputs the predicted trend as a number, which in turn is used by traders to identify when to enter and exit the market. Chart 1 displays the Top 10 Stocks and S&P 500 forecast and the corresponding returns.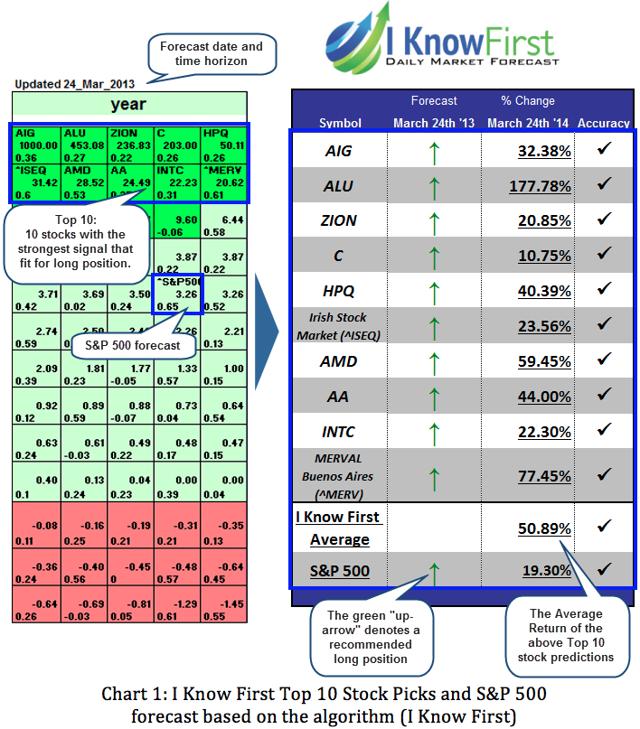 AIG had a signal of 1000 and a very strong predictability of 0.36 displaying confidence in the forecast. The signal is the number flush right in the middle of the box and the predicted direction (not a specific number or target price) for that asset and the predictability is the historical correlation between the prediction and the actual market movements. In other words the signal represents the forecasted strength of the prediction while the predictability represents the level of confidence, however further explanations are available here. The forecast is also color coded where green indicates a bullish signal and red indicates a bearish signal. Since this forecast is primarily green, it further endorses the potential accuracy of the predictions recommended long positions. Brighter greens or reds signify that the algorithm is very bullish as it does at the top if this forecast.
Currently AIG has reclaimed a position at the top of our Top 10 Stocks and S&P 500 forecast. Chart 2 displays today's forecast for AIG in the 1-month, 3-month and 1-year time horizons.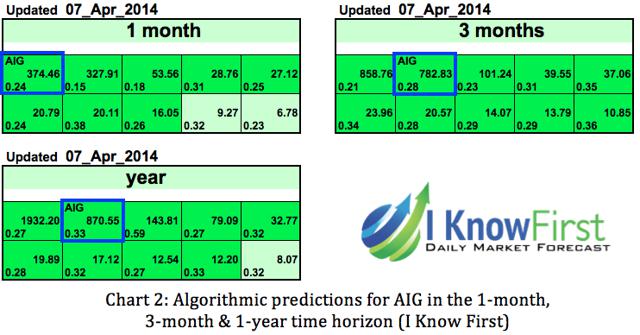 The ticker symbols for the other assets in this forecast have been removed however you can still see their signal and level of predictability. In the 1-month time horizon AIG has the strongest signal at 374.46 and the predictability is 0.24. AIG moves to the second best investment opportunity spot in the 3-month and 1-year time-horizons with signals at 782.83 and 870.55 respectively. The algorithm becomes more confident in this prediction as the predictability grows stronger for each time-horizon. This is very typical for the algorithm as it tends to be much more accurate for longer-term time frames. Also note that the bright green color of the forecast reflects the bullish nature of the forecast.
Conclusion
As I have stated before in previous articles, AIG has been positioning itself to excel. As of now, it appears that the algorithm projects its efforts will bear fruit. There have been bumps in the road, which should be expected and forgiven. Investors should trust the intentions of the management especially considering that CEO Benmosche came out of retirement early to lead American International Group in a remarkable turnaround when the market went haywire and AIG was the unpopular flagship of the crisis. Needless to say, management's intentions are inline with shareholders. Recently, the algorithm received a major upgrade by the team of scientists led by Dr. Lipa Roitman, which has led to some recent quick wins. As AIG continues down this path under CEO Benmosche, more analysts will begin to recommend this company as a buy. Now is a great time to consider adding this stock to your portfolio.
Business disclosure: I Know First Research is the analytic branch of I Know First, a financial startup company that specializes in quantitatively predicting the stock market. Joshua Martin, one of our interns, wrote this article. We did not receive compensation for this article (other than from Seeking Alpha), and we have no business relationship with any company whose stock is mentioned in this article.
Disclosure: I have no positions in any stocks mentioned, and no plans to initiate any positions within the next 72 hours. I wrote this article myself, and it expresses my own opinions. I am not receiving compensation for it (other than from Seeking Alpha). I have no business relationship with any company whose stock is mentioned in this article.