Yesterday another REIT listed shares in the publicly-traded markets and this one was a Health Care REIT. Perhaps perfect timing for new investors and maybe even former non-traded REIT investors who anteed up (around 15% load) to own a diversified portfolio of health care-related assets. (Unlike many of the non-traded REIT listings, this one listed yesterday north of the par $10 par value and investors recouped all of their principal).
The new REIT, American Realty Capital Healthcare Trust (NASDAQ:HCT) listed approximately 183 million shares of common stock yesterday on NASDAQ . The New York-based Health Care opened the first day of trading at $10.50 and the shares have stayed flat throughout the day and closed up $.05 at $10.55.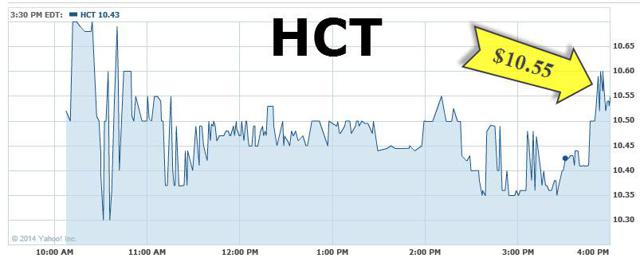 As I have written in many of my previous articles, Nick Schorsch, Executive Chairman of American Realty Capital and CEO of American Realty Capital Properties (ARCP), has been instrumental in creating an amazing pipeline of REIT listings, IPOs and portfolio sales, the latest of which was the listing of HCT yesterday.
I have often referred to Schorsch as the "Houdini of REIT listings" as his track record for incubating REITs (6 full-cycle liquidity events) is much like pulling rabbits out of the hat. In fact, next week, Schorsch will be at it again as he lists shares of the "pure play" New York City office REIT, New York Recovery REIT (NYSE: NYRT). (I plan to write an article on NYRT next week).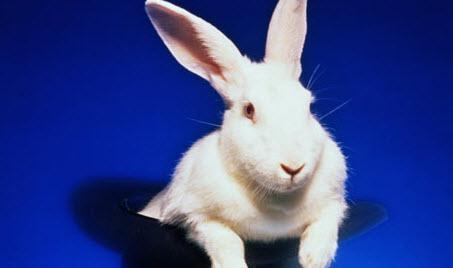 The New Health Care REIT Hits the Market
HCT commenced raising money in August 2010 and over the course of the last three years the company has amassed a diversified portfolio of 141 properties - over 7.1 million square feet; in 27 states. While many of the newly listed Non-Traded REITs have been "pure play" type (one asset class), HCT is unique in that the company has exposure in most all health care sectors including Medical Office (51%), Senior Housing (30%), Hospital/Post-Acute Care (19%). Much like most of Schorsch's other companies, HCT was able to go from "soup to nuts" in record time (less than 33 months).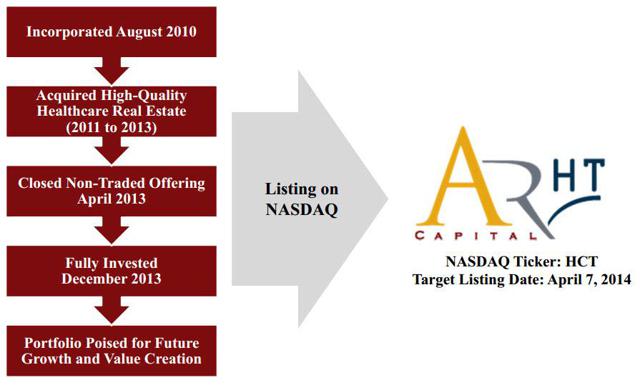 With a strong retail sales platform, Schorsch was able to raise significant equity and build out a growth platform that topped $2.9 billion. Raising capital for health care assets is not an unfamiliar area for Schorsch as he was also instrumental in raising capital for Healthcare Trust of America (NYSE:HTA). Over the course of two years, HCT has grown its portfolio from $17.007 million of NOI to over $153 million.

Unlike HTA - a "pure play" Medical Office Building REIT - HCT is a diversified REIT that invests in three primary sub-sectors.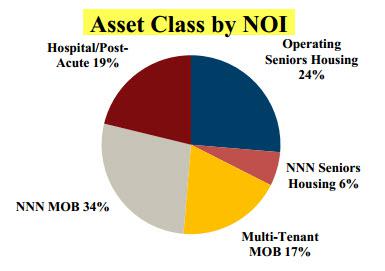 HCT has built its business model on a national footprint that spans 7.1 million square feet in 27 states. Here is a snapshot of the nationwide portfolio: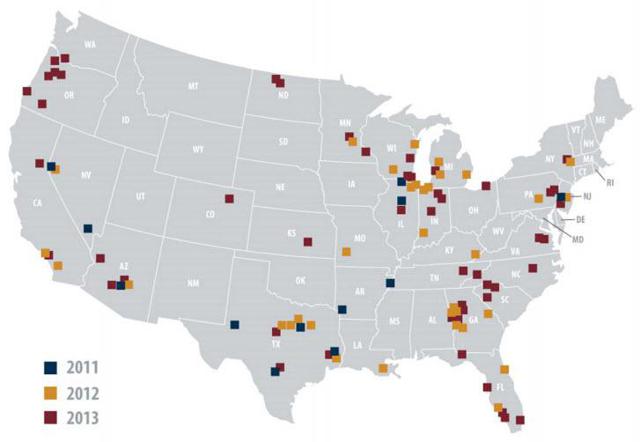 The portfolio is well-balanced across various regions: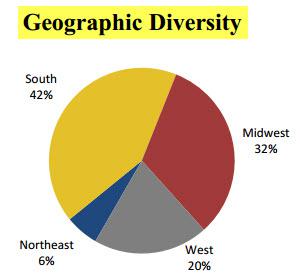 HCT has a variety of tenants including UnitedHealth Group (9.7% of portfolio), Reliant Rehabilitation (6.5%), Aurora Health Care (5.0%), and Crozer-Keystone Health Systems (4.4%).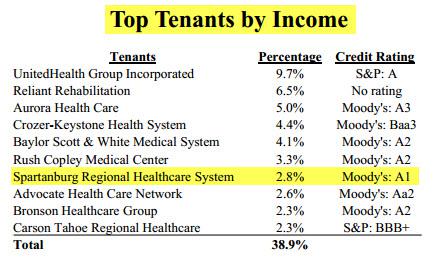 I noticed that HCT owns an 80,000 square foot property in my hometown of Spartanburg, SC. I have actually visited that building a few times and I'm very familiar with the hospital system. I was not aware that HCT was the landlord to Spartanburg Regional and if this property is an indication of the REIT's overall asset quality, I will score the portfolio with an A+. Here's an aerial: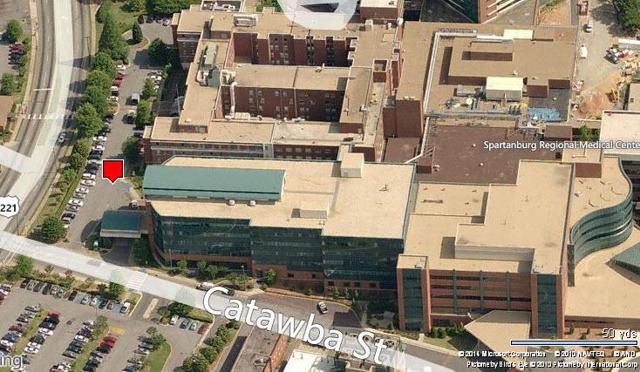 As noted above, HCT has a diversified portfolio, similar to Ventas, Inc. (NYSE:VTR), HCP, Inc. (NYSE:HCP), and Health Care REIT (NYSE:HCN). However, at $2.179 billion, HCT is much smaller than the "Big 3".

Here is a snapshot of HCT's portfolio breakdown (based on purchase price by asset type):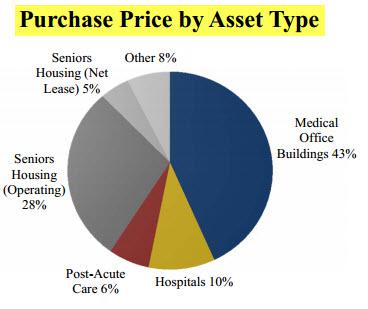 Here is a snapshot (based on assets by square footage):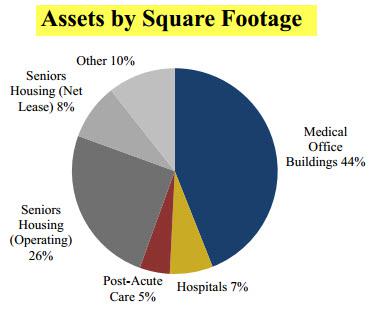 Here is a summary of the portfolio:

Let's Examine The Balance Sheet Metrics
HCT has a well-laddered lease expiration schedule (weighted average remaining lease term is 10.7 years):

One of the things that I like about HCT is the conservative balance sheet - consisting of only 11% of secured debt and around 25% in total debt (to enterprise value). The company has a $755 million credit facility with around $350 million of remaining capacity (as of April 2014). The company's weighted average interest rate is 4.2% with a weighted average term of 3.3 years. I expect that HCT will achieve investment grade rated status in a short time frame.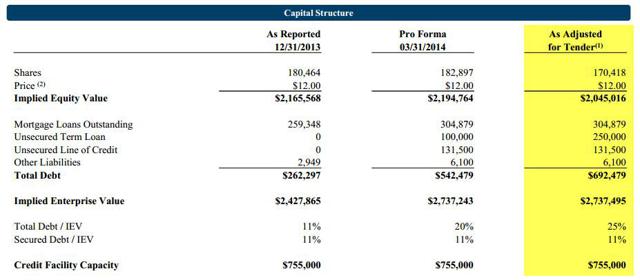 Here is a snapshot of the company's Net Debt / 2014 E EBITDA compared with the peer group: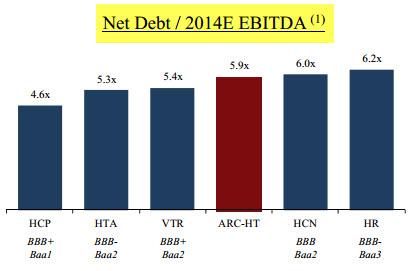 Here is a snapshot of the company's Net Debt / 2014 E EBITDA compared with recently-rated companies: (NYSE:WPC), (NASDAQ:ROIC), (NYSE:CSG), and :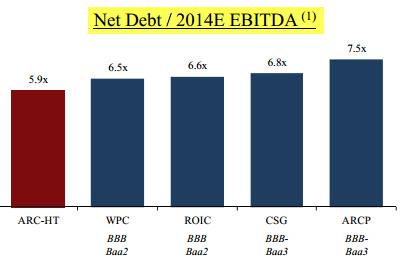 Here is a snapshot of the company's secured debt as a percentage of Total Debt compared with the peer group: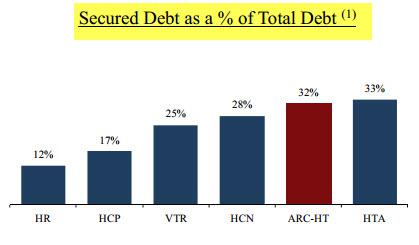 Here is a snapshot of the company's secured debt as a percentage of Total Debt compared with recently-rated companies: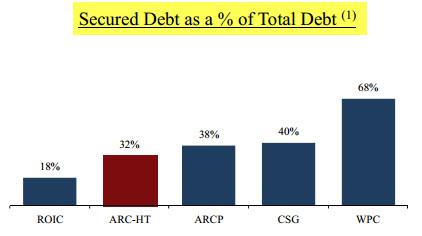 Here is a snapshot of the company's weighted average interest rate compared with the peer group: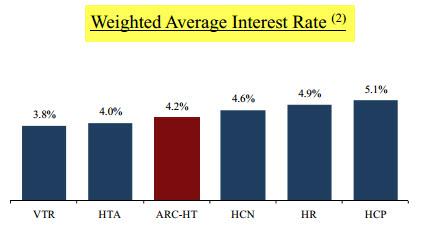 Here is a snapshot of the company's weighted average interest rate compared with recently-rated companies: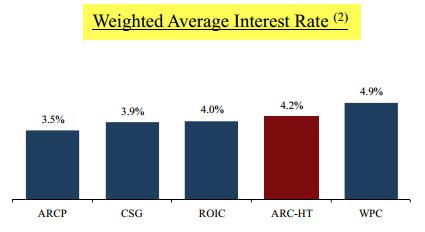 Here is a snapshot of the company's weighted average term (in years) compared with the peer group: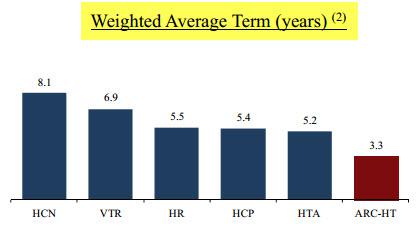 Here is a snapshot of the company's weighted average term compared with recently-rated companies: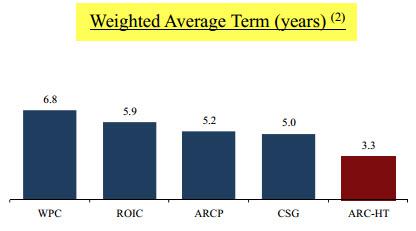 Is This New Rabbit a Keeper?
I used to go hunting with my grandfather and when I would hit a rabbit (with my pellet gun) my grand-dad would say, "That's a Keeper". I will admit, I was not a marksman by any stretch but it was always a blast. Now, I'm hunting REITs and by the smell of the latest REIT listing, I like the aroma.
What's not to like about a health care REIT that promises to payout juicy dividends driven by a conservatively financed balance sheet? But wait, let's look closer…
HCT is an externally-managed REIT and that means that it "shares" management functions and personnel. In other words, Schorsch is the Executive Chairman of HCT and he shares a "hat load" of other responsibilities for the various other rabbits (or REITs). A few executive "C-suites" are in place at HCT, namely Tom D'Arcy, the CEO and former CEO of Grubb & Ellis. With an externally-managed model, I feel somewhat dis-aligned (as a potential investor) since HCT will be competing with resources (and potential acquisitions) at the cost of who? There are plenty of other Health Care REITs that have vetted internalization teams with no conflicts, so that is a risk to consider.
In addition. HCT is a diversified REIT, not a "pure play" model like Healthcare Trust of America, Omega Healthcare Investors (NYSE:OHI), or Medical Properties Trust (NYSE:MPW). It's clear that there is an advantage to owning REITs with a "circle of competence" and that's evident based upon the last 90-day trading history. Companies that focus on a "core of confidence" are able to move the needle more efficiently.

In fact, companies like Ventas and HCP are almost forced to grow in order to feed the engine. It would seem logical that HCT would be a strong candidate for Ventas's feeding frenzy. If you may recall, there was once a REIT named American Realty Capital Trust that was swallowed up by the big whale known as Realty Income (NYSE:O). As an investor (or potential investor) in HCT, one must examine all of the potential strategies for monetization and I consider HCT a takeover target from day one.
In terms of owning shares in HCT I must say that I'm intrigued. Although I'm not a big fan of externally-managed REITs, I may consider a "flyer" (buying a few shares). The company has laid out a legitimate model and the differentiation is interesting. I don't consider HTA a "direct peer" since HTA owns a large majority of "on-campus" MOBs (cap rates of 6.5% to 7%) and HCT owns more off-campus MOBs (7% to 7.5% cap rates). Overall, it appears that the asset quality within HCT's portfolio is average (I will work on a NAV-based valuation of HCT in a few weeks) and not the caliber of Ventas or HCP.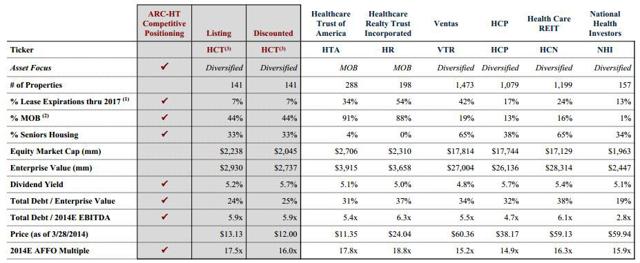 As I was flipping through the Investor Presentation and I ran across the Earnings Guidance for 2015 and it appears to be aggressive. That's not say that HCT can't hit $.86 in 2014; however, my back of the envelope calculations produce around $.17 per quarter (of FFO) and that makes the current valuation (and share price) appear (closed at $10.55) in line. As noted, HCT will have to compete with other acquisitions managed by the sponsor and that could make things challenging.

The following Valuation Sensitivity Analysis was provided (by the company) and using a $.75 AFFO per share run rate, the company believes that it can trade at a higher multiple than HCP and VTR.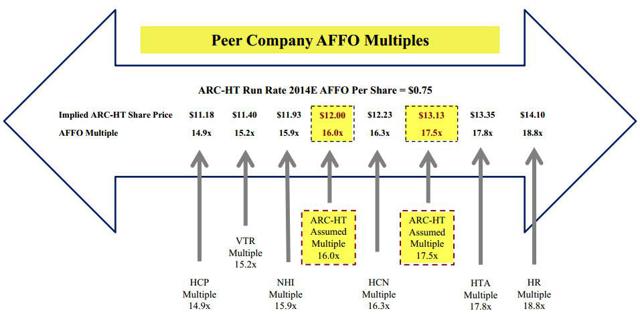 I find that hard to stomach, especially based on the fact that Ventas has a "blue chip" portfolio with a "blue chip" management team. I suspect that HCT will trade more like Physicians Realty (NYSE:DOC) that recently closed at $13.60 with a 14.8x P/FFO multiple (and 6.62% dividend yield).

So should I take an "early bite" at the apple?
That's hard to say. First, take a look at the trading history of Healthcare Trust of America. The company listed on June 6, 2012 and 50 days later there was a better margin of safety (worth waiting).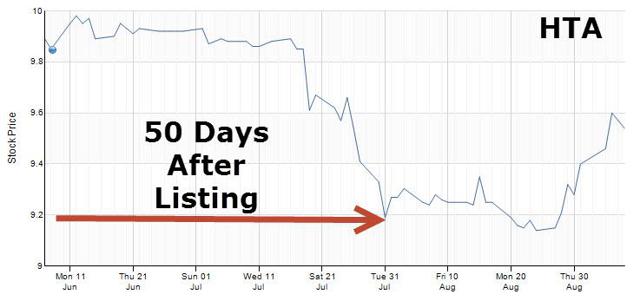 Or another former non-traded REIT, Chambers Street. The company listed on May 21, 2013 and 90 days later there was a much better margin of safety (worth waiting).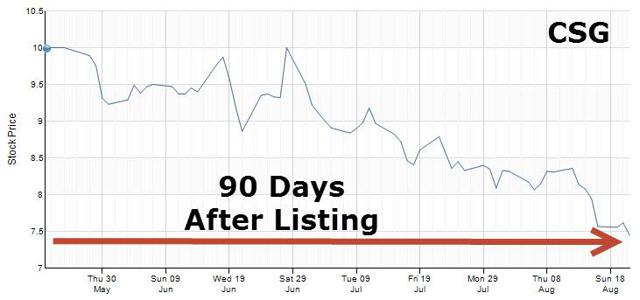 There are other examples of Non-Traded REITs that listed but many of them had to split the shares (RPAI was a 3 for 1 split) forcing many non-traded REIT investors to take losses (or ride out the storms). Also, it could take HCT a while to get Institutional coverage and it will be even more difficult to battle for shelf-space with the likes of VTR, HCP, and HCN.
I can't tell you whether to buy or wait on HCT. The dividend yield of 6.57% is attractive and perhaps that's a nice reward for waiting on Mr. Market to decide. Of course, there could be a sell-off and you could find a "real deal" if shares pullback in a few days, weeks, or months. (You could always buy ARCP for the juicy 6.57% dividend too).

Personally, I'm comfortable with my current health care REIT exposure and I was fortunate to buy Ventas at $56.00. Pound for pound, I believe that Ventas is the BEST Health Care REIT today and I don't believe the risk premium of HCT warrants an investment (in HCT) unless the price of the shares moves below $10.00. If that happens, I'm a buyer. There's a reason that Ventas is a blue chip brand and to learn more on that company, check out my website this month.
Finally, I have started researching New York Recovery Trust and I am looking forward to delivering my ten cents next week. It's clear that Nick Schorsch has more magic to come and I can't wait for the next act. Keep em' coming Nick…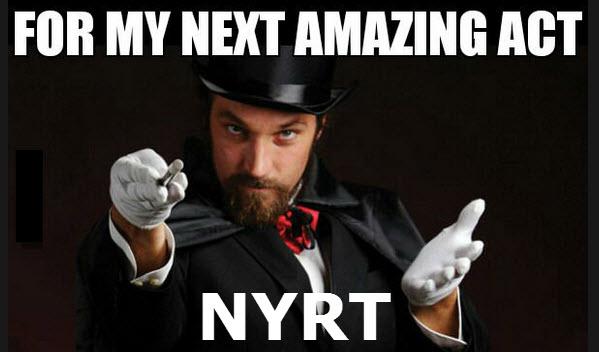 For more information on my "sleep well at night" ("SWAN") REIT picks, check out my newsletter HERE.
Other REITs mentioned: (NYSE:NHI), (NASDAQ:SBRA), (NYSE:HR), (NYSE:LTC), (NYSE:UHT), (NYSE:AVIV), (NYSE:SNH).
Sources: SNL Financial, FAST Graphs, and HCT Investor Presentation.
Disclaimer: This article is intended to provide information to interested parties. As I have no knowledge of individual investor circumstances, goals, and/or portfolio concentration or diversification, readers are expected to complete their own due diligence before purchasing any stocks mentioned or recommended.
Disclosure: I am long O, DLR, VTR, HTA, STAG, UMH, CSG, GPT, ARCP, ROIC, MPW, HCN, OHI, LXP, KIM. I wrote this article myself, and it expresses my own opinions. I am not receiving compensation for it (other than from Seeking Alpha). I have no business relationship with any company whose stock is mentioned in this article.