Introduction
Like many of my ideas, I sourced this one through a Seeking Alpha 'Top Idea' article. On March 12, Daniel Walk published Renewable Energy Group, Inc.: A Textbook Dollar Bill For Fifty Cents, Maybe Less. The article will be embargoed by Seeking Alpha in a few days and I strongly encourage readers check it out before then. While I find Walk's assertion that Renewable Energy Group (NASDAQ:REGI) stock is a 'textbook' investment inaccurate given the complex regulatory framework, rapidly-changing industry, and so on, I do feel that REGI stock is quite attractive at this point. I have done my own research on the stock which is the make-up of this article and have made an effort to make this piece helpful and informative on its own.
Business Overview
Renewable Energy Group is the largest producer of biodiesel (diesel fuel created from vegetable oils, animal fats, used cooking oils, and other emerging feedstocks like algae rather than petroleum) in the US. The company currently has production capacity, through its 8 production facilities, of 257M gallons.
That number is growing rapidly as the company has been able to purchase the plants of smaller competitors who have been hurt by undercapitalization and complete dependence on high-cost feedstocks like soybean oil. The plants are acquired at deep discounts and REGI invests $15-25M to enable production using feedstocks other than soy. REGI has thrived because of its multi-feedstock strategy and conservative capital structure.
The company is a low-cost producer. Soybean oil is consistently one of the most expensive feedstocks for biodiesel. Most competitors rely on it for all of their production but REGI only used it for 17% of 2013 production, with the remainder coming from lower-cost feedstocks. Walk's estimate of a $0.725/gallon cost advantage for REGI over the average competitor is truly impressive.
Regulation
Biodiesel demand and more broadly, renewable fuel demand is almost completely driven by regulation. Walk explains it well:
The Environmental Protection Act (EPAct) of 2005 created the Renewable Fuel Standards (RFS), which initially required 7.5 billion gallons of renewable fuel (mostly corn-based ethanol) to be purchased and blended into gasoline by 2012. The Energy Independence and Security Act (EISA) of 2007 expanded these volumes and extended the mandates, requiring 9 billion gallons to be bought and blended into gasoline by 2008, growing to 36 billion gallons by 2022. This is known as RFS2.
Biodiesel is not currently economical. While it does improve fuel economy, lubricity, and environmental impact according to Walk, it is substantially more expensive than petroleum-based diesel at this point. As you can see below, earlier this year B100 or pure biodiesel was 39 cents/gallon or 10% more expensive than petroleum-based diesel.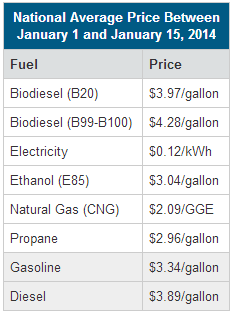 I doubt biodiesel will always be uneconomical for the following reasons:
As biodiesel volume continues to increase, scale should lower production costs/gallon substantially.
New production methods/technologies are currently being developed like production through the secretions of single-celled micro-organisms called cellulosic production, which should be more efficient than current methods.
Capability to use cheaper feedstocks like algae is believed to be commercially viable and currently being developed.
However, for now it is still uneconomical and demand is only due to RFS2. In a free market no one would be buying this stuff. I don't like the idea that the demand is not genuine and see this as one of the biggest risks associated with REGI.
On the other hand, the regulatory support is reason to be optimistic in a way. I see an investment in REGI as almost the polar opposite of buying a cigarette company or for-profit education company. I'm not referring to ethics at all. What I mean is that while companies like Lorillard (NYSE:LO) and Apollo Group (NASDAQ:APOL) face the existential risk of increased regulation by politicians trying to win votes, REGI would be boosted by increased regulation by these same politicians.
Indicators
My biggest concern at first glance of REGI was the massive insider selling throughout 2013.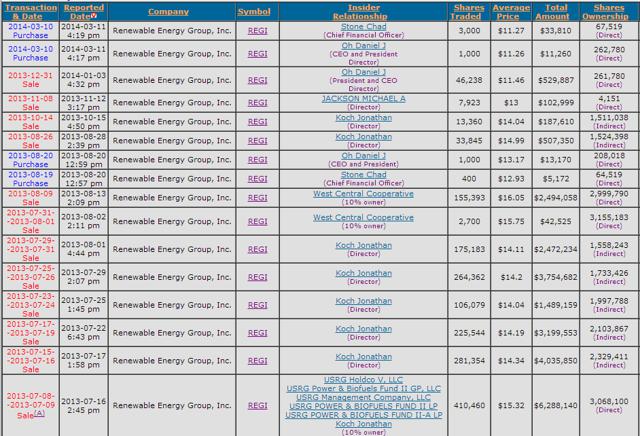 REGI is in a rapidly-changing industry that is difficult for outsiders to understand and the company depends heavily on regulation. This makes insider activity extremely meaningful in my opinion. At first glance the selling looks disheartening but most of it comes with explanation.
A sale of more than $500k by CEO Daniel Oh is shown, but this was to satisfy tax liability related to the vesting of 100,000 shares of restricted stock. Oh continues to hold a direct stake of slightly north of $3M and has made token direct buys along with CFO Chad Stone in the last 12 months.
Millions of dollars in REGI stock were sold by director Jon Koch and USRG. USRG stands for US Renewables Group. It is an investment firm with over $750M in capital dedicated to the renewable energy industry. It was formed in 2003 and initially invested in REGI in 2006. Koch is a managing director at the firm and oversees investments in biofuels among other industries. While it is discouraging to see USRG decreasing its stake, I find it less meaningful than I did initially because:
I generally attach less meaning to insider activity of investment firms than that of corporate officers. While Koch and USRG are most likely very knowledgeable in biofuels, their expertise is spread across various renewable energy industries and attention divided between several investments. Key corporate officers like Oh and Stone devote all their attention to REGI and are therefore more credible in my opinion.
The vast majority of the shares were sold 8+ months ago.
Most of the shares were sold at prices greater than $14, 22% higher than where REGI stock is today.
The remaining stake is still substantial.
There have been a few insider sales that come without explanation but even those were at higher prices last year.
Insider activity remains one of the biggest flaws in the REGI long thesis, but I am not as concerned after learning the details of the sales.
Health of the Business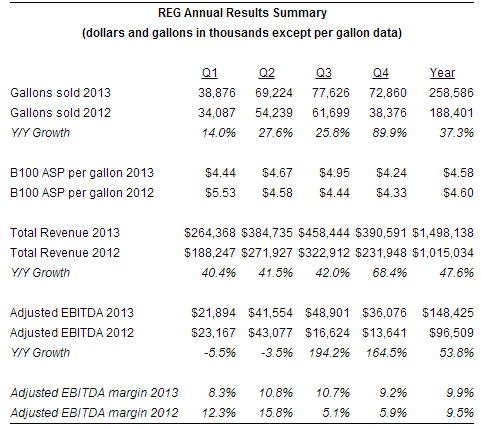 REGI performed extremely well in 2013:
Biodiesel sales volume grew 37.3% in 2013 and trended up throughout the year, though much of the 89.9% YOY increase in Q4 related to the BTC expiration.
The performance was achieved despite a slight 2 cent decrease in ASP for the year
Revenue grew 47.6% for the year and even without the BTC prep demand in Q4, likely would have been up 40%+ for the year.
Adjusted EBITDA grew 53.8% for the year and trended up throughout the year.
Adjusted EBITDA margin improved by 40bp over 2012
Operating cash flow grew over 200% to $139.6M for the year
Book value grew 83% to $594.1M
This performance should not be extrapolated to 2014. The company faces several headwinds that will put a damper on 2014 results:
In 2014 the Blender's Tax Credit ('BTC') of $1/gallon expired. In preparation for this, in late 2013 blenders bid up prices of biodiesel and stocked up on it. Companies now need to work through this inventory and will demand less biodiesel in the first half of 2014. By then REGI management expects inventory to be lower and demand to revert to a more normal level.
Volume of demand will be lower due to the following as Walk explains it:
In October 2013, the EPA's now-public proposal to reduce rather than increase (as was expected according to the figure below) the 2014 and 2015 total RVOs of obligated parties was leaked to the press. This proposal came as a surprise to many investors in and producers of renewable fuels. The expectation was that the 2014 RVO for total renewable fuels would be in line with the statutory mandate of 18.15 billion gallons, whereas the EPA instead proposed a total RVO of 15.21 billion gallons.
In addition, increasing amounts of foreign biodiesel have been imported to the US and impacted the domestic market.
All this is baked into REGI management's guidance for 1H14:
Q1: 45-55M gallons sold (28.6% increase) and $5-15M in adjusted EBITDA (54.3% decline)
Q2: 65-75M gallons sold (1.12% increase) and adjusted EBITDA of $0-10M (88% decline)
The company also expects to remain cash flow positive for the first two quarters and for more normal demand in the second half of the year.
Long term financial success of the business should be supported by RFS2, which will increase minimum demand for renewable fuel every year and reach 36B by 2022, a CAGR of 11.37%. There is also the potential for greater demand if biodiesel prices become attractive relative to regular diesel, though this is unlikely in the near future.
Because of the regulations and highly volatile biodiesel prices and costs of feedstocks, performance in the biofuel industry tends to fluctuate greatly. What has separated REGI from its competitors has been its ability to weather the down times through feedstock flexibility and scale. Even with the radical regulatory changes, the company is still expected to be cash flow positive and generate significant EBITDA.
Catalysts
Two meaningful catalysts that could propel REGI stock substantially higher before the end of calendar 2014 are the possibility of retroactive reinstatement of the BTC and rejection of the EPA's proposed waiver of the statutory volume requirement.
BTC reinstatement
As previously mentioned, until the beginning of 2014 there was a blender tax credit of $1/gallon that REGI shared in through the altered supply/demand of the biodiesel market. BTC legislation has twice been allowed to expire in the last few years and both times it was retroactively reinstated. It is largely a reflection on the inefficiencies of the US federal government's legislative branch. Legislation has recently been introduced that would reinstate the tax credit in the amount of $1-1.1/gallon but instead pay it directly to producers like REGI. In the company's Q4 conference call, management was somewhat optimistic based on past reinstatements and current media attention on the subject that the legislation would pass. It is uncertain when we will have a decision, but management mentioned late this year after the congressional elections in November as a possibility. In his article, Daniel Walk went to great length speaking to experts on the subject who were also optimistic the legislation would go through.
The company believes it may be better off without the BTC because it discourages the entry of new competition and magnifies the company's production cost advantage over its current competitors. That may be true but I believe the immediate positive financial implications of a reinstatement would cause a pop in REGI's stock price. It sounds like a win-win scenario though.
RVO increase
The EPA's proposed waiver on the statutory volume requirement for 2014 is probably the result of lobbying by large oil companies. Oil companies argue that it is unsafe for engines, especially in older cars, to burn a blend of diesel that is greater than 10% biofuel. The current 15.21B proposed RVO for 2014 reflects what the EPA has calculated to be the 'blend wall' or the maximum amount biofuel oil companies will be able to safely blend in. The news has been met with a large amount of criticism and the EPA is limited on what grounds it can waive the statutory requirement for. Again here, REGI management and the experts Walk interviewed are confident that the proposal will not hold up. A decision is expected early in Q3. If the proposal does not hold up, RVO for 2014 could be as much as the statutory minimum of 18.15B gallons. That would mean that nearly 3B more gallons or +40% would have to be purchased in less than 6 months before the end of 2014. That is a big percentage increase in and of itself, but because of the short amount of time the 3B gallons would have to be purchased in, biodiesel prices would likely be bid up substantially and the revenue increase could be greater than 40%. This could and should have a huge impact on REGI stock if it happens.
If neither catalyst works out, neither is baked into the company's guidance, analyst estimates, or, in my opinion, REGI's current stock price, so it is only a plus.
Valuation
REGI's current enterprise value is $347M ($447M market cap - $153M cash + $53M debt and capital leases). For the 1H14, I am assuming the midpoint of guidance of $15M in EBITDA. In the 2H13, the company did $85.1M in adjusted EBITDA, but because of the headwinds mentioned, they should come nowhere close to that in 2H14, though management does expect more normal demand. I am assuming what I believe to be a conservative estimate in $30M in the second half, for a total of $45M for 2014. Thus EV/2014 estimated EBITDA is 7.7. That seems pretty cheap for a company with regulatory support and real growth prospects.
Relative to the 2013 numbers, which won't be repeated in 2014 but may be closer to the long term norm, especially if the aforementioned regulatory catalysts pan out, REGI is REALLY cheap:
EV/EBITDA: 2.34
EV/Revenue: .23
EV/Operating Income: 1.80
EV/FCF: 2.16
The stock is also cheap relative to consensus analyst estimates:

EV/2014 analyst consensus earnings: 9.94
EV/2015 analyst consensus earnings: 7.52
In addition, the company is selling at a decent discount to tangible book value. Tangible book is largely made up of cash and was $509.1M at the end of 2013, 13.9% higher than REGI's current market cap. This alone presents decent upside on REGI shares, but more importantly acts to greatly limit downside in a disaster scenario where RFS2 is abandoned and biofuel somehow becomes completely uneconomical forever.
To summarize, the stock is substantially undervalued by many metrics and approaches and I believe undeservingly so. It is difficult to ascertain what REGI stock 'deserves' to trade for at this point because of the regulatory uncertainty and in turn cloudy picture regarding what a normalized profit level will be going forward, but I would say that appreciation to tangible book would be a solid start over the next few months.
Ace in the Hole
On January 22 of this year, REGI acquired LS9. LS9 is described in the 2013 10-K as "a research and development stage company focused on harnessing the power of microbial fermentation to develop and produce renewable chemicals, fuels and other products." LS9 is focused on developing a process to produce biofuel and other chemicals and substances through the metabolic secretions of single-celled micro-organisms. I believe this method has already been used to produce other chemicals and substances in the past and should be commercially viable in biofuel in the not-too-distant future. CEO Daniel Oh stated the following in the Q4 conference call:
This technology uses microorganisms whose metabolism handles the production process. Microorganisms are fed sugars and excrete chemicals, fuels, or other products. Industrial biotechnology and microbial fermentation are mature commercial technologies. We believe our ability to use modern generic tools applied to our proprietary technology to engineer metabolic pathways to produce both drop-in and novel, renewable chemicals, fuels, and other products will create new and exciting products and opportunities for growth.
This method is referred to as 'cellulosic production.' RFS2 reflects that the federal government believes cellulosic fuels are the most promising type of biofuel, as the vast majority of the statutory RVO increases in the next few years will come from cellulosic fuels.
LS9 has 29 patents and was acquired for just $61.5M. Walk points out that this is 75% of the $81M that the firm launched in 2005 with. It also seems cheap relative to other pre-commercial biotech companies in the public equity markets today. I believe that with the right IR firms, investment banks, and paid bloggers, LS9 could easily trade for hundreds of millions of dollars on its own.
Revenue is not expected in calendar 2014 and management stated that LS9, now 'REG Life Sciences' would require plus or minus $1M in investment per month, so probably $8-12M per year. However that investment will be expensed so it is reflected in the EBITDA guidance and is not an additional drag.
I think this will be a worthwhile endeavor and it greatly improves the growth prospects of REGI as a whole.
Consolidation
REGI is also pursuing a strategy of consolidation and, pending shareholder approval, will acquire Syntroleum (NASDAQ:SYNM) for a slight premium to tangible book which is entirely made of a 50% stake in Dynamic Fuels, a direct competitor to REGI. Competition has already been diminished by financial insolvency of other companies as evidenced by REGI's acquisition of several plants at deep discounts to book value. This acquisition will further improve REGI's production capacity in a market with forced buyers.
Conclusion
The REGI story is complex but after taking the time to understand it, I find shares attractive at this level. The insider selling is concerning and I don't like the idea that in a free market, no one would be buying REGI's product at this point, but other than that the story is pretty tight. Buying at this level, investors get an industry leader with real growth prospects for a single digit multiple of various profitability metrics if none of the catalysts bake out. Downside is limited in a disaster scenario by the already significant discount to TBV. If the catalysts work out which they very well could, investors could see outsized returns in the mid- to high-double digits in less than 12 months.
Disclosure: I am long REGI. I wrote this article myself, and it expresses my own opinions. I am not receiving compensation for it (other than from Seeking Alpha). I have no business relationship with any company whose stock is mentioned in this article.