In this article, let's assess the prospects of Bob Evans' (NASDAQ:BOBE) dividend growth prospects. The company is what we would describe to be a hidden dividend growth gem in the restaurant space. Many may know about McDonald's (NYSE:MCD) or Yum! Brands' (NYSE:YUM) dividend growth profiles, but we think Bob Evans' is better than both. But before we dig in, please see the video about how we think about dividend analysis at Valuentum's YouTube page here. It will help with the understanding of this dividend-focused piece, especially as it relates to the Valuentum Dividend Cushion.
Bob Evans Investment Considerations
Bob Evans earns a ValueCreation™ rating of EXCELLENT, the highest possible mark on our scale. The firm has been generating economic value for shareholders for the past few years, a track record we view very positively. Return on invested capital (excluding goodwill) has averaged 15.7% during the past three years.
Bob Evans is a full-service restaurant company that operates Bob Evans Restaurants. The firm is also a leading producer and distributor of pork sausage product and a variety of complementary home-style refrigerated side dishes.
Bob Evans' cash flow generation and financial leverage aren't much to speak of. The firm's free cash flow margin has averaged about 3.9% during the past three years, lower than the mid-single-digit range we'd expect for cash cows. However, the firm's cash flowshould be sufficient to handle its low financial leverage.
Though revenue growth has been under pressure as of late, Bob Evans plans to grow its carryout and catering sales. With roughly one-third of its restaurants located in Ohio, the company also has opportunities for continued expansion in the US.
The firm sports a very nice dividend yield of 2.5%. We expect the firm to pay out about 74% of next year's earnings to shareholders as dividends. We think the company's dividend growth profile is better than that of the better-known dividend growth plays in the restuarant space, including McDonald's and Yum! Brands.
Structure of the Restaurants Industry
The restaurant industry has benefited from a long-term trend toward eating out, but the space has become increasingly more competitive as new concepts are introduced and successful chains expand. Not only are there pricing pressures and trade-down threats, but rising costs for commodities and labor have pressured profits. Barriers to entry are low, and many constituents have a difficult time differentiating themselves. We tend to like larger chains that benefit from scale advantages and international expansion opportunities, though niche franchises can be appealing. We're neutral on the structure of the group.
We like to pay close attention to return on invested capital to ascertain how well a firm is operating within its respective industry. Bob Evans' 3-year historical return on invested capital (without goodwill) is 15.7%, which is above the estimate of its cost of capital of 10.1%. As such, we assign the firm a ValueCreation™ rating of excellent. In the chart below, we show the probable path of ROIC in the years ahead based on the estimated volatility of key drivers behind the measure. The solid grey line reflects the most likely outcome, in our opinion, and represents the scenario that results in our fair value estimate. We calculate a return on invested capital measure for the thousands of firms in our coverage universe.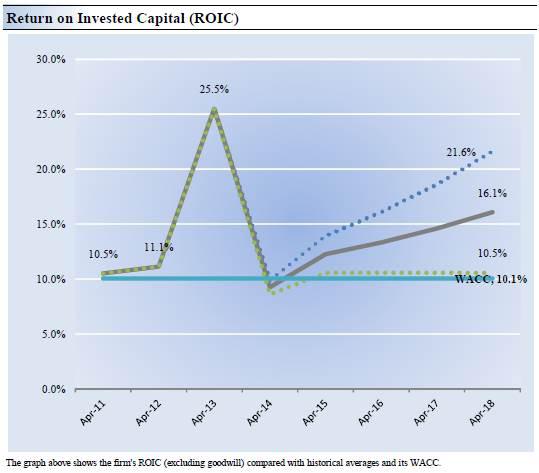 A Surprisingly Strong Dividend Growth Idea
Under the framework of the Valuentum Dividend Cushion, the safety of Bob Evans' dividend is excellent, as Bob Evans' Dividend Cushion score is materially over 1 (in fact, it is 2). The high score indicates to us that the company can cover its dividend and even increase it at a level much higher than our forecasts before we would even start growing concerned about its safety. On a technical level, the score of 2 implies that our expectations of Bob Evans' free cash flow (cash from operations less capex) can cover our expectations of the company's growing cash dividend payments by a factor of 2, after considering the health of the firm's balance sheet (its net cash position). Having such a large cushion is quite comforting. Please be sure to examine the image below.
<click to enlarge>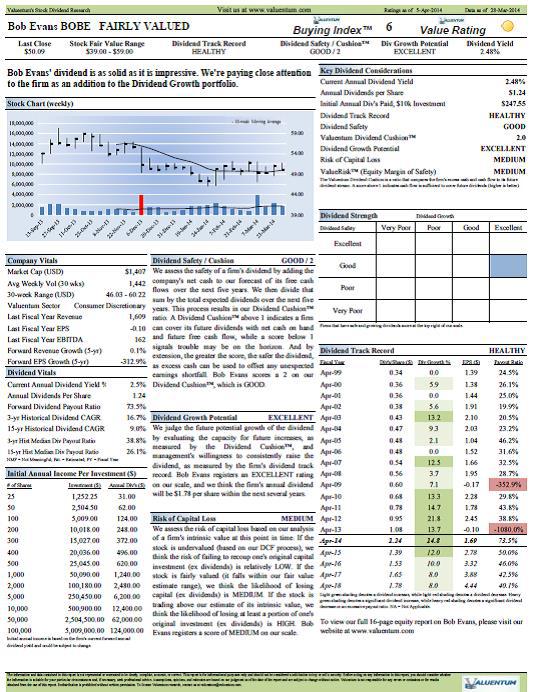 Now on to the potential growth of Bob Evans' dividend. As we mentioned above, we think the larger the "cushion", the safer the dividend. However, the larger the cushion, the larger the capacity a company has to raise the dividend as well. Capacity and willingness are two key concepts for dividend growth to materialize -- you can't have one without the other. We know Bob Evans has the capacity for future hikes, but does it have the willingness? To assess willingness, we evaluate the company's historical dividend track record. If there have been no dividend cuts in many years, the company has a nice growth rate, and a nice dividend cushion, we would rate its future potential dividend growth as excellent, which is the case for Bob Evans.
Valuentum's Take
Bob Evans' dividend has years of growth ahead of it, and with a 2.5% annual yield, the firm should be on any dividend growth investors' watch list. We think dividend growth investors seeking expansion to the restaurant industry find themselves either holding McDonald's or Yum! Brands, but we think Bob Evans is also worth a look. In fact, we're paying close attention to the firm as an addition to the Dividend Growth portfolio.
Disclosure: I have no positions in any stocks mentioned, and no plans to initiate any positions within the next 72 hours. I wrote this article myself, and it expresses my own opinions. I am not receiving compensation for it (other than from Seeking Alpha). I have no business relationship with any company whose stock is mentioned in this article.