In the accumulation phase the only thing that matters is total return*. That is a mathematical fact that should not consume much space or energy or gigs on Seeking Alpha. That may sound like an arrogant statement but certain truths should be accepted and acknowledged on an investing site with such influence as Seeking Alpha. It's as simple as acknowledging that 10 is greater than 5.
For starters here, we should define total return. Quite simply total return is a performance measure of "how much you got, how much you making?" The only important number is the portfolio's total value at any given moment. Total return is generated by a combination of capital gains (increase in asset prices) and portfolio income. Fees are on the other side of the ledger and can of course reduce total returns.
The accumulation phase is about accumulating the highest level of assets, the highest portfolio value. The distribution or spending phase will be about creating an income stream that meets your spending requirements. Most investors will spend the portfolio income from the investments in addition to selling some of their assets or holdings. Some investors will simply live off of the income generated from the portfolio (and other pension amounts) and will generally not sell assets.
But the two phases should be separated: there's the accumulating and there's the spending. The more money we have after the accumulation phase (total return) the more cash we'll have to go shopping for the income. Many investors and authors on SA have a spending strategy in the accumulation phase, which seems counter-intuitive and perhaps counter-productive. More on that later.
How much do you want to have when you go shopping; $1 million or $1.6 or $2 million? Most should pick $2 million.
You may notice I put an asterisk * on that total return statement because certainly the assertion does need some qualifying. Total return is all that matters is true, but only once certain conditions are met, because every investor has their own goals, objectives and most importantly - risk tolerance level.
Just because an investor is 27 years old and has decades to accumulate does not mean that they should take on the greatest risk seeking the greatest return. That investors should take on all the risk that they can handle, emotionally. That said, that young investor has no idea what their risk tolerance level might be. As Dan Bortolotti (one of the most popular financial bloggers in Canada) writes at canadiancouchpotato.com asking a new investor what their risk tolerance level is, is like asking them how long they think they can hold their hand submerged in ice water. They might respond "two minutes", but they have no idea until they stick their hand in that bucket of ice water to find out that the muscles cramp up pretty quick, it starts to hurt and they need to abort the icy test after 60 seconds or less. Same goes for investing, you don't know what a 60% or 90% pullback feels like (yes, many of us were tech overweight back in 2000-2001 cause "you can't go wrong with the new Internet world and the companies that drive it") until you watch your actual hard-earned dollars go from $100,000 to $40,000 or from $100,000 to $10,000. It hurts more than one can imagine. And you don't know until you live it and put your hand in that bucket of ice water.
Investing is most often a risk/return proposition. That is, when executed properly the more risk one takes on, the more the returns. For example, small caps outperform large caps over longer periods. And once again, historical probabilities typically need lots of time to increase the probability that you'll get that outperform that market history says is on its way.
Here's a chart on small cap vs. large cap. This is the small cap index (NYSEARCA:IJR) from inception of May of 2000 to present vs. the broad market S&P 500 (NYSEARCA:SPY). Yes that's the small caps in racing green.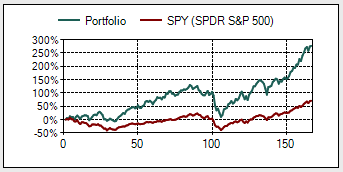 That's an incredible outperform to say the least. And it should be stated that small caps and other growth strategies do not outperform in all periods. But if you do go much longer term as I demonstrated in this article your outperform almost becomes a sure thing. Over 20 year rolling periods there is a 95% probability that small caps will outperform large cap growth stocks. Again, looking back according to market history.
Small caps carry more volatility, but they offer the potential for some incredible gains. The gains should only be chased by those who are quite certain they can handle the extreme volatility of a small cap or other growth strategy. And again there are many growth strategies one can adopt to seek that greater total return.
But let's change channels and go back to investors essentially executing a spending strategy in the accumulation phase. On Seeking Alpha that appears to be the domain of many dividend growth investors and authors. A few authors will declare a total return goal in their mission statement and then buy and sell stocks with the goal of ...
"creating a reliable and growing income stream".
What? Why?
They're watching and managing and measuring the income. The goal is not total return, it is growing income. It is my opinion that your investment plan and strategy should match your initial objective. Something should change. Either the investment business plan should state the goal is to create a growing income stream, or the investment strategy should switch to one of pure total return.
And it's certainly reasonable if one wants to adopt dividend growth as a risk management tool. I call it a useful distraction. If watching the total income (instead of the total return) allows an investor to stay the course, and that's certainly fine by me. We all know the most important trait that allows an investor to reach his or her goal is patience and not allowing emotion and fear to get the better of them.
But I see many new investors coming into Seeking Alpha and adopting that total income instead of total return strategy. If they embrace the total income strategy as a risk management tool that's great. But many might be better served with a total return approach.
Even in the world of dividend growth investing there are simple ways to create a lower beta (volatility) portfolio that has historically outperformed the broader market with respect to total return. In two recent articles here and the "Most Important Article I Could Ever Write on Dividend Growth" here, I examined the success of the Dividend Aristocrats index. This is a compilation of the S&P 500 members who have increased their dividend for 25 years or more. The index currently holds 54 companies. That index has beat the broader market SPY by 2-3% per year over certain periods highlighted in those articles.
That said, that market-beating return potential has not been available to the total income investors on Seeking Alpha from my observation of their returns. The aristocrats have an annualized return of 9.7% from mid 2005 compared to the S&P 500′s 6.7% return. I don't see those generous returns from the total income investor. For young investors that decision to not be a total return investor could add 5-8 years or more to their working life.
Total income investors would not purchase many of the great companies currently on that list of Dividend Aristocrats, as the yield is simply too low. Many investors on SA use a combination of yield and dividend growth history to select their companies, and they have a minimum current yield requirement that may be in the area of 2 or 3%.
As I have suggested in many articles, dividend growth offers the ability or potential to outperform the market, but the formula for success according to studies is a combination of dividend growth and low payout ratio. Certainly higher yielders can deliver on that total return front if that low payout ratio is also present. In fact high yield and low payout ratio is top of the scale according to those studies.
Of the Dividend Aristocrats, over half, some 29 of those companies have a current yield below 2.5%. Many of them are very-low-yield-wouldn't-touch-it-with-a-ten-foot-pole kind of companies for total income investors. As I demonstrated in my "My Most Important Article I Could Ever Write on Dividend Growth", it appears that the total return drivers could be those low payout ratio companies, many of them with a low current yield.
Not only that those aristocrats offer that very low risk or beta that many dividend growth investors seek. It meets the requirement on the risk scale for many, it has a history of incredible total return, but it doesn't meet the requirement for current income and income growth potential. In fact, the aristocrats are lower on the beta scale when I compare to many portfolios shared on SA. Lower beta, better returns, what's not to like? Low yield is the answer of course.
Those who follow the total income strategy will suggest that they do not separate the accumulation phase and the distribution phase because it would be difficult to make that switch from any companies that provide the total return to companies or assets that deliver the income required. In fact, the transition to an income portfolio for the spending phase would be easy and seamless, and it would most likely happen over a few years.
To frame it by asset class you can check out my article entitled the Ultimate Income Portfolio. That simple 3-ETF portfolio of (NYSEARCA:VYM) (NYSEARCA:CVY) and (NYSEARCA:HYG) would deliver a current yield of 4.6% if you equal weighted them. And that mix would have delivered a total return of 179% over the last 5 years, providing a little cushion in the good times. Any income above spending requirements could purchase additional units. That would have worked out well over the last 5 years for holders of that asset mix. Of course it would not be difficult to create a yield well above that 4.6%, I selected those 3 ETFs for ease of calculation(s). See Bob Johnson articles on his core and satellite approach to investing in the spending phase.
For a stock picker, it would be quite easy to slide some of the investment dollars to lower beta / higher yielders that offer a dividend growth history. An investor could certainly make a few switches along the way, selling some of the companies that delivered on total return, but don't meet the requirements for the spending stage. Many investors will also understand that keeping a segment in those growth holdings may provide the greatest inflation hedge over longer periods.
For a skilled investor, the portfolio in the spending stage can be easily acquired, the transition seamless, happening over many years. That said, there's also the possibility that an investor hits that magic total return number early due to a robust equity market and simply cashes out of their holdings and makes that switch to income generators "in a hurry". That would be a nice problem to have.
For example if an investor has $1.1 million and they know their magic number for retirement is $2 million and the markets go on a tear for 18 months and allow that investor to quickly hit that $2 million mark (see that small cap chart) he or she would be best served to not be greedy, and take that money and run to the nearest income generating assets. Again that skilled self directed investor would have their plan set, and would be able to quickly execute that switch. They may take a few days to party in between but that's another story.
Suggestions
Know your risk level. Match your investments to that risk level. And take on the risk that you can handle with a strategy that will create the greatest total return. There is no reason to stare at (or care about) the portfolio income.
Know how buying and selling assets affects your tax payable situation.
Don't be a total income investor in the accumulation phase. There will be a time to focus on income, when it matters, when you need to spend it.
Oh, and Happy Tangerine Day. Today is the day that ING Direct Canada officially changes its name to Tangerine. We were acquired by Scotiabank (NYSE:BNS) back in 2012, but make it official today. Should make for an interesting day.
Disclosure: I am long VYM, SPY, DIA. I wrote this article myself, and it expresses my own opinions. I am not receiving compensation for it (other than from Seeking Alpha). I have no business relationship with any company whose stock is mentioned in this article. Dale Roberts is a mutual fund associate at Tangerine Bank. The Tangerine Investment funds offer complete index-based portfolios to Canadians. Dale's commentary does not constitute investment advice. The opinions and information should only be factored into an investor's overall opinion forming process