In the next few weeks, India will be done with its national elections and Eros Plc. (NYSE:EROS) is well positioned to benefit from resumption of media & entertainment consumption, after months of news & current events dominating the national media. The near-term boost is an opportunity to take a closer look at this recently listed (In the U.S.) business and a great play on domestic media & entertainment consumption in India.
Besides the strong macro trends favoring the industry, recent efforts by the company to monetize its large library of films, expanding distribution channels and a decent line-up of new releases bode well for the coming quarters. The Eros model is much more conservative, compared to a typical Hollywood film distribution company, and value of content assets under appreciated.
There have been numerous developments over the last few months that position the stock well in the coming months. Some of the prominent among them are:
Listing in the U.S. as the first and the only Indian media company, which offers the company prestige, additional currency and cheaper capital for expansion
High T.V. syndication rates of new releases, which are hitting more than 50% of the film's investment
Ramp of new relationships like Tata Sky, after which the company will be able to cover 75% of the total DTH (Direct To Home service) covered homes
Macro: Well positioned domestic (India) consumption story
Indian Media & Entertainment industry ranks among the top in the global media industry. According to KPMG-FICCI survey, Indian film industry is expected to maintain its 11-12% growth for the next few years. The movie industry is getting a boost from rising theater revenues and increasing options to monetize content, including TV and Internet. Theater revenues are benefiting from expanding screens per capita (at 12/million vs. 117/ million in the U.S.) and rising ticket prices. The Indian TV industry is growing close to 18% and paying accordingly well for quality content.
EROS co-produces, acquires and distributes Indian films. The company has close to 40% market share in the global distribution channel, which is highly concentrated among few players and a more lucrative part of the industry, in terms of growth and margins.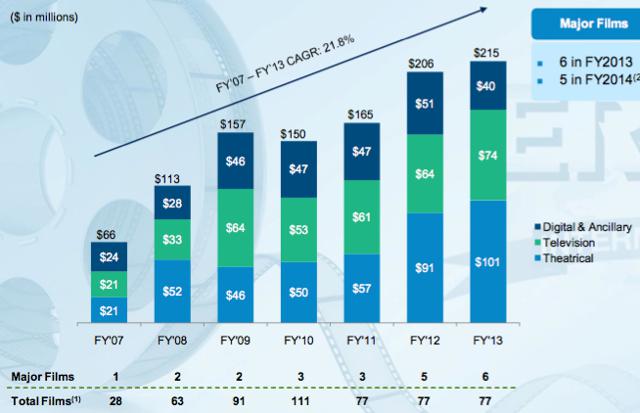 Source: Eros Plc. (DB conference)
Besides the decent growth, as the chart above shows, Eros stands out compared to Hollywood in a few respects, which are
Diversified: Average big budget movie costs $10-12 million and the company makes 3-4 such movies in a year
Marketing and distribution costs are just $3 million on average
The company works on revenue sharing deals with multiplexes rather than renting them
Rollout of library monetization initiatives to work as significant catalyst
With the rising T.V. and Internet penetration in India and rising On-Demand video consumption globally, roll out of recent content monetization efforts are worth watching closely. These can be categorized as
Television syndication deals
Rollout of Eros Now, the online movie service
Digital T.V. reach is close to 100% level in top two tier cities and almost 130 million homes, which offers perfect library monetization opportunities. Although growth has been strong, as the worksheet below shows, but roll out of partnerships like the recent Tata Sky (the largest DTH provider in India) and expansion of premium channels by HBO Asia should provide a further boost to the revenue growth.
Monetization efforts taking shape

Growth

FY Q3 2014

FY 2014 YTD

FY 2013

Theatrical

2%

-18%

11%

Television syndication

93%

77%

15%

Digital & others

-5%

-6%

-22%
Data source: SEC filings
After the Tata Sky deal, the company covers almost 80% of the DTH subscribers in India. With the expansion of channels, there is such high demand for premium content that almost 50% of the film's investment, in some cases, is being underwritten by Television syndication deals alone.
Eros Now, the company's online service to offer movies and music videos, offers another decent opportunity for monetizing company's library of approximately 3000 movies and music videos. The service works on a "Freemium" model, but if Eros Now on Youtube (NASDAQ:GOOG) is any guide, there seems strong demand for subscription only model. Eros Now channel on Youtube has more than 1.7 billion video views and over 18 million video views each month.
There is a good Line-up of new releases
There is a decent lineup of new releases starting with a high budget regional language film in April. For the year, there are seven to eight high budget films in the pipeline.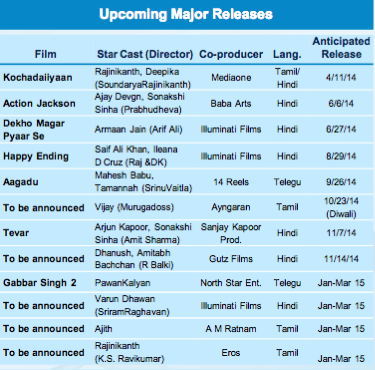 Source: Eros Plc.
Last year, Eros had four out of top ten box office releases and bought ex-India rights for another two of the top ten releases.
Under-appreciated assets: Content on the books offers an opportunity
Price of content (Intangibles Assets- Content) on the books after amortization does not fully reflect the value of the library. The company amortizes 25-40% of the value of the film in the first quarter and full value over ten years with the schedule being heavily skewed towards the first year.
Valuation of content library

Titles

Value

Movies

2,000

100%

Movies - Digital rights

700

30%*

Total

2,210

Value of Content on books ($M)

$573

Value/ movie on books

$259,245

Enterprise Value

$848

Enterprise Value/ Movie

$383,643

* Taking an approximate value of digital rights at 30% of the value of a movie
As the worksheet above shows, even a back of an envelope calculation highlights the low value attached to the library, which the company has just started to monetize with new distribution channels. These content assets have been growing nicely with consistent new investments.
Consistent investments in content

FY 2014 YTD

FY 2013

FY 2012

Non current content assets

$572,932

$535,304

$473,092

Content advances

$182,366

$163,781

$162,377
Cash flows attest the quality of assets
Besides the high batting average of new releases, cash flows provide a good insight into the quality of content. EBITDA is strong, both in terms of percentage of revenue and growth, but including the content amortization costs, improves the number and highlight the high cash generation ability of the new releases.
EBITDA: better with content amortization costs

FY Q3 2014

FY 2014 YTD

FY 2013

FY 2012

FY 2011

Adjusted EBITDA

$45,200

$67,206

$56,320

$66,985

$59,501

Content Amortization cost

$28,116

$71,566

$101,955

$86,525

$67,839

EBITDA w/Content Amortization

$73,316

$138,772

$158,275

$153,510

$127,340
As the initiatives discussed earlier gather pace, margins and cash flows should follow. Most of these monetization efforts involve little additional costs and carry higher margins. Signs of improvements, from already decent levels, are visible.
Margins good, improving and may get a boost

FY Q3 2014

FY 2014 YTD

FY 2013

FY 2012

Revenue Growth

22%

6%

4%

25%

Gross margins

58%

47%

38%

43%

Operating margins

43%

30%

26%

30%

EBITDA growth

54%

42%

-16%

13%
With increasing investment in new content (chart below), efforts are already in place to keep the momentum going.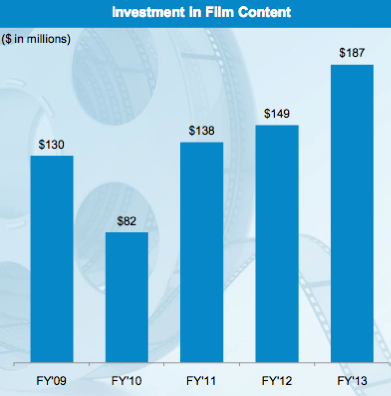 Source: Eros Plc. Investor presentation
Conclusion
A well positioned pure play on media & entertainment consumption in India. Initiatives to monetize its vast library are underway, which should add an additional layer of growth, while improving margins and earnings. The value of depreciated assets on the books, which is low, should provide a floor to the downside risk. Target of $22-25 is based on 15-20 times next year's earnings, which may improve with improving prospects.
Disclosure: I have no positions in any stocks mentioned, and no plans to initiate any positions within the next 72 hours. I wrote this article myself, and it expresses my own opinions. I am not receiving compensation for it (other than from Seeking Alpha). I have no business relationship with any company whose stock is mentioned in this article.