Steel Partners Holding (NYSE:SPLP) recently announced tender offer to purchase up to $49m of common shares, which represents c.10% of the market cap. Shares are expected to be purchased at $17.5 vs $16.8 current price. The tender offer will end on 23 April, providing current buyers with 4% return in two weeks or 105% annualized with no downside risk.
This idea might be more relevant for smaller investors as for holders of less than 100 shares, the share purchase is guaranteed.
Company background and reasons for the offer
I have already covered the business of Steel Partners Holdings in the previous article (here). It is a holding company that invests mostly publicly listed companies. Some investors call it a new Berkshire Hathaway. SPLP currently trades at 53% of its net asset value and is run by an activist investor Warren Lichtenstein.
The company concentrates on shareholder value maximization and management believes that currently the purchase of undervalued shares is the most efficient use of company's excess funds.
Structure of the tender offer
Steel Partners is conducting the tender offer through a procedure commonly called a modified Dutch auction. This procedure allows investors to select the price, within the range specified by the company, at which the individual investor is willing to sell the shares. The price range for the offer is $16.50 per share to $17.50 per share. The company will select the lowest purchase price, not greater than $17.50 per share nor less than $16.50 per share, that will allow it purchase $49m of stock, based on the number of shares tendered. Steel Partners will purchase all shares at the final purchase price, thus even if you have selected a purchase price lower than the final purchase price, your shares will be tendered at the final purchase price. However, the company will not purchase any shares tendered at a price above the final purchase price.
If, based on the final purchase price, more than $49m of shares are properly tendered, the company will purchase shares on a pro rata basis, except for holders of less than 100 shares, which will be purchased on a priority basis.
Thus, if investor wants a guaranteed purchase at the tender, he/she had to buy less than 100 shares and tender them all at price of $16.5 (these are likely to be bought at final purchase price of $17.5). Or if investor liked to eliminate downside risk completely, he/she could tender shares at the current price of $16.8, as it is extremely unlikely final purchase price will be below this below.
Side note: even if odd lot holders will indicate tender price of $16.5, it is unlikely to materially affect the final purchase price as odd lot holders will constitute a minority of all tendered shares minority.
Likelihood of the tender offer going through is 100%
The purpose of this tender offer is primarily to return excess capital to shareholders and to increase the intrinsic value per share for the remaining shareholders (valuation gap between intrinsic value and market noted in my previous article). As of March 2014 SPLP had $29m in cash and $48m in available for borrowing under existing credit facilities (with low interest rates at LIBOR+1%). Quite a few tender offers are conditional on funding, but in this case the funds are already. There are no further specific conditions (besides the standard ones attached to all tenders) attached to the offer, so even if less than $49m of stock is tendered the offer will go through. Thus, I do not see any reasons at all why this particular tender offer might be cancelled and in two weeks I do not believe much can change.
Why $17.5 share price is expected?
With the market valuing the company close to the upper limit of the offer for the last few months, I hardly believe any investors would be willing to tender at a minimum of $16.5 (see chart below). Insiders own 40% of the company and have indicated they will not tender at all, as shares are still significantly undervalued even at $17.5 purchase price. Another 17% of the company is held by two value orientated money managers Benchmark Plus (concentrates on investing in companies run by exceptional management) and EnTrust Capital (who recently increase their position) and thus are unlikely to tender at all. This significantly reduces the amount of shares that can potentially be tendered.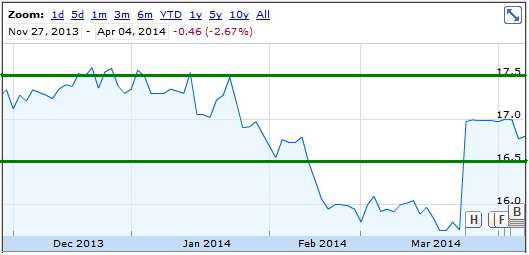 The most likely scenario I foresee is that the total amount of shares tendered will be below the $49m, which will force company to accept all tendered shares at the highest offer price of $17.5. The second most likely scenario is that even though there will be more than $49m shares tendered the final purchase price will still be $17.5 (it is unlikely many investor will indicate a lower price). In this case, all odd lot holders will be guaranteed purchase at $17.5, and for others shares will be purchased on pro-rata basis.
If the worst happens and the final purchase price is $16.5 (which I view as very unlikely), the odd lot holders, who have tendered at this price would suffer a loss. To avoid this, one should tender shares at the price purchased (e.g. $16.8) or at a higher offer limit (i.e. $17.5). Then if shares do not get bought in the tender, the investor can resell them in the open market where share price is likely to be higher than $16.8. Thus the downside risk is very limited and unlikely to materialize.
Conclusion
Investors have an opportunity to realize 4% yield in two weeks (105% annualized) by participating in the Steel Partners Holdings tender offer. Management considers company to be undervalued and is using this tender offer to distribute cash to shareholders and increase the value for the remaining shareholders. The tender offer is very likely to go through at the price of $17.5/share and for holders of less than 100 shares the purchase is guaranteed. Investors with multiple trading accounts could potentially achieve these returns in each of the accounts.
Disclosure: I am long SPLP. I wrote this article myself, and it expresses my own opinions. I am not receiving compensation for it (other than from Seeking Alpha). I have no business relationship with any company whose stock is mentioned in this article.