I've done a good bit of buying so far this year, but primarily to add to existing positions so, if HealthSouth (HLS) dips to my range, it may be among the few new positions I'll open this year. As with my last couple of articles, this article is not to suggest buying at the current price, but that isn't because I think HLS is overvalued. Rather, it's because the stock gained several points while I was updating my due diligence and I prefer more short-term downside protection when opening new positions, versus adding to existing positions. So, I'm just sharing research on a stock I wish I had bought during what was the best dip so far this year (HLS was $30 February 4-5). Perhaps writing about HLS while the price is higher than I'm willing to pay will help convey that my opinion is from a long-term investment perspective, not a short-term trading call.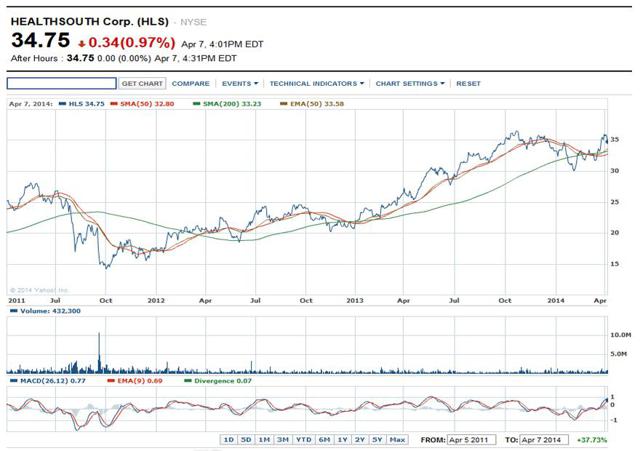 Source: Yahoo Finance
Company Overview
HealthSouth Corporation, incorporated in 1984, is the nation's largest owner and operator of inpatient rehabilitation hospitals in terms of patients treated, revenues and number of hospitals. Operating in 28 states and in Puerto Rico, HealthSouth serves patients through its network of 103 inpatient rehabilitation hospitals (96 of which hold at least one disease-specific care certification from the accrediting Joint Commission), 20 outpatient rehabilitation satellite clinics and 25 licensed hospital-based home health agencies.
In 1993, HLS founded pharmacy practice management company MedPartners, which changed its name to Caremark Rx in 1998, after its 1996 acquisition of Caremark International. In 2007, Caremark Rx merged with CVS Corporation to create CVS Caremark (NYSE:CVS). HLS also founded diagnostic imaging company Diagnostic Health Corporation, surgery center company Surgical Care Affiliates (NASDAQ:SCAI) and healthcare technology systems company SourceMedical Solutions.
Today, HealthSouth's 23,600 Rehabilitation Physicians, Rehabilitation Nurses, Physical Therapists, Occupational Therapists and Speech-Language Therapists provide rehabilitative care to patients who are recovering from a wide range of conditions such as stroke and other neurological disorders, orthopedic, cardiac and pulmonary conditions, brain and spinal cord injuries, and amputations.
For more details about HealthSouth Corporation, see the company website.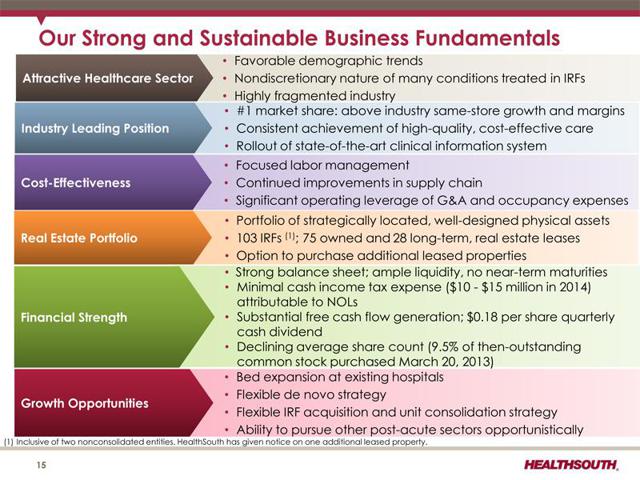 Source: company presentation
Business Drivers & Risks
Scale Advantage
As the largest and oldest independent provider of rehabilitation services, the scale and experience HLS has in its favor should help the company continue to capitalize on healthcare trends. For example, HLS has the widest geographic footprint, a well-established reputation for quality services and strong brand recognition. The former means that an HLS facility is the only rehabilitation option in some locales, while the latter means that many people seek out HLS facilities even when other options are available. The size of HLS also gives the company an advantage in terms of attracting the best talent, which obviously plays a role in service levels, which in turn attracts patients to HLS facilities.
HLS also continues to expand, both organically and via acquisitions. In 2013, the company completed construction of two new hospitals: a 40-bed hospital in Littleton, Colorado and a 34-bed joint venture hospital with Martin Health System in Stuart, Florida. HLS also began construction of three new hospitals to open in 2014: a 50-bed hospital in Newnan, Georgia; a 50-bed hospital in Altamonte Springs, Florida; and a 34-bed hospital in Middletown, Delaware. HLS also acquired a 58-bed Walton Rehabilitation Hospital in Augusta, Georgia and purchased land for a 50-bed hospital in Modesto, California. The Modesto hospital construction will begin in 2014 and it is expected to open in 2015. I contend this growth further perpetuates the impact of each aforementioned advantage such as brand recognition and attracting top professionals.
A possible risk that relates to the company's size could result from its growth strategy including an acquisition component. All acquisitions inherently involve business integration risk, wherein an acquirer may be unable to successfully integrate an acquisition into its operations. For two reasons, integration risk is minimal for HLS. First, these types of acquisitions are naturally less disruptive than in many industries since rehabilitation hospitals are largely autonomous units that are geographically dispersed and have far less expensive equipment than general hospitals. Thus, acquisitions do not add a lot of duplicative hard assets and there is far less likelihood of corporate culture issues since the staff at each hospital is not suddenly relocated to a central location. Second, HLS simply has a long track record of successfully integrating many acquisitions.
Aging Population
The U.S. population is growing older and living longer, which means increasing demand for services offered by HLS and other healthcare companies. As noted in an article by the CEO of AARP, statisticians calculate that one person in the baby boom generation turns age 65 every eight seconds and that will continue every day for fifteen more years. As a result, by the time the last of the baby boomers turn 65 in the year 2029, the 65 and older portion of the population will be nearly double the size it is today. That is an increase to nearly 20% of the total population, versus 13% in the year 2010. This is a secular trend that will not reverse any time soon and should be a continual tailwind for HLS.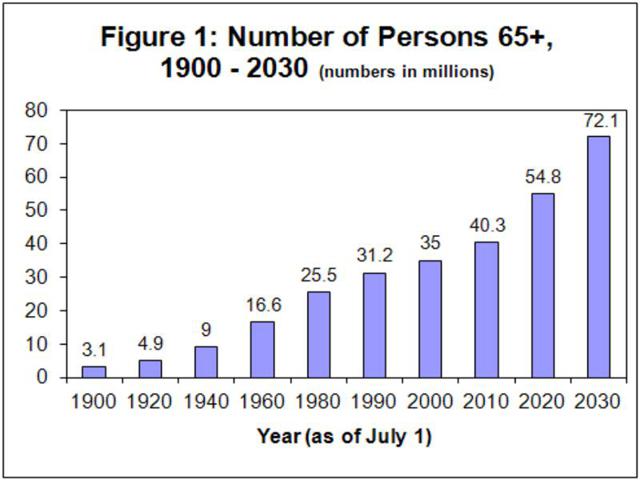 Source: Department of Health & Human Services, Administration on Aging
The potential risk part of this topic is in the counter argument that the aging population phenomenon is widely known and must be already fully priced into the share prices of the companies that are benefiting. While I concede there is some validity to that argument, I do not believe that investors today could possibly fully appreciate, and accurately quantify, the true scale and scope of how the world will differ decades from now. Furthermore, my belief is that particular stocks, including HLS, have this phenomenon priced in to a lesser degree due to a combination of other factors, such as the next two topics.
Payment Sources
Perhaps the most legitimate and substantial risk for companies like HLS is the possibility that changes to laws or regulations could have a negative impact on the overall ability to pay for healthcare services. At the core of the issue is the fact that a very large portion of the payment HLS earns for its services is from Medicare reimbursements (only a tiny portion is from Medicaid), and there are constantly proposals to make dramatic changes to the Medicare system. There is very good information on the general subject here, here and here.
One concern is that the 2010 Affordable Care Act (aka "ObamaCare"), which is discussed here and here, may cut Medicare spending. Another such concern is the potential privatization of Medicare, as suggested in a budget proposal by Paul Ryan [R.-Wis.], which is discussed here and here. Yet another concern is potential elimination of the so-called "doc fix," which is an annual dance that Congress does to get around the Medicare Sustainable Growth Rate [SGR] formula (discussed here and here). Ironically, the doc fix actually results from lawmakers' previous attempts to "fix" the Medicare system.
Clearly, healthcare laws and regulations have been changed before and good companies managed to survive. For example, some critics argued that the 2003 Medicare Prescription Drug, Improvement and Modernization Act [pdf] was a first step toward dismantling the entire Medicare program. That could ultimately turn out to be true, but even that would not necessarily be a death knell for HLS. Perhaps money currently paid into the Medicare program would remain in the healthcare system, just not through Medicare. In other words, perhaps the bottom line is that the services provided by companies like HLS will continue to be needed, utilized and paid for; regardless of how Medicare and the healthcare industry may evolve over the years and decades to come.
I find interesting this comment on the subject from CEO Jay Grinney:
"I don't think that we are disproportionately at risk. In large part, because inpatient rehabilitation is a relatively small and stable component of total Medicare spending. It's somewhere in that $7 billion to $8 billion range as an industry, in terms of Medicare spend."
Granted, this is somewhat of an oversimplification, but perhaps the healthcare industry will transition from a margin business to a volume business. In other words, perhaps instead of making relatively high profits from a relatively small number of transactions (a margin business), the industry will grow and adjust to making similar total profits from far more customers (a volume business).
Perhaps one way that will happen is the most basic health services that we are accustomed to going to a physician's office for will increasingly be provided at clinics in places like drug stores and supermarkets. Perhaps the next level of healthcare that we are also accustomed to going to a physician's office for will increasingly be provided by Nurse Practitioners. Perhaps physicians will once again treat only the most ill, thereby reducing total system costs, along with the expectation for physicians to treat ever-increasing numbers of patients.
Perhaps such an evolution has already been underway for decades. Perhaps healthcare will evolve in other ways we can't even imagine today. Perhaps the only real problem any of us have with the issue is that the end game won't be achieved within our lifetime, so the system will never be good enough for us personally. Perhaps there is no end game, complex critical systems are always subject to continuous improvement, and change is simply uncomfortable.
I don't profess to have all the answers so my point is that I'm fairly confident that the services provided by companies like HLS will continue to be needed, utilized and paid for; despite how the healthcare system may evolve. Thus, I think the combination of essential services and a growing stable of customers means that HLS has good potential to become a great long-term investment.
Scandalous Past
Since some investors may not be aware, I believe it would be inappropriate to discuss HLS without mention of the scandal that occurred over a decade ago. However, I contend that no related risk remains with HLS. In fact, I believe HLS is far less likely than most companies to have any governance issues ever again, precisely because it has been subjected to far more scrutiny than most.
HLS was involved in a corporate accounting scandal in which Richard Scrushy, Founder and then Chairman and CEO, directed staff to falsely report grossly exaggerated company earnings. In March 2003, the FBI raided the company's headquarters, after which the Board of Directors held an emergency meeting and terminated both Richard Scrushy and William Owens, who had been CFO.
The Board also concluded that the company's financial problems resulting from Scrushy's fraud were too large for it to resolve internally. At the advice of lead lender JPMorgan Chase, HLS hired a restructuring firm to bring its finances in order, and also appointed a Chief Restructuring Officer. By the end of 2003, HLS had most of its finances reorganized and was able to avoid bankruptcy.
In 2004, Richard Scrushy had charges brought against him by the SEC, but a jury acquitted him of all thirty six charges in June of 2005. Four months after the acquittal, Scrushy was indicted by a federal grand jury, along with former Alabama Governor Don Siegelman. The indictment included thirty counts of bribery, extortion, money laundering and racketeering. Scrushy pleaded not guilty to all charges, but was convicted in 2006, along with Siegelman.
In May of 2009, while still incarcerated, Scrushy testified in a civil trial brought against him by HLS shareholders. In June of 2009, a judge ruled that Scrushy is indeed directly responsible for the fraud and ordered him to pay restitution of $2.9 billion. In July of 2012, Scrushy was released from prison, but remains barred from becoming an officer or director of any public company. In January 2014, the Supreme Court rejected Scrushy's appeal of his 2006 conviction.
Since the final resolution came during the lows of the 2009 Great Recession, perhaps there is even opportunity lingering from the fact that investors only gradually re-engage a company after egregious acts by executives. Similar to the other topics in this section, risk that is more perception than reality can actually cause undervaluation and help drive stock appreciation. Importantly, HLS now has completely different executive and senior management teams.
Cash Deployment
Due to Mr. Scrushy's crimes, HLS experienced a period of financial difficulty in which it was questionable whether the company would survive. For that same reason, and perhaps because Mr. Scrushy was not focused on the interests of shareholders, HLS never became known as an especially shareholder friendly company. However, that is changing and I believe the trend will continue.
In 2013, HLS continued strengthening its balance sheet by redeeming 10% of its 2018 and 2022 senior notes; as well as trading $320 million in convertible debt for preferred stock, which saves $10 million a year pre-tax since the debt interest payments are lower than preferred dividend payments. Moody's then upgraded HLS senior unsecured notes and affirmed the HLS outlook is stable. HLS has no maturities until 2018 and has revolving credit facility availability.
As a result of its strengthening financial position, and likely as a way to prove to investors that the new HealthSouth is entirely different from the pre-2003 HealthSouth, the company has been showing shareholder friendly tendencies.
In 2013, HLS returned capital to shareholders both by repurchasing 9.1 million shares for $234 million through a common stock tender offer and by paying its first common stock cash dividend. HLS leadership openly states that returning capital to shareholders is one of the company's top cash deployment priorities, along with growing the core business and reducing debt. I contend that means great things for the future since HLS consistently generates extremely strong free cash flow. In 2013, HLS free cash flow totaled $330.9 million for a 23.5% increase over 2012, following increases of 10.2% in 2012 and 34.1% in 2011. Here is an interesting exchange from the most recent conference call:
Ann K. Hynes - Mizuho Securities USA Inc., Research Division:
"It looks like free cash flow adjusted will be about, say, like $350 million to $360 million in 2014. And, you have earmarked about $180 million of uses, so that leaves about $175 million of free cash flow unused. So I guess, when I look at 2013, you did deploy a lot of free cash flow to shareholders. At what point during the year can you make that decision to maybe, I don't know, do acquisitions, increase your dividends or do other things with your free cash flow?"
Jay F. Grinney - HealthSouth, Chief Executive Officer, President and Director:
"That's really a dynamic ongoing process. We're not waiting for any particular milestone. We're constantly evaluating what is the best deployment of free cash flow. But I think you point out a very significant strength of this company, and that is the very strong free cash flow generating capacity that we have. So, as we did last year, we found ways and identified ways and then executed on those ways to return value. And we certainly expect to continue to do that in 2014 and beyond."
It sounds to me like management is cautious and not quite ready to commit to any long-term cash deployment plans, yet is openly hinting at long-term cash deployment plans. I think that implies strong confidence in the business.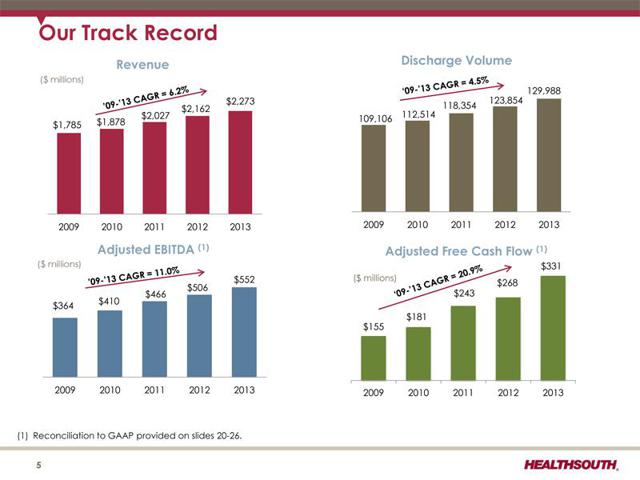 Source: company presentation
Company Updates
January 14: HLS President and Chief Executive Officer, Jay Grinney, spoke at the J.P. Morgan Healthcare Conference [pdf].
February 19: HLS released its 2013Q4/FY earnings results [pdf] and held its conference call [pdf]. The $0.52 earnings per share [EPS] in 2013Q4 beat the consensus estimate by a wide margin (18.2%). Quarterly revenue of $572.1 million represented a 3.5% increase over the prior-year period, but slightly missed the consensus estimate. Consistent with the volume versus margins thesis discussed earlier, the revenue increase was due to a 3.8% increase in number of patients treated in the quarter (5% increase for the year), partially offset by a 0.1% decrease in revenue per patient. CEO Jay Grinney stated:
"The fourth quarter was a solid finish to another strong year for HealthSouth. Most importantly, our business fundamentals are compelling as we begin 2014. The quality of care provided by our dedicated employees remains a competitive advantage as we serve the needs of a growing number of patients requiring inpatient rehabilitative care and provide this care on a cost-effective basis. We also continue to invest in future growth through the development of new hospitals in new markets while adding bed capacity to hospitals in existing markets."
February 20: HLS filed its 2013 Annual Report via SEC Form 10-K.
March 3: Mr. Grinney spoke at a Raymond James Healthcare Conference [pdf].
March 4: HLS Senior Vice President and Treasurer, Ed Fay, presented at the Goldman Sachs Leveraged Finance Healthcare Conference [pdf].
April 28: HLS will release 2014Q1 its earnings results after the market closes and hold the corresponding conference call the following morning [pdf].
May 1: HLS will hold the company's 2014 Annual Meeting of Stockholders.
Upside Potential, Time Frame, Downside Risk
Cash Flow Valuation
My calls are always expressed as ranges and I recommend always scaling into positions in order to make each buy price less critical. So, whether to buy near the top, middle or bottom of a range depends on many factors such as market conditions, conviction level and whether one is initiating or adding to holdings.
Since I would be opening a new position, I'm hoping for another chance to buy HLS in the $29-31 range and I'll likely wait for the lower end of that range. If I were adding to an existing position, or if the stock starts to take off due to an unforeseeable development, I might bump my buy range up to $30-32. Then again, I'm unlikely to buy this close to earnings, especially in a weak market.
My 9-12 month price target for HLS is $40, which is 33% above the midpoint of my buy range and 15% above the $34.75 current price. Next, I'll explain the progression of calculations and rationale that led to my price target. Note that the timeframe for a price target is an integral part of the call and the goal is to estimate the future value of the stock, more so than current value.
For 2014FY, HLS is currently forecasting EPS in the $1.86-1.91 range and the analyst consensus estimate is currently $1.91. Analysts are likely gravitating toward the high end of guidance because HLS has developed a habit of giving very conservative guidance, then raising it multiple times (see examples here, here, here and here). Considering the company's near-death experience from years ago, the conservatism is likely an effort to help regain investor faith.
The point is that there is legitimate reason to believe actual earnings might be higher than what the company refers to at the start of each new fiscal year as "initial guidance." Another example is the fact that HLS has beaten consensus estimates by 17-21% each of the last four quarters. Dropping that to 10% and applying it to the $1.86 low-end guidance (not the higher consensus estimate) results in EPS of $2.05 for 2014FY. That is not far from the 2015FY consensus estimate of $2.06, which I also believe significantly underestimates what the actual EPS will be by that time. Recall from other parts of this article that HLS is opening new hospitals, which means treating more patients, and its revenue growth is directly correlated to increases in the number of patients treated.
I ran numerous Discounted Cash Flow [DCF] calculations to see how HLS may be valued in different scenarios. I believe HLS growth is unlikely to decelerate far below the 9-10% projected for the next five years, so I use a 4% terminal growth rate to align the out years with average inflation. I use a conservative 12% discount rate, even though a far more forgiving 10% is more common. For example, initial calculations with a 12% discount rate return valuations in only a $34-36 range, and only changing the discount rate to 10% boosts that valuation to a $43-45 range. If I look out to the early part of 2015FY, which is the end of the timeline for my price target, calculations with the assumptions summarized above return valuations for HLS in the $38-$41 range.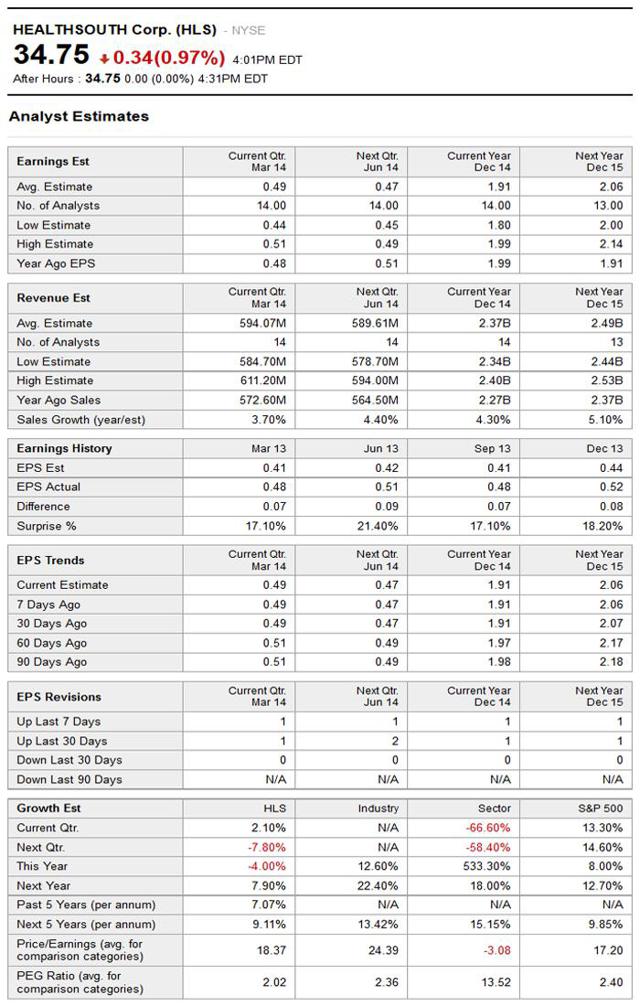 Source: Yahoo Finance
Relative Valuation
Finally, I tested my valuations by comparing HLS to competitors. However, it should be noted that there are significant differences between all companies in the rehabilitation business, and HLS is the largest by every measure, so there is no literal equivalent. Thus, comparisons are somewhat useful, but limited.
As the table below shows, in terms of forward P/E, HLS is valued more cheaply than Kindred Healthcare (NYSE:KND), despite the fact that a trailing P/E cannot be calculated for KND since the company's trailing-twelve EPS is negative. If HLS were to trade at the 18.21x forward P/E allotted to KND, the HLS share price would be $37.51. Importantly, that outcome is wholly based on the consensus EPS projection for HLS and does not at all consider the high likelihood that the actual EPS may be significantly higher due to the reasons discussed above.
Moving on to compare HLS to Select Medical Holdings (NYSE:SEM), I must say that I have not researched SEM to determine why it has a relatively high trailing P/E, yet a relatively low forward P/E. In any case, if HLS were to trade at a 16.05x trailing P/E like SEM, the HLS share price would be $41.25. As a trailing P/E, this calculation is based on reported numbers, rather than estimates. At the same time, it does not fully account for special items that may have skewed trailing EPS higher (business units that were later divested, etc.).
I would not base a price target on these comparisons alone since they merely reflect how the market is currently valuing each stock, rightly or wrongly. That being said, I do think these relative valuations are useful since the fact that my price target fell right between the two helps confirm that it is not off base.
Company

Market

Cap

Trailing

P/E

Forward

P/E

Dividend

Yield

Share

Price

HealthSouth

$3.06B

13.47x

16.86x

2.10%

$34.75

Kindred Healthcare

$1.30B

N/A

18.21x

2.10%

$24.04

Select Medical

$1.84B

16.05x

13.03x

3.20%

$13.13
Source: Yahoo Finance
I like to use the 200-day moving average [200 SMA] of each stock to estimate downside risk because it is an updateable guide, rather than a single price that only applies for a short time. In other words, the Yahoo Finance link under the stock chart in this article always leads to an updated version of that chart with a green line and "SMA" number representing the 200-day moving average.
With HLS, I estimate downside risk to be about 5-7% below the 200 SMA. For example, the current 200 SMA is $33.23 and 7% below that is $30.90. That is 11% below the $34.75 current price, but actually above the $30 midpoint of the range at which I will consider opening an HLS position. You might notice that my buy ranges and downside risk estimates are usually close. That is not coincidence. I'm a long-term investor who gets more conservative with age, so I try to be patient and only buy at prices that offer some downside protection.
It's worth noting that HLS has only traded below its 200 SMA for two periods in the last two years. The first was the two-month period ending December of 2012 and the next was the two-month period that ended a few weeks ago in March. However, that assumes for the sake of example that March was indeed the end of that period and HLS does not drop back below its 200 SMA again soon. That is certainly not impossible, or even unlikely, especially considering the current market-wide pullback. If the market continues downward for much longer; I do not expect HLS, or any other stock, to continue defying gravity.
Analyst Opinions
Nine analysts currently rate HLS a Buy, four rate it a Hold, zero rate it a Sell and the consensus rating is Buy. The consensus price target is $37.51. As with most all stocks, a few of the analysts who reportedly cover HLS do not appear to have commented in years. Here are the most recent analyst changes:
11/20/2013 Susquehanna raised price target for Buy rating to $40
11/22/2013 Stifel Nicolaus raised price target for Buy rating to $39
01/06/2014 Raymond James downgraded to Market Perform, no target
04/01/2014 Barclays initiated at Equal Weight with price target of $36
Other SA contributors have also written about HLS, though I don't know their current opinions. I don't see the Pro articles anymore, but if I recall correctly, both articles are by contributors whose opinions I value and I suggest always considering as may different opinions as possible.
Final Thoughts
HealthSouth has survived a difficult period in its history and resumed robust growth by way of both organic expansion and acquisitions. With both secular and company-specific tailwinds to drive that growth forward, all indications are that the future for HLS will be brighter than certain parts of the past. I believe HLS would be a great addition to help diversify my portfolio. I think the overall trajectory of the HLS share price will continue up, but I'm not prepared to buy at $35 so my current plan is to continue watching closely for a buyable dip.
Although 2014 has been more erratic than 2013 and I expect that to continue, I still believe this will continue to be a very good year for the market. I discuss that sort of general opinion in my articles 2013 Performance & 2014 Updates and Corrections Come, Corrections Go, which are intended to supplement my company-specific articles like this one. I will write a mid-year update in June.
Thank you for reading. I wrote this article 4/2-4/7.
Disclosure: I have no positions in any stocks mentioned, but may initiate a long position in HLS over the next 72 hours. I wrote this article myself, and it expresses my own opinions. I am not receiving compensation for it (other than from Seeking Alpha). I have no business relationship with any company whose stock is mentioned in this article.
Additional disclosure: I may buy HLS shares at any time.