I have written some of the most vitriolic articles about Bank Of America (NYSE:BAC) in which I basically suggested that dividend investors stay away from the stock as a long term holding. Being vilified is putting it nicely, but everyone is entitled to their opinion as am I. As it turns out, I was wrong about BAC being in a narrow share price range, and then I was right.
At this stage, it is well known that the bank basically eked by the Fed stress test, but was allowed to increase its dividend to $.20/share. While that has been trumpeted as a sign of dividend hikes to come, I believe that the earnings of BAC will be greatly impacted in the coming months.
If Interest Rates Do Not Rise Rapidly The Spread Will Tighten Too Much For The Banks In Future Stress Tests
While the Fed began tapering, the anticipated rapid rise in long term rates has simply not occurred. While this has been a positive for the mREIT sector in general, it could very well impact future earnings of banks. Especially banks like BAC which continues to face the litigation issues that we are all too familiar with, no matter how much investors want to minimize them.
The key to the stress test is to see if the banks have enough capital to avoid having the same issues as they had during the fiscal crises of 2007/2008. That means that revenues and earnings need to grow so that the balance sheet keeps improving, and the cash on hand remains sufficient, to avoid having taxpayers and the government bail them out. In other words, maintain their TBTF identity.
I am NOT suggesting that BAC will fall off a cliff, but based on the tepid response to long term rates, the desire for BAC to lend has once again been hampered by the risk/reward factor of lower longer term rates.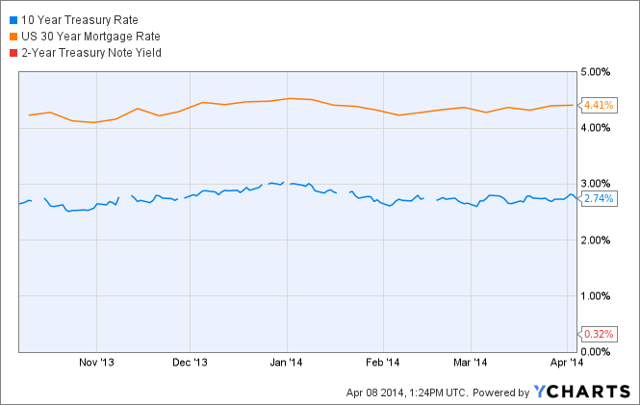 Of course ZIRP is still in place so that is still helpful for BAC to at least maintain, but if you notice on the 6 month chart here, the 10 year rate spiked to over 3% when I first suggested that BAC was dead money back in December, and I was wrong. Now, since that time the rapid rise has reversed, and actually dipped to its current level.
The basis point spread for BAC to consider taking on more loans has narrowed to the point where the risks outweigh the reward, for BAC, and so lending should be impacted going forward. To me that means less lending and less revenue and earnings growth.
It does NOT mean it is panic time, or for everyone to dump all of their shares as there still is the growth equation for BAC, although dimmer than other banks such as Wells Fargo (NYSE:WFC).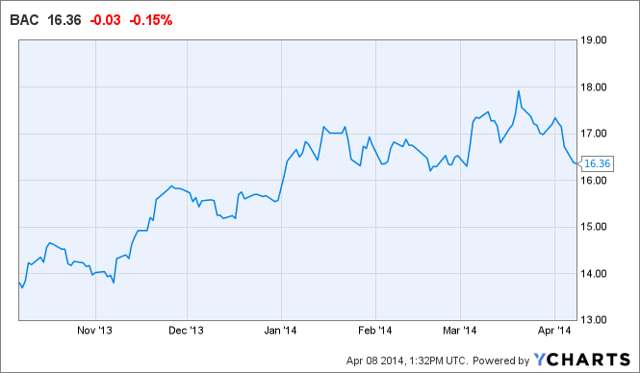 Back in December when I first suggested to avoid the stock, the share price was about $15.00, today it is $16.36. A 9% gain is nothing to sneeze at of course, but I still contend that the easy money (I doubled my investment from $5.00-$11.00 per share) is over.
More glaring is that since the stress test the stock has dropped from about $18.00 to $16.36, and this is not a small cap biotech stock. I believe that the interest rate environment, as well as the drop off in new mortgages are impacting BAC and will show up in future quarters.
Mortgage Applications Have Been Dropping Regularly
A huge source of revenue and earnings comes from the mortgage business. If banks do not lend, or consumers stop applying, that revenue stream will be eroded. The question is by how much and how soon?
While signs of life have occurred in March, one month does not make for a sustained growth model. The fact that BAC itself came out with this report is a clear reflection on how the bank itself sees the sector.
Bank of America suggests that the absence of the first-time homebuyer in the market could have a lasting impact on mortgage bond technicals beyond the impact of the harsh winter and the temporary dent to recent existing home sales.

With home prices on the rise and lending standards tightening, first-time homebuyers represent less than 28% of the market, down from a 36% market share in May 2011, the analysts state......This report comes on the heels of news that mortgage originations fell to the lowest level in 14 years, according to Black Knight Financial Services.
Not a rosy picture here, which along with the narrowing interest rate spread, supports my thesis that owning shares of Bank of America will be dead money, while other banks, like WFC, will maintain shareholder value with increasing dividends to keep the retail investor in the stock.
A dividend yield of .80% with question marks going forward, is far less appealing to shareholders who are reaping a yield of about 3.00% (after the increase) with Wells Fargo.
On top of that, WFC will continue to aggressively pursue whatever mortgage business is out there, while BAC has shown a proclivity to shy away, simply because of the enormous number of mortgage issues it has had, and is facing with the ongoing Countrywide debacle.
The Bottom Line
BAC is, and has been, in a trading range, and in my opinion will continue to be. Longer term dividend investors are not being paid enough to hold the shares, therefore the volatility becomes apparent for retail investors.
BAC shareholders can sing the praise of the future of BAC but we still do happen to be living in the present, and that does not look great for new money right now, from my standpoint.
Disclaimer: The opinions of the author are not recommendations to either buy or sell any security. Please do your own research prior to making any investment decisions.
Disclosure: I am long WFC. I wrote this article myself, and it expresses my own opinions. I am not receiving compensation for it (other than from Seeking Alpha). I have no business relationship with any company whose stock is mentioned in this article.