Energy

Crude oil prices plummeted 8.6% last week as global economic slowdown fears took center stage. It was only Monday that oil was trading as high as $79.38, but as the negative news mounted, oil kept slipping; prices fell in each of the last five sessions.

Clearly, the double dip thesis is gaining traction, and that naturally bodes poorly for economic-sensitive commodities such as crude oil. Data out of the U.S. suggests that the recovery is vulnerable. Pending home sales, like last week's new home sales figures, fell to a record low. Jobless claims remain elevated, and the manufacturing expansion is slowing: the Institute for Supply Management's manufacturing index fell to 56.2 from the prior 59.7 reading. Similar gauges of manufacturing activity fell in China and Europe.
What all this data portends for the near-term price direction of crude oil is determinant on whether the global economy is merely experiencing a bump on the road to recovery, or if it is about to enter a second phase of contraction. In either event, there is no compelling reason to enter long positions in crude oil at this time.
Despite the recent slide, oil prices are still notably above the sub-$70 levels of May, even though the global economic outlook has deteriorated significantly since then. Granted, the Gulf of Mexico production outlook has also deteriorated, which is undoubtedly bullish for oil, but any loss in output from the GOM in the medium term would be dwarfed by potential demand reduction from a second global economic slowdown or recession.
Therefore, we would be wary of initiating long positions at current prices, for further turmoil in broad financial markets will likely lead to oil testing levels near $70 and below.
The next significant levels of technical support lie near $69.50 and $66.00. On the upside, resistance can be found at $75.50 and $79.00 ().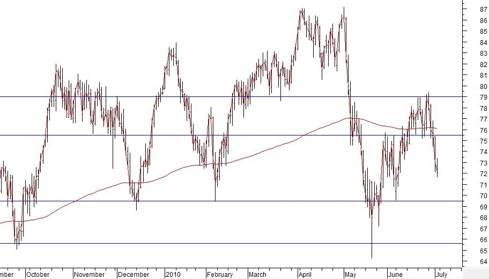 Taking a look at U.S. storage, the EIA reported that in the week ending June 25, crude oil inventories decreased by 2 million barrels, gasoline inventories increased by 0.5 million barrels, distillate inventories increased by 2.5 million barrels, and total petroleum inventories increased by 3.6 million barrels. U.S. petroleum inventories are now 6.4% above the 5-year average, the same as last week.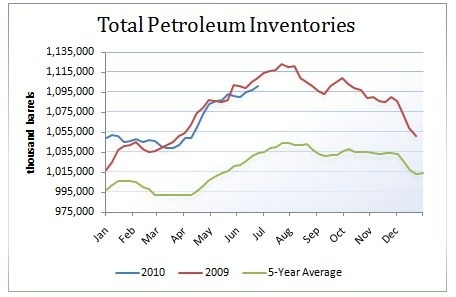 U.S. crude oil production fell 4.4% week-over-week. Production should stay relatively depressed in next week's report, as earlier this week, oil producers shut-in almost 400,000 barrels per day of production as a precautionary measure again Hurricane Alex.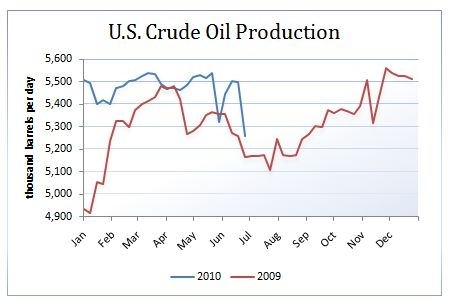 Despite a reported inventory injection that was less than expected, North American natural gas prices shed almost 4% last week. Weather forecasts have been mixed recently with above-normal temperatures expected in the Northeast and Midwest, and below-normal temperatures anticipated in parts of the South. Hurricane Alex made landfall along the Texas-Mexico border on Wednesday, but there is expected to be no lasting impact to production from the storm. That said, operators did shut-in upwards of 877mmcf/d of production as a precautionary measure, but that output is swiftly coming back online now that the storm has passed (click on chart to enlarge).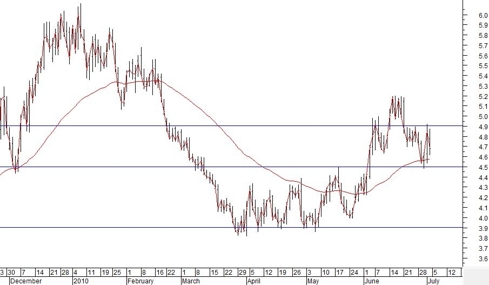 On Thursday, the EIA reported that U.S. natural gas inventories increased 60 billion cubic feet, which was slightly below analysts' estimates which were generally between 61 and 65. The report sparked a significant rally in Thursday's session—gas prices rose nearly 10% from the session low to the session peak—but much of those gains were reversed on Friday.
In the latest production survey, the government reported that natural gas output hit a new record high in April, though the level was inconsequentially higher than the prior month. Importantly, however, those prior month levels were revised higher by approximately 150mmcf/d. Based upon guidance from producers, there is little to suggest that the rapid pace of production growth slows down anytime soon.
I have been arguing that natural gas inventories are likely to reach new record highs by November and that prices would consequently fall below the $3.81 March lows within the next few months. While persistently above-normal temperatures have challenged this bearish thesis, it largely remains intact. Moreover, the potential deterioration in industrial demand from the economic headwinds that are emerging could add another bearish leg to the natural gas outlook.
On the downside, the first technical level that bears watching is the recent low near $4.50, followed by key support between $3.81 and $4.00. On the upside, the area between $4.90 and $5.00 is formidable resistance.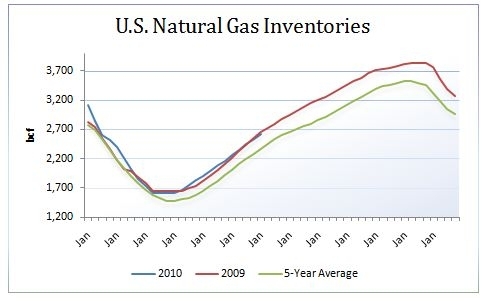 In sharp contrast to U.S. prices,
European natural gas
has been surging. Benchmark UK NBP prices gained 5.57p/t ($0.90/mmbtu) this week to settle at 47.66p/t ($7.24/mmbtu). Since the lows in March, prices are up 67%. Heavy maintenance by Qatar has reduced LNG supply, while industry sources suggest floating storage is being used to arbitrage the steep summer-winter calendar spread. That said, the recent rally has narrowed that differential and indications are supply out of Qatar is set to ramp up. Though the YOY EU storage surplus has narrowed, inventories remain at record levels near 51,000mcm (1801bcf).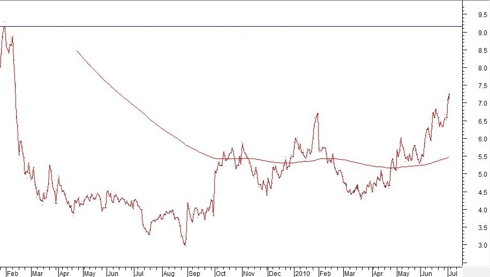 Central Appalachian
coal
prices regained much of their losses from the prior week. The commodity is holding stubbornly close to recent highs due to the combination of low production levels and increasing demand. Production remains near last year's depressed levels (down nearly 10% from 2008 levels), while demand is benefitting from strong electric power demand due to above-normal temperatures, as well as increased market share at the expense of natural gas (a temporary reversal of last year's large market share gains by natural gas). ()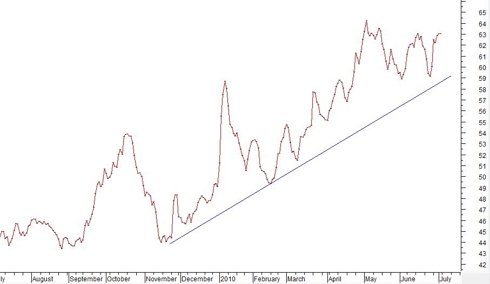 Metals

Gold
lost 3.8% last week, with the bulk of the move taking place in Thursday's session, when the metal plunged almost $53 peak-to-trough. Prices broke through the steep upward trendline that extended back to March, resolving the rising wedge/ascending triangle pattern that had developed on the charts. As I have suggested previously, strong performing risk assets tend to buckle under the pressure of broad financial turmoil, regardless of their underlying fundamentals. This is because as other assets fall, the asset in question becomes relatively more expensive. The urge to raise cash and lock in profits becomes overwhelming in an environment of market distress, which in this case, superseded gold's status as a safe haven. While prices could bounce a bit on bargain buying, there is a good chance that prices eventually make a push toward the $1166 horizontal support area ().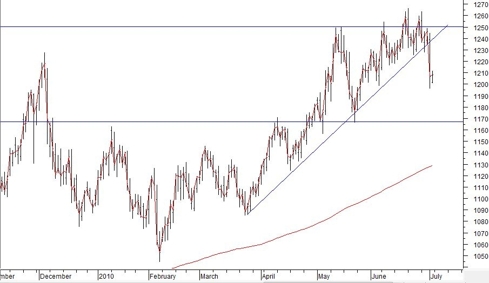 Taking a look at gold ETF flows for last week, holdings increased 268,350 troy ounces (8.3 metric tons). Holdings decreased by 28,450 ounces on Thursday, but overall, it was a solid week for gold ETF demand. The resilience of investor appetite for gold bodes well for an eventual rebound in price. I will be watching closely for potential entry points.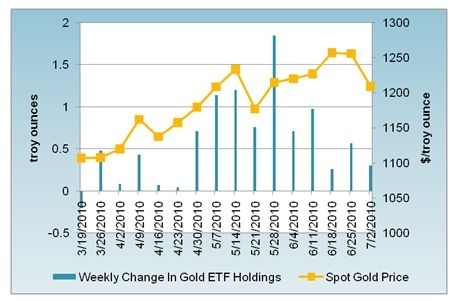 The gold/
silver
ratio increased to 68.25 from 65.76 last week, as silver got clobbered much more than gold. The ratio is less than the year ago level of 69.41.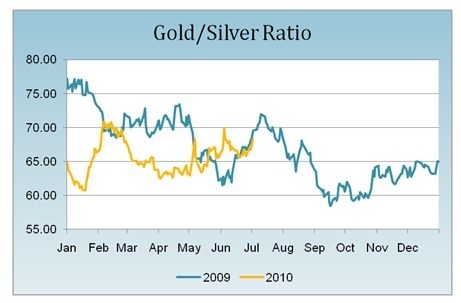 In a reversal of the prior week's gains,
copper
fell 6.2% (
click on chart to enlarge
). The commodity remains in a downtrend, as it makes lower highs and lower lows. For COMEX copper, there would need to be a break of recent highs near $3.10 to invalidate the downtrend. In the event of further losses, key support lies near $2.65.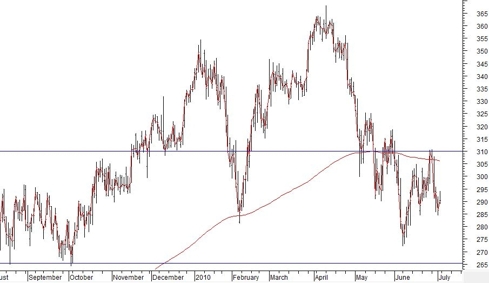 Copper stocks in exchange warehouses fell 5,256 metric tons on the week. The surplus over the 5-year average stands at nearly 456,000MT.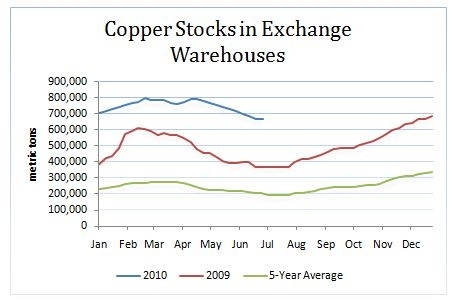 Disclosure:
Short UNG from $8.70