By Todd Shriber & Tom Lydon
Much of the developed world, including the U.S., and plenty of emerging economies, have vast infrastructure needs that will require trillions of dollars of expenditures in the coming years.
Investors can capitalize on that trend with an increasing number of internationally focused exchange traded funds. Fortunately for conservative investors, playing the global infrastructure theme does not mean having to incur the increased volatility of a pure emerging markets fund because several global infrastructure ETFs feature deep developed markets exposure.
One example is the $810.8 million iShares Global Infrastructure ETF (NYSEARCA:IGF). IGF, which features a solid trailing 12-month dividend yield of 3.3%, has quietly jumped 8.8% this year.
The ETF's "holdings appear to be reasonably valued to slightly undervalued," J. Andre Weisbrod, CEO and chief investment office at Starr Financial Advisors, told Investor's Business Daily in an interview.
Weisbrod went on to note that:
[IGF] is likely to hold up better than the major indexes during a 10% or greater market correction. And the longer-term potential, while not extraordinary, is very healthy.
In addition to an almost 31.2% weight to U.S. stocks, IGF offers some leverage to an ongoing European equity market recovery. Five of the ETF's top-10 country weights are European nations lead by a better than 22% combined weight to France, the U.K. and Italy.
The FlexShares STOXX Global Broad Infrastructure Index Fund (NYSEARCA:NFRA) is another option to consider. NFRA is up 7.3% since debuting last October. Additionally, the ETF has been an impressive gatherer of assets, hauling in almost $143 million since coming to market.
NFRA has a similar country profile to IGF, but the former devotes almost 40% of its weight to the U.S. The ETF tracks the STOXX Global Broad Infrastructure Index and includes traditional utility, energy and transportation subsectors of the infrastructure category, along with communications and government outsourcing/social infrastructure, which should help further diversify the portfolio.
The newest kid on the global infrastructure ETF block is the ProShares DJ Brookfield Global Infrastructure ETF (NYSEARCA:TOLZ), which debuted just last week.
[TOLZ] focuses on companies whose assets include airports, toll roads, ports, communications, electricity distribution, oil and gas storage and transport, and water in both developed and emerging markets. To be included in the index, companies must derive more than 70% of their cash flows from infrastructure assets. The index excludes companies that supply services such as construction and engineering to the infrastructure industry.
The U.S. accounts for half of TOLZ while the U.K. and Canada combine for another 23%.
iShares Global Infrastructure ETF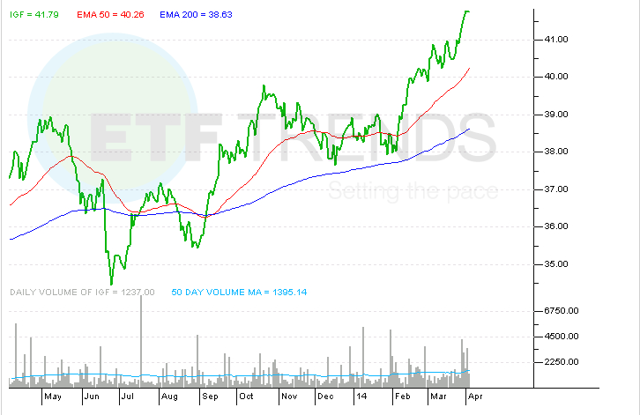 Disclosure: I have no positions in any stocks mentioned, and no plans to initiate any positions within the next 72 hours. I wrote this article myself, and it expresses my own opinions. I am not receiving compensation for it. I have no business relationship with any company whose stock is mentioned in this article.