The Fresh Market (NASDAQ:TFM) first opened in 1982, has been publicly traded since November 2010, and now operates 151 stores in 26 states. It has bigger competitors, such as Whole Foods Market (NASDAQ:WFM) and Sprouts Farmers Market (NASDAQ:SFM), that have merchandise of similar quality and prices. The Fresh Market tries to differentiate itself through specializing in a suburban identity, offering convenience to customers by means of a shorter driving distance, in order to generate higher sales. While catering to high-end clientele might offset some issues that plague grocers, it has not overcome theft, and a fourth quarter disappointment is partially due to issues within management's control.
Supermarkets overall have been known to be beset with problems; perhaps similar to airlines, or passenger railways such as Amtrak. Grocers tend to have low margins and difficulty with theft. The Fresh Market and its competitors charge higher prices to customers who are not especially budget conscious. Consequently, while Safeway (NYSE:SWY) and Kroger (NYSE:KR) have done well recently, my inclination is that the healthy/organic line of business should be worthwhile over the long term. Even then, a not surprising issue mentioned in The Fresh Market's 4Q Conference Call is "A huge shrink."
Fourth quarter 2013 results, announced in early March, are disappointing. However, the stock has moved slightly higher since. At $34.98 per share, it remains well off its 52-week high of $57.17. As the following graphic shows, it has trended lower and lower since the summer (Similar to its two competitors mentioned here):
Most people know the maxim, "Buy low, sell high," right? Management is indicating that it is applicable. The company's 4Q Transcript records CEO Craig Carlock saying "We're very optimistic about the year." He has followed up his statements with a 20,000 share purchase. Two directors have also bought the company's stock recently; though their positions result from election so they might be otherwise inclined to do things to maintain the favor of stockholders who should be entitled to vote in the near future. At any rate, now is the time of the year when selling in order to pay tax bills would make sense - and the buying is attention grabbing.
A recent Seeking Alpha article by Pim Keulen provides what appears to be a worthwhile overview of an exorbitantly-priced microcap competitor, Natural Grocers (NYSE:NGVC).
Unfortunately, The Fresh Market's last Form 10-K has been filed since March 27, 2013, and a new one is not available. There is a detailed and clearly worded Press Release that summarizes recent results. Leaving a harsh winter behind, it says the company is opening a record number of new locations in 2014.
Adverse weather is also projected to result in earnings at the lower end of $0.41 to $0.44 quarterly guidance for the first quarter.
One of the problems in the past quarter involves closures, and there has been a seven store impairment. It is not inspirational. For example, the cause attributed to choppy results in Houston is geographical proximity of stores, so the corporation is shutting down its River Oaks location.
The Fresh Market's tally of Weighted Average Shares Outstanding assuming dilution is 48.4 million (up about 100,000 YoY). Excluding charges for impairment, the closures have cost shareholders $0.09 per diluted share in Fiscal 2013. Another $8 to $20 million, or $0.25/share, in costs are anticipated.
Interestingly, the CEO says the company has only recently obtained "A rich enough set of stores" so that their internal, regression model is predictive toward new site selection. Some might prefer confidence in management to perform independently of its newly-functional tools, but the company may do a better job with its capital from here on out.
Also, the corporation is remodeling five to eight locations, which should result in a double-digit increase in same store sales.
The company is optimistic about five new stores to be opened this year between California and Texas. Rental expense is important, and no upfront lease inducement payment is required. Further, management has current sales expectations that it is confident in. Success here would also help expand the company's footprint, as it is concentrated in the southeast.
Balance sheet data is not particularly strong. The corporation has spent $122.4 million on Property, Plant and Equipment, a 51% increase YoY. Current Liabilities are now much higher, increasing some 22.9% to $110.6 million over the same time. Reduced long-term debt, having concurrently declined 41.2%, to $24.7 million, would otherwise be favorable. Consequently, glaring concerns involve payment of imminent bills, rather than an alarming event resulting from debt coming due.
There is not as much enthusiasm about the stock market this year, pursuant to last year's rapid gains. Those searching for value emphasize what they believe a company can earn two years from now and wait for its price to change accordingly over time. Even when using the 2016 consensus of $1.87, TFM is pricey.
However, in this case, value is found through comparisons. Summary estimate data, on April 6th, that is bound to change over time, follows:
| | | | | |
| --- | --- | --- | --- | --- |
| | 2014E | 2015E | 2016E | Five-Year Growth |
| TFM ($35.98) | | 1.59 (January) | 1.87 (January) | 15.9% |
| WFM ($51.10) | 1.62 | 1.91 (September) | N/A | 16.9% |
| SFM ($36.68) | 0.61 | 0.81 (December) | N/A | 25% |
Using 2015E to compare current price to earnings, with TFM anticipated to make its money months before the others, we find the stock to be the cheapest using the share prices above:
TFM 22.6x
WFM 26.8x
SFM 45.3x
Here is a Forward EV/EBITDA graphic from YCharts that makes a stronger case for TFM. There has been intensive insider selling at SFM, with shares close to their 52-week low, so a pairs trade is potentially in order-if they are not all doing it to pay taxes: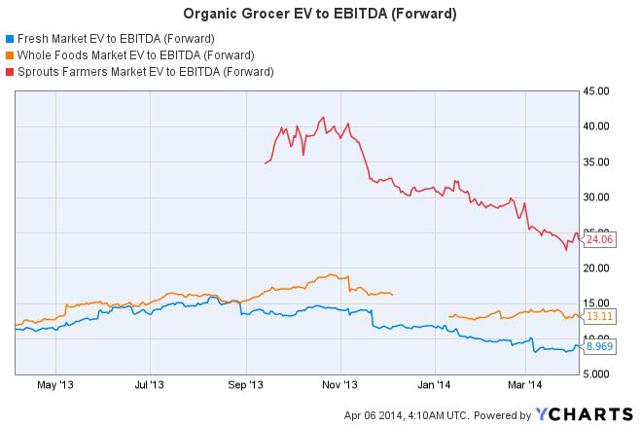 For added insight, UBS rates the stock a Buy, as of March 24th when shares were priced at $34.08. (It is the same analyst team that is behind the firm's cogent and critical rating on Target Corporation (NYSE:TGT), nearly one year ago, when shares traded at over $70.) Their use of EBITDAR indicates the relevance of rent. As shown in the following table comparing valuations based on the Swiss bank's estimates, The Fresh Market is easily the cheapest, and UBS's 2015E EPS is a few cents above the consensus:
2014 EV/EBITDAR

2015 EV/EBITDAR

2014 P/E

2015 P/E

TFM

8.4

7.0

21.1

17.6

WFM

12.4

10.6

32.5

27.1

SFM

20.1

16.5

59.2

45

Source: UBS March 24th, 2014
However, in a report dated today, Deutsche Bank has a Hold on TFM. The German firm's price target is $34 per share. Here are some underlying projections and data, including a 2015 EPS estimate that is strangely above the consensus:
2013

2014E

2015E

Rent Expense

43,481

54,411

62,882

EBITDA

164,077

192,567

220,214

EBITDAR

207,558

246,977

283,096

Reported EPS

$1.37

$1.62

$1.87

Source: Deutsche Bank, April 7th, 2014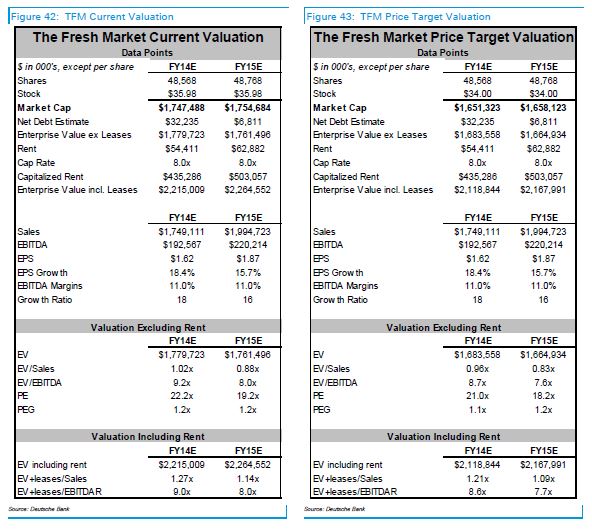 The upscale grocers are expensive. If considering amongst them, The Fresh Market could be the best bet in light of valuation metrics and insider buying. Ongoing issues involving shrinkage, an expanding footprint, and site selection have yet to be fully resolved. Therefore, a bet against Sprouts could make sense prior acquiring TFM stock - perhaps at or below Deutsche Bank's target of $34.
Disclosure: I have no positions in any stocks mentioned, but may initiate a long position in TFM over the next 72 hours. I wrote this article myself, and it expresses my own opinions. I am not receiving compensation for it (other than from Seeking Alpha). I have no business relationship with any company whose stock is mentioned in this article.
Additional disclosure: I may sell short shares of SFM over the next 72 hours.