With cash and near-term investment grade fixed-income investments possessing rather inconsequential yields today, retirees are needing to up their game to up their portfolio payout. This means looking at longer duration or lower credit bonds in addition to consideration of large-cap, garden variety dividend growth and more robust options from more esoteric corners of the equity world. Retirees are having to walk a fine line between prudent golden years investing and what some would see akin to "yield chasing."
The Yield Chase Defined
The common admonition to avoid chasing yield, may, in general, be good advice, however it assumes that investors are incapable of investing sensibly in income situations. For the retiree concerned about the safety, durability, and maximization of an income stream, avoidance of bad investments or investing at bad times is as important as finding good investments and investing at good times.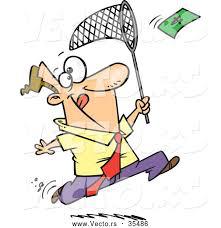 But what really constitutes chasing yield? Investing in equities, fixed income, or other securities simply possessing well above average payouts? Investing in securities with lower than average payouts that have gained substantially near-term? I would opine that it could represent either of those notions.
However, for the investor focused on value, I think you can walk that line and not fall prey to chasing yield. But, you must remain disciplined. Disciplined to avoid investing in quality companies that are trading with low yields and questionable valuations. Disciplined to differentiate between securities with higher yields that possess "high yield for a reason" and those that are clearly worthwhile. Disciplined to avoid the predominate "buy high, sell low" trap/blunder that performance chaser and investing neophytes tend to fall into.
The Chase Gone Bad
Prior to the Fed's initial "taper talk" almost a year ago, we saw quite a bit of chasing in various corners of yield markets. We saw securities such as mREITs, junk bond CEFs, equity REITs and other higher-yielding fare trading well above net asset or book values and intrinsic valuations. Income starvation had turned into what amounted to a mild feeding frenzy.
Below are some charts for some widely held income stocks. It's pretty clear to see where the yield chase ended for Realty Income (NYSE:O), Alliance Bernstein Global High Income (NYSE:AWF), and American Capital Agency (NASDAQ:AGNC).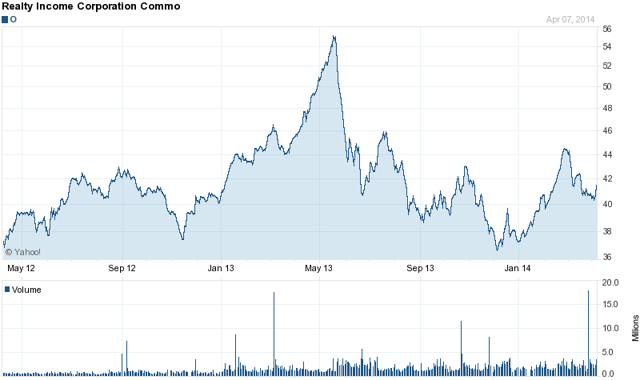 AWF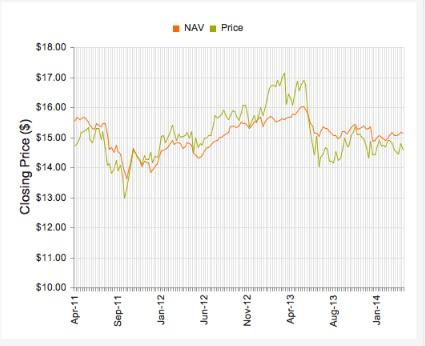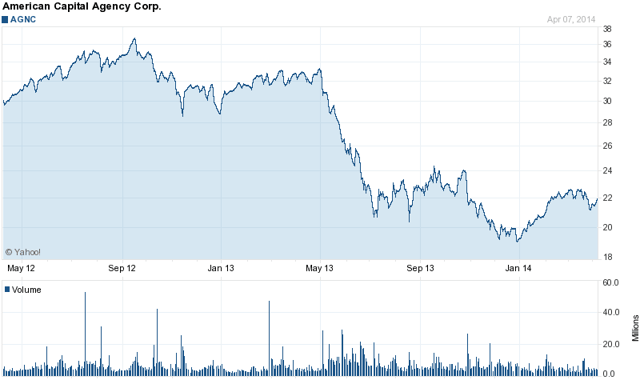 Of course the pain for some that bought at or near the top may consequently have spelled opportunity for others that were able to take positions in what are arguable some of the more attractive securities to own in each of these respective areas. And though long-term investors may have slept soundly during the downdraft, that's likely because they did not commit capital to the names during times when these stocks were clearly over their skis.
Could Some Chases Go Bad?
Popular dividend stocks of the likes of Procter & Gamble (NYSE:PG), Coke (NYSE:KO), Colgate (NYSE:CL), McDonald's (NYSE:MCD), and others are at the core of many retirement income portfolios, and in many cases, rightfully so. However, just because they are viewed as "forever stocks" because of their business models and strong, annual payout growth characteristics, does not mean they should be bought "all the time." Indeed, given their growth curve and current valuations, I would not be a buyer of any of them at the moment.
While I would hesitate to say that someone is chasing anything if they bought these stocks today, I personally think capital would probably be better allocated elsewhere. That does not mean I would necessarily sell them, but from a yield maximization, or total return perspective, I have trouble pointing investors in this direction when better yields and perhaps better risk-adjusted total return is available elsewhere.
Gravitating from the low-yield to the high-yield end of the income spectrum, one can get double digit payouts in many of the more esoteric corners of the market. Business development companies, option-income closed-end funds, and mREITs all offer double-digit income capability. Many of the BDCs are trading near book value and the CEFs and mREITs are mostly trading below it.
While I certainly would not warrant that these kinds of companies won't get hit in a recessionary environment, during further interest rate gyration, or broad stock market sell off, buying assets for less than liquidation or net asset value would seem like a wise risk mitigation strategy. Buying a CEF or an mREIT at a discount today, albeit not the right solution for everyone, is certainly a more prudent strategic move than buying them a year ago, when they were at a lofty premium.
So is there less risk involved in buying 12% yielding Prospect Capital (NASDAQ:PSEC) than there is in 3% yielding Procter & Gamble ? Obviously that query might be in the eye of the beholder, but it could take you two decades to grow today's PG purchase into 12% yield on cost, assuming 7% per annum dividend growth, which could be optimistic.
Summary
As I've oft-opined, I'd probably rather retire with a bunch of dependable dividend stocks that grow their dividends in the 5-10% range than cross my fingers that elevated yield plays will maintain their payouts. However, for many, consumer products companies with their relatively puny yields won't necessarily lead to gold at the end of the rainbow.
Thus, for those lacking executive-like wealth, the search for yield continues, in both low and high places. It's a fine line to walk, but with careful consideration, diversification, and focus on a disciplined approach, I think most can sidestep the common mistakes associated with yield chasing.
Disclosure: I am long AWF, CL, PSEC. I wrote this article myself, and it expresses my own opinions. I am not receiving compensation for it (other than from Seeking Alpha). I have no business relationship with any company whose stock is mentioned in this article.
Disclaimer: The above should not be considered or construed as individualized or specific investment advice. Do your own research and consult a professional, if necessary, before making investment decisions.