I ran my fundamentals screen through Finviz again, looking for consistently profitable companies, with reasonable prospects for growth, trading at a reasonable price. The screen I used:
TTM P/E < 20
Forward P/E < 15
PEG < 2
Current year EPS growth > 0
Next year EPS growth > 0
Past 5 years EPS growth > 0
Next 5 years EPS growth > 0
Past 5 years sales growth > 0
ROE > 0
ROI > 0
Current ratio > 2
Quick Ratio > 2
Gross margin > 0
Operating Margin > 0
Payout ratio < 20%
Even though I'm not a big swing trader, I was struck by the recent price action of one of the companies that came up on the screen, UniFirst Corporation (NYSE:UNF):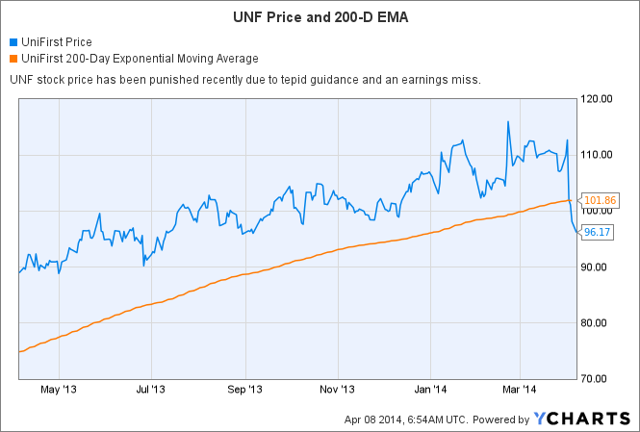 That's over a 17% drop from its 52-week high in a matter of days. The price has moved out of the strong upward channel it had been in over the past few months, and there's the suggestion of a declining wedge pattern appearing, though I'd be inclined to believe the onset of a declining channel. The RSI (14) is in oversold territory as of 7 April at just under 30, and there would appear to be some support in the $95 range, but given that the price has broken hard through the 200-day EMA, there seems to be a lot of bearish sentiment on the stock.
As some are wont to say, "Be greedy when others are fearful," and this would seem to be a case where traders are getting fearful. Analysts certainly were optimistic at one point - Finviz and Yahoo both quote price targets of $123 and $121, respectively - so I decided to find out if UniFirst's fundamentals justified such a significant change in sentiment.
What does UniFirst Corporation do?
UniFirst Corporation is one of the largest providers of workplace uniforms and protective work clothing in the United States. The company manufactures and rents uniforms to various industries, including manufacturers, retailers and service companies, and also manufactures and rents non-garment items, first-aid cabinet services, and safety supplies. The company also decontaminates and cleans work clothes from specialized facilities involved in certain hazardous materials, such as radioactive materials. The company has six operating segments: a Manufacturing arm and Corporate arm, Rental and Cleaning (combining both the US and Canadian units), Specialty Garments, and First Aid.
The Manufacturing segment designs and manufactures uniforms and other non-garment items solely for the purpose of the providing these goods for sale or lease by the other operating segments. In fiscal 2013, the MFG segment produced over 70% of inventory, the remainder being purchased from third party manufacturers. While the Corporate segment makes some direct sales, it is primarily involved with sales and marketing, IT, HR, and other SG&A costs and its operating income is relatively negligible. The vast bulk of operating income is derived from the Rental and Cleaning, Specialty Garments, and First Aid segments.
Rental and Cleaning: This segment purchases, rents, cleans, delivers and sells uniforms and other work wear items as well as non-garment items to various businesses across the United States. The RC segment also provides cleaning services, such as restroom cleaning, floor care, and cleaning solution (along with dispensers). Work wear items include flame resistant and high-visibility uniforms, factory overalls, lab coats, and casual wear.

Source: UniFirst
Uniforms are available in a variety of rental, lease, or purchase options: the rental programs typically involve uniform inspection and laundry services that are omitted in the lease and purchase programs.
Intuitively, and as the company's own 10-K states, the success of the CL segment is driven in large part by the number of workers employed by UniFirst's customer base. In fiscal 2013, the CL segment accounted for 89.5% and 91.6% of the Company's total revenue and operating income, respectively, with an operating margin of about 14.1%.
Specialty Garments: Operating as two different subsidiaries (UniTech and UniClean), the SG segment purchases, rents, cleans, and delivers specialty garments and other items for nuclear and cleanroom applications. These include sterile garments, radiological protective clothing, and monitoring and decontamination tools. At specific, limited locations, the segment also provides cleanroom cleaning services, validation services, and decontamination services for the nuclear industry. The bulk of the SG segment's business is driven by nuclear operations that require protective garments, especially during power outages and plant refueling. In fiscal 2013, the SG segment accounted for 7.1% of total revenue and 5.7% of operating income, with an operating margin of about 11%.
First Aid: The FA segment operates as a subsidiary, UniFirst First Aid Group, and consists of 4 different operations. These units sell first aid cabinet services and safety supplies, retail supplies to occupational health nurse providers and educational and correctional institutions, and provide pill packaging services for medications. This segment accounted for only about 3.3% of total revenue and 2.7% of operating income in 2013, with an operating margin of about 11%.
Investment Thesis:
UniFirst is one of the largest textile rental companies in the country, and benefits from economies of scale derived from its nationwide base, its own textile manufacturing arm, and the largest in-house digital image processing capability in the industry. UniFirst is one of the four largest companies in the textile rental industry; UniFirst, along with Aramark (NYSE:ARMK), Cintas (NASDAQ:CTAS), and G&K (NASDAQ:GK) control roughly 40% of an otherwise fragmented marketplace.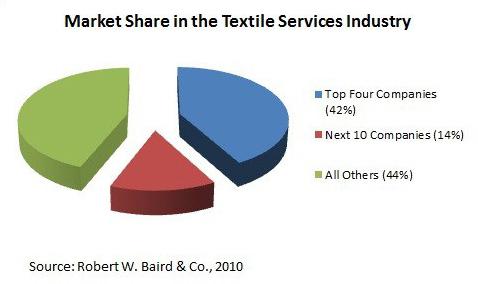 Source: TRSA
Like other players in the textile rental industry, UniFirst Corporation stands to benefit from the continued economic recovery. UniFirst should be able to capitalize on growth opportunities as job growth continues and as businesses deploy cash reserves for hiring purposes. Interestingly, though overall employment levels are a key driver for the textile rental industry as a whole, the industry itself has proven remarkably resilient, even in economic downturns. A 2010 report on the textile rental industry showed that even through the economic nadir of 2008, the industry managed sales growth that at minimum outpaced-and at times exceeded by two- or three-fold-the growth of GDP.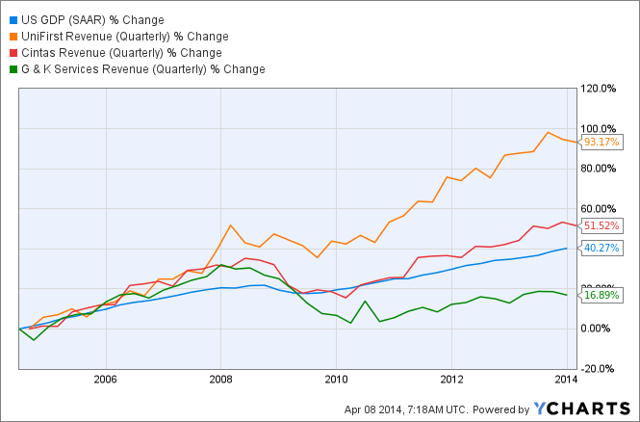 Though a comprehensive look at all major players in the textile services industry would be far beyond the scope of this article, it is worth pointing out a couple of things in UniFirst's favor. UniFirst boasts a healthy ROIC of 10.2%, second only to industry leader Cintas (at 10.8%), and far ahead of recently public Aramark (7.4%). In comparison to the larger Cintas, UniFirst carries a healthier balance sheet, without any long-term debt, and despite trading at a lower P/E multiple, has exhibited faster growth (net Income growth and EPS growth over the past decade both at 13% CAGR, vs. 5% CAGR for Cintas). And UniFirst has shown a better ROIC, EPS growth rate, and less debt than G&K.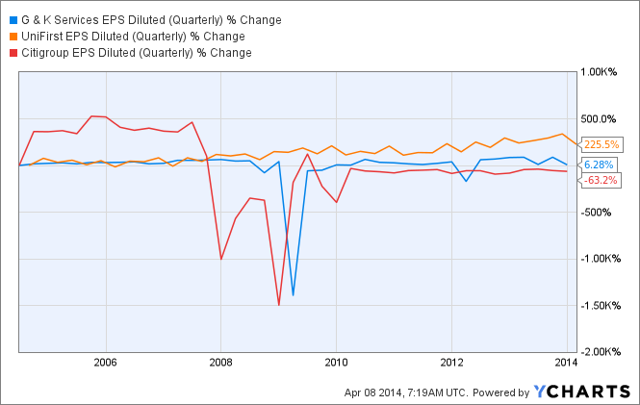 GK EPS Diluted (Quarterly) data by YCharts
The essentially nonexistent switching costs and the highly commodified nature of the industry make it difficult for companies to sustain economic moats, and I don't think UniFirst has one. But the company remains reliably profitable, having steadily improved its ROIC by a 7% CAGR over the past decade, even during the height of the Great Recession. The company stands to make reliable gains over the next few years as employment continues to grow, and has a track record of maintaining those gains even as employment recedes.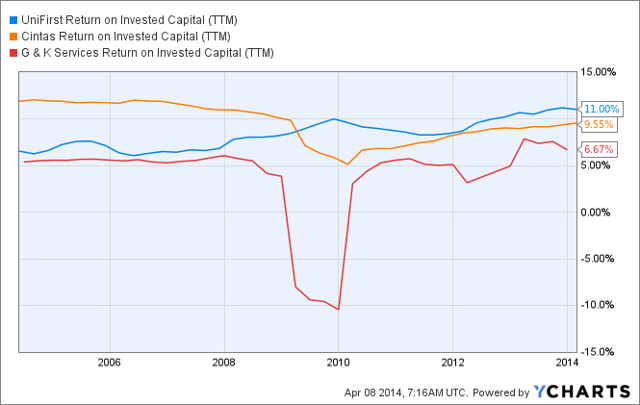 UNF Return on Invested Capital (TTM) data by YCharts
Suitability:
Ben Graham outlines seven criteria for Defensive Investors and Enterprising Investors.
Defensive Investor:
Adequate size of enterprise (>$500 m in sales, >$250 m in assets): PASS
Sufficiently strong financial condition (Current ratio > 2): PASS
Earnings stability (no net loss over past 10 years): PASS
Dividend Record (Dividends paid over past 20 years): PASS (though just barely)
Earnings Growth (Net income increases by >1/3 on per-share basis over 10 years): PASS
Moderate P/E Ratio (Price < 15x average earnings over trailing 3 years): FAIL
Moderate Ratio of Price to Assets (Multiplier of P/B x P/E < 22.5): FAIL
Based upon these criteria, UNF doesn't quite meet Ben Graham's criteria for Defensive Investors.
Enterprising Investor:
Adequate size: PASS
Strong Financial Condition: PASS
Earnings Stability: PASS
Dividend Track Record: PASS
Earnings Growth > 3%: PASS
P/E in lower 10% of similar stocks: PASS
P/B < 1.2: FAIL
Based upon these criteria, UNF meets Graham's criteria for Enterprising Investors, failing only on the P/B criterion. I would also note that UNF meets ModernGraham's updated versions of both sets of criteria (which are still fairly strict).
Performance:
UniFirst's revenue growth over the past decade has been remarkably reliable, even for the usually reliable textile rental services industry.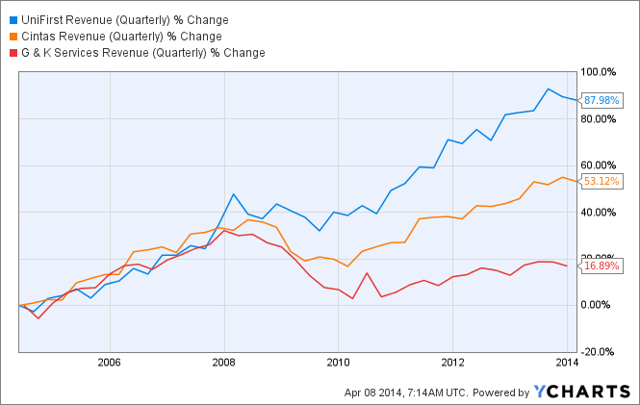 UNF Revenue (Quarterly) data by YCharts
Over the past decade, UniFirst has exhibited remarkably steady growth, growing revenues by almost 6.5% CAGR, and only once-during 2009-showing any degree of slowdown. Excluding the economic downturn, UniFirst's revenue growth has been even more impressive, averaging over 8% revenue growth each year. Net margins have improved by a 4.2% 10-y CAGR, from 4.7% in 2004 to 8.6% in 2013. BPVS has increased steadily by about a 10.7% CAGR over the period. As operating margins have slowly but steadily improved by about 0.25% per year, improvement in net margins seems to have come about through slower growth in revenue costs, which have grown at only a 6% 10-y CAGR.
Looking at individual segments, Core Laundry operations has shown a steady 11.7% growth in operating income and 7.7% improvement in operating margin over the past decade. The Specialty Garment segment has been far less impressive, actually showing a lumpy but sustained decline in operating margin while only showing 2.7% yearly growth over the same period. The First Aid segment has been less disappointing, with 5.7% yearly margin improvement and 11.2% yearly growth in operating income.
For the most recent quarter, UNF reported adjusted EPS of $1.27 on revenue of $344 million, missing Street estimates by $0.12 and $3.9 million, respectively, representing lukewarm revenue growth of 3%. The company also issued tepid guidance for 2014, guiding to $5.60 to $5.75, below analysts' estimates of $5.91. Though this clearly disappointed investors (the stock dropped by over 9% on the day and has yet to show a recovery as of this writing), the company website notes that excluding the effects of a customer-related specialty merchandise buyout in Q1 2013, revenues would have increased by 3.6% and EPS would have remained flat. CL segment revenues improved 3.8% year-over-year, and by 4.3% excluding the specialty purchase buyout. On the conference call, management also cited higher energy prices, weather, and currency effects as major negative influences on earnings.
Risks:
UniFirst operates in a highly seasonal, competitive, fragmented, and highly commoditized industry, which imposes minimal switching costs on customers. The performance of the industry as a whole is affected the health of the overall economy, as worker headcounts directly affect demand for workwear. The Specialty Garment segment is highly dependent on the cyclical nuclear industry, and management already projects continued declines in performance for the remainder of 2014. The Core Laundry segment is highly reliant upon both employee adds per stop as well as new accounts, but growth in employee stop-adds is expected to slow for at least 2014, which will further pressure margin growth, particularly as other industry players compete to add new accounts themselves. Competition for acquisition candidates may intensify as this dynamic continues, and the company's ability to pay fair prices for those acquisitions will drive overall profitability. The company may be party to legal claims, including a recent lawsuit involving the New England Compounding Center, a pharmacy compounding center that shipped tainted methylprednisolone. Though UniFirst has not as of this writing been named as a defendant in those suits, the company cites a potential loss in this matter as "neither probable nor remote." Finally, voting power within the company is largely vested in the Croatti family, which controls about 26.2% of Common and Class B Stock but 76.9% of combined voting power, which may misalign company and public shareholder priorities.
Valuation:
As a base assumption for DCF analysis, I assume that CL revenue growth will remain pressured to 4% and stable margin growth of 0% for the next 3 years as competition in the industry intensifies for new accounts and acquisitions, with moderately improved revenue growth of 5-6% and margin growth of 2% thereafter as the industry consolidates. I model a continued 20% decline in operating margin for the Specialty Garment segment for 2 years before recovering slowly in 2016, and resuming slow 3% margin improvement thereafter, with flat revenue growth of 2.7%. Finally, I assume First Aid revenue and margins will trend as they have for the past decade, with 5% revenue growth and flat margins of 12%. I assume a weighted average cost of capital of 13.9%. This base assumption produces an estimated fair value of $105.
Under a bear case scenario, projecting sustained 4% revenue growth for the next 10 years and margin decline of 0.25% per year until 2018 before flattening, the model projects a fair value of $73. Finally, under the most optimistic assumptions, with revenue growth recovering quickly to 10-year average historical norms of 8% per year, and margin growth recovering to 10-year average historical norms of 4% per year, the model yields a fair value of $136. Averaging the three yields an average fair value of $103, a small premium to today's closing price of $96.17.
I should note that I personally favor the bull scenario, given the company's reliable earnings record over the past decade. However, recent guidance suggests additional near-term pressures, and it looks like the market is pricing that in at the moment. Very short term, the RSI looks oversold at present, so some short-term gains seem in the offing. That being said, I would not be surprised if the price broke below the longer-term support of $90. I would consider accumulating shares around $75-80, and would consider the stock a buy below $75.
Conclusion
UniFirst is an interesting play to capture the upside offered by the strengthening US economy. Its revenue stream is highly levered to its core laundry business, which is in a highly competitive, highly commoditized industry. Despite its historical record of generating reliable, healthy returns on capital, the company appears to be hitting some near-term headwinds on revenue and earnings growth, and the market appears to have priced this in accordingly. It should be noted that Morningstar rates G&K, Cintas, and Aramark all as relatively overvalued at present. Of these four companies, UniFirst looks the most fairly valued based upon this analysis, but I would personally look for a larger margin of safety before initiating a position.
Disclosure: I have no positions in any stocks mentioned, and no plans to initiate any positions within the next 72 hours. I wrote this article myself, and it expresses my own opinions. I am not receiving compensation for it (other than from Seeking Alpha). I have no business relationship with any company whose stock is mentioned in this article.