Maybe this is time to admit that I'm wrong and that Mallinckrodt's (NYSE:MNK) due diligence behind their proposed "buyout" - which really seems like more of a merger - with Questcor (QCOR) is a sure fire sign that all is good and well with Questcor, and that zero risk exists. So, the easy thing to do would be to do what I did yesterday - offer an obligatory congratulations to both sets of shareholders, admit defeat, and crawl back into my hole - right?
Or, maybe this is like that time George Costanza lied to the Ross family, told them he had a house in the Hamptons, and when they called him on his bluff, he invited them into the car and started driving towards the end of Long Island, to a house that never existed.
I thought a lot about this yesterday.
Money was lost on my end and I was traveling all day yesterday, so I had tons of time to think about it. I spoke to other QCOR bears - some simply told me to give up, some re-advocating their short position in the company. I looked at possibly just calling it a day with QCOR - if I wanted an "out", this is certainly it. But, the more I thought about it, the more I'm left with the same questions. Questions that are likely stuck in the mind of Maillinckrodt shareholders, as well.
If I was a completely independent Mallinckrodt shareholder, those questions likely look like this:
1. Why is there such a massive short interest in the company we just merged with? What am I missing that shorts see?
2. Why risk everything on Acthar - is the company that we just merged with going to make up a majority of our total revenues, once complete? Where are the recent clinical trials and when does orphan drug status run out?
3. Who is right about the chemical composition and concentration of Acthar, and will the FDA step in one way or another at any point in time?
4. If Acthar was such an amazing drug, with amazing growth potential, why sell the company at $86? The talks to sell likely started, or were continuing, when the stock had breached the $70's into the $80's? In other words, if the growth behind Acthar was what longs made it out to be, QCOR would have easily been a $100+ stock. Why $86?
5. Why was there no interest from a company like a Pfizer - why Mallinckrodt - a new spin off medical company based in Ireland, presumably for tax reasons. Further, why is the smaller company "acquiring" the larger one and keeping its own name? Isn't this company really going to be "Acthar", with a couple of other supplemental revenue drugs. (i.e., if the eggs still sit mostly in one basket, why back into this transaction and change Questcor's name?)
6. Who assumes the risk for the ongoing Department of Justice, SEC, and U.S. Attorney General's Office investigations into the promotional tactics used to sell Acthar? When are these cases supposed to be resolved? Which of these can potentially cancel this deal before it takes place?
7. Why are people like Herb Greenberg from CNBC potentially calling this a case of "Smart Seller, Stupid Buyer?"
8. Why did that first question from the Piper Jaffrey analyst on the supplemental conference call sound like he was basically beside himself that MNK could acquire QCOR at this stage in the game, even after MNK executives assured him they did their due diligence?
9. Would a M&A situation like this force regulators to move quicker?
If I were a MNK shareholder, I would look long and hard at a couple of the caveats covered on MNK's presentation's "Forward Looking Statements" section yesterday, namely:

"Volatility in Questcor's Acthar Shipments"
If I were an MNK shareholder, I'd look long and hard at that one. Going back through Questcor's 10-K, I haven't seen that language anywhere. The word volatility is used 15 times, never to describe Acthar's shipments. Where did this little risk factor pop up at, over the last few months?
Time will tell the tale here. Longs have their mind made up - from the various curse laden comments, e-mails, and Twitter messages I received yesterday, QCOR longs think this entire debate is over. There's no way a company would acquire Questcor without having absolute certainty over what was going on behind the scenes at the company, right?
For the first example., let's take a look at how both companies traded yesterday.
First, MNK was up a small bit out of the gate, but was eventually down 6% at one point, as investors seemed anxious about the wonder drug that they were acquiring. If MNK had gone out and acquired a company like a GSK, think there would have ever been a 6% dip at one point in the day? Unlikely. This was shareholders showing some caution and some nerves regarding their new potential merger.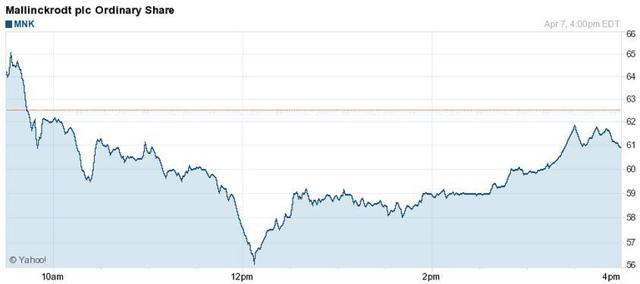 Next - let's look at QCOR - there's that short squeeze, right out of the box. On an $86 bid for the company, QCOR was once trading as high as $91 - wow! Longs were rejoicing, shorts scrambled to cover, and then, as the day progressed, QCOR stock settled.
Where, on the basis of an $86 bid for the company, did it settle? Finally above the $80 mark at close (about an 8% risk/premium to merger price). At one point the stock traded as low as $75 (about a 13.5% risk/premium to merger). Profit taking also? Perhaps nerves about the transaction?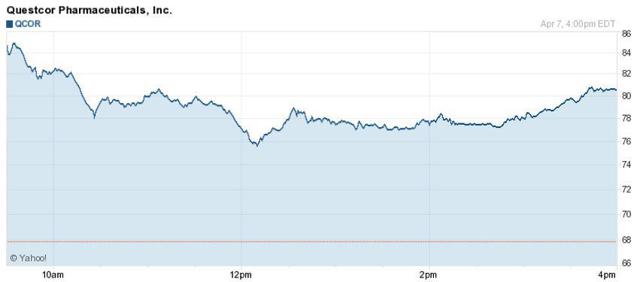 Second, let's assume that the questions about Acthar aren't an issue. Let's say there isn't an issue about the chemical composition of the drug, or its consistency. Let's just pretend that issue doesn't exist for a second, even though it still does.
Even if that were to go away, what's to be said about the current regulatory investigations that QCOR is under? Who assumes the liability for those with the merger proposed, if no outcome takes place before the merger closes? Additionally, are there certain outcomes from the DOJ et al. that could potentially stop the merger in its tracks? Does the merger have an emergency brake? (i.e. if a regulatory agency makes comment with regard to Questcor before this deal closes, what happens?) Surely, counsel from both sides of the aisle have addressed this at length.
It's addressed in "Closing Conditions", on the SEC filing for the merger:
Closing Conditions

Each of the Company's and Parent's obligation to consummate the Merger is subject to a number of conditions, including, among others, the following, as further described in the Merger Agreement: (NYSE:I) approval of Parent's shareholders of the issuance of Parent ordinary shares to be issued in the Merger; (ii) approval of the Company's shareholders of the adoption and approval of the Merger Agreement; (NASDAQ:III) expiration of the waiting period (or extension thereof) under the Hart-Scott-Rodino Antitrust Improvement Act of 1976; (iv) effectiveness of the registration statement on Form S-4 registering the Parent ordinary shares to be issued in connection with the Merger; (NYSE:V) the ordinary shares of Parent to be issued in the Merger being approved for listing on the New York Stock Exchange; (vi) the representations and warranties of the other party being true and correct, subject to the materiality standards contained in the Merger Agreement; (NYSEMKT:VII) material compliance by the other party with its covenants; (viii) expiration of the Marketing Period (as defined in the Merger Agreement) of ten consecutive business days afforded to Parent; and (NYSE:IX) no material adverse effect having occurred with respect to the other party since the signing of the Merger Agreement.
And now on to a bit of the "Regulatory Matters" section of the agreement - most notably page 21, section (F), which lays out a couple of interesting parameters that must be met. Interesting "questionable promotion" triggers in bold, for your convenience:
Since January 1, 2011, all reports, documents, claims, permits and notices required to be filed, maintained or furnished to the FDA or any other Company Regulatory Agency by the Company and the Company Subsidiaries have been so filed, maintained or furnished, except where failure to file, maintain or furnish such reports, documents, claims, permits or notices would not reasonably be expected to have, individually or in the aggregate, a Company Material Adverse Effect.

All such reports, documents, claims, permits and notices were complete and accurate in all material respects on the date filed (or were corrected in or supplemented by a subsequent filing). Since January 1, 2011 neither the Company nor any Company Subsidiaries, nor, to the knowledge of the Company, any officer, employee, agent or distributor of the Company or any of the Company Subsidiaries, has made an untrue statement of a material fact or a fraudulent statement to the FDA or any other Company Regulatory Agency, failed to disclose a material fact required to be disclosed to the FDA or any other Company Regulatory Agency, or committed an act, made a statement, or failed to make a statement, in each such case, related to the business of the Company or any of the Company Subsidiaries, that, at the time such disclosure was made, would reasonably be expected to provide a basis for the FDA to invoke its policy respecting "Fraud, Untrue Statements of Material Facts, Bribery, and Illegal Gratuities", set forth in 56 Fed. Reg. 46191 (September 10, 1991) or for the FDA or any other Company Regulatory Agency to invoke any similar policy, except for any act or statement or failure to make a statement that, individually or in the aggregate, has not had and would not reasonably be expected to have a Company Material Adverse Effect.

Neither the Company nor any of the Company Subsidiaries, nor, to the knowledge of the Company, any officer, employee, agent or distributor of the Company or any of the Company Subsidiaries, has been debarred or convicted of any crime or engaged in any conduct for which debarment is mandated by 21 U.S.C. § 335a(a) or any similar Law or authorized by 21 U.S.C. § 335a(b) or any similar Law applicable in other jurisdictions in which material quantities of any of the Company Products or Company Product candidates are sold or intended by the Company to be sold. Since January 1, 2011, neither the Company nor any of the Company Subsidiaries, nor, to the knowledge of the Company, any officer, employee, agent or distributor of the Company or any of the Company Subsidiaries, has been excluded from participation in any federal health care program or convicted of any crime or engaged in any conduct for which such Person could be excluded from participating in any federal health care program under Section 1128 of the Social Security Act of 1935, as amended, or any similar Company Healthcare Law or program.
Simply put, this merger still has "outs" if things don't go well for Questcor over the coming months. And very simply put, this is looking a lot like a "merger" instead of a "buyout". Even the executives on the call seemed to allude to it more of a merger than as a buyout. I wasn't the only one that caught that, a couple of the bears I speak to daily seemed to think the same thing. Additionally, Investors Business Daily also touched on the "merger":
Although Mallinckrodt is the buyer, on the conference call with analysts the two CEOs spoke of it as a merger. The company will be renamed Mallinckrodt Pharmaceuticals to reflect its new identity.

The deal is set to close in Q3 and "will create an increasingly diversified high-growth specialty pharmaceutical company, significantly increase our scale, revenue, cash flow, and profitability, and will add breadth and depth to our growing portfolio of specialty pharmaceutical brands," Mallinckrodt CEO Mark Trudeau said on the call. He did not, however, revise guidance.
So, we're basically going to be looking at Questcor with a new name and a new ticker symbol. While I do recognize that MNK does have a substantial amount of other drugs that it deals with, Acthar is set to lead the charge, in terms of bringing revenue through the door.
Third, this has happened in the past, and can happen again. Companies can sometimes buy companies without doing the proper amount of DD. Sure, it seems like an impossibility - but, I assure you - from working on the inside and the outside of the financial world, things get missed and people aren't nearly ever as smart as they think they are - myself included. This was picked up on and met with a healthy dose of skepticism from Herb Greenberg, who penned about the merger:
When I saw the news this morning, the first thing that crossed my mind: Mattel (MAT) buying The Learning Company....Hewlett Packard (HPQ) buying Autonomy...Medtronic (MDT)buying Arterial Vascular Engineering.

All three of the targets were the focus of short-sellers, and all three famously blew up, or otherwise caused havoc, once inside the new parent -- for the very reason the short-sellers had been short. Mattel was perhaps the most wounded, and almost taken down by what it found once it owned The Learning Company.

No idea if that will happen here, but a quick peek at Mallinckrodt's history sure is a twisted tale: Started in St. Louis as a chemical company, ultimately sold to Avon (AVP), then Tyco (TYC), then spun off. Now a specialty drug rollup based in Ireland.

Oh, and this small disclosure from Questcor's 10-K:

"We are involved in an ongoing government investigation by the United States Department of Justice involving our promotional practices and related matters, the results of which may have a material adverse effect on our sales, financial condition and results of operations.
Forget Acthar for a minute, and just focus on that last line. MNK went out yesterday and merged with a company that has outstanding regulatory risks of a potential material nature. If I were an already existing MNK shareholder, I'm not sure how I'd feel about this whole thing.
For myself and my investment thesis, I need to take a long hard look at this. For one, QCOR's upside is basically capped at $86 though the next 3 months or so, so there's nothing of any substance that should come form that end. I'd consider going short MNK now, but if this deal falls through it might send MNK stock upwards - so that's the wrong monetary result for the right fundamental result. Perhaps I'd consider going long MNK now and short when the deal closes. I'll have to look a bit closer.
When I first heard the news of "strategic" alternatives for QCOR months ago, the only thing that came to mind was that executives could have possibly been looking for an exit. Now, they seem to have found it in MNK.
For now, there's no doubt about it - Mallinckrodt just took all of Questcor's risks and asked their shareholders to bear the burden. As I'm not predicting any new bidders to come forth and bid for Questcor, the next few months should be very telling for both companies. Until then, I see no reason to invest in either company - though I will remain short QCOR until this deal closes or I'm forced out of the trade.
Best of luck to all investors.
Disclosure: I am short QCOR. I wrote this article myself, and it expresses my own opinions. I am not receiving compensation for it (other than from Seeking Alpha). I have no business relationship with any company whose stock is mentioned in this article.