While we endorse free speech and free markets, and after 30 years in the investment business we have about seen it all, a recent Seeking Alpha article with a one-sided attack on Wellgreen Platinum (WGPLF) is so flawed we had to comment. At least, we will point out how the negative 'spin' is not so subtle, and readers can decide for themselves.
We do not know, or care, the author's objective for such work, we certainly do not care about the attempts to dismiss our reports.
We are not aware of any attempt by this author to contact Wellgreen Platinum or support these "opinions" with any creditable 3rd party information.
The author writes:
"Wellgreen Platinum used to be called Prophecy Platinum and had a reputation of (over) promoting its projects rather than pushing technical development. A new name and new management was implemented last year, and we are eager to see if the emphasis on promotion has been replaced with an emphasis of delivering project milestones. The updated Preliminary Economical Assessment, or PEA, for the Wellgreen project might just provide the litmus test for the company in this regard."
Our comment:
You can't just gloss over the corporate changes and burden Wellgreen with whatever the supposed "reputation" of former company might have been. New President & CEO, new COO, new CFO, new corporate secretary, new project manager, new senior geo (all with exceptional reputations and track records) and since, just on the corporate side, Wellgreen has delivered: new consultant team, new chairman, new board of directors, new office, new name, new trading symbols, new share structure in which PCY went from a ~40% holding to zero thus eliminating influence and selling overhang.
In a year that saw many juniors completely decimated, Wellgreen more or less held steady and has outperformed the GDX or GDXJ in 2014 despite 5 million shares being aggressively dumped into the market by the former controlling shareholder PCY due to their financial distress.
The author writes:
"This 2012-report contains an updated resource statement which relies mostly on the report filed a year earlier, but assumes higher metal prices ($9.48/lb nickel; $3.56/lb copper; $16.23/lb cobalt; $1378/oz gold; $1588/oz platinum; and $581/oz palladium). Under present market conditions these price assumptions seem more than a touch optimistic - as is the resulting resource upgrade, especially since the cutoff grade was also lowered from 0.4% NiEq to 0.2% NiEq."
Our comment:
The 2012 PEA was published by the former company management of Prophecy Platinum. The current company always considered the 2012 PEA a "good first pass" scoping level study which is why, pretty much from the beginning, they publicly stated the intention to provide an update and gave a timeline which is now fast approaching. The author states "under present market conditions these price assumptions seem more than a touch optimistic" which is a rather strange thing to say since the study was not created "under present market conditions" but rather under market conditions which existed at the time in 2012.
The use of 3 year trailing average metal prices is standard procedure in the mining industry. Even so, the new Wellgreen Platinum team added a level of conservatism by switching to a Base Case -20% in all their public documents in order to properly adjust for a lower price scenario and, prior to very recent revisions to their corporate presentation, had 5 year charts for the main base/precious metals showing where PEA base case and Base Case -20% were relative to those trend lines.
The author writes:
"We believe that under today's market conditions the 2011 resource should be used as a yardstick for future resource updates. We note that in both cases the inferred resource governs, which is the resource classification with the least confidence level generally not considered to be sufficient for economical considerations. It is for this reason, among others, that readers need to be reminded that a PEA based mainly on inferred resources is highly speculative."
Our comment:
Again, a very odd line of comment since the Company has never wavered from the statement that a goal of drilling at Wellgreen (and the re-logging and the re-assaying) is to convert a significant amount of inferred resources into Measured and Indicated. That has been on the resource comparison slide in the corporate presentation for well over a year. We expect the updated PEA to be based on a high percentage of higher confidence Measured and Indicated resources. The original PEA and resource estimates will become a point in history on this project.
The author writes:
"Nevertheless, the project assessed in the 2012 PEA was estimated to require upfront capital expenditures, or capex, of $863M. This high upfront requirement was probably one of the deterrents that has kept the project from moving forward in an environment of difficult capital markets."
Our comment:
The project hasn't kept moving forward? The company is in the midst of environmental studies, is on the verge of updated metallurgy, resource, and a PEA and expects to launch pre-feasibility level studies this year. Not to mention the intent to look at step-out drilling in Quill and Burwash.
The author writes:
"Current management is working on an updated PEA that aims at defining a project requiring only $300M to $400M in up-front capex, assuming metal prices adequate for today's market conditions. A strategy of finding open starter pits in combination with underground bulk mining methods will apparently be employed for this updated PEA; however, a similar strategy had been employed for the 2012 PEA already."
Our comment:
"A similar strategy had been employed for the 2012 PEA already" is misleading. The 2012 PEA specifically states "Detailed pit designs for the starter pit and subsequent pushbacks were not completed for this level of study." Furthermore, the pushbacks or phases were set out on a timeline consistent with the proposed 37 year mine life and not based on optimization across the property but rather on simply expanding from the center, moving outward and down. The relevant section in the PEA which supposedly employs this "similar strategy" starts on page 16-15 and the readers can see for themselves.
The technical team, led by professionals with decades of experience and proven track records, has specifically stated time and again that priority starter pit targets exist at both the eastern and western ends of the known resource area and that optimization in this regard (by stockpiling material and milling higher grades in early part of mine life) will be part of the basis of the PEA update. We believe that as stated in the recent news releases that new drill information from new drill holes and from the continuous assaying of historic drilling that was only partially sampled will significantly improve the understanding of these starter pit areas. The author concedes this point in stating "However, we would like to draw attention to one exception: Holes WS-076 and WS-078 show mineralisation of 0.7% to 0.9% NiEq close to surface. The given widths are measured downhole, but true widths of around 20m can be guesstimated judging from the cross-section provided in the referenced news release. A possible open starter pit in this location is well worth speculating about."
The author writes:
"It will need substantial additional drilling to confirm the potential, however." "indeed there are some promising indications of near surface mineralisation that could possibly be mined economically."
Our comment:
Given that results have been released in order from east to west, we would anticipate seeing Far West results next - another high priority area for a potential starter pit. Based on a review of earlier results from this area, we anticipate seeing significant higher grade material near surface.
We are also unaware of any previous look at including bulk underground mining of higher grade zones in previous studies. In our assessment this is something that has the potential to be a significant change in this next study especially with the close proximity of these higher grade zones to existing underground access.
The author writes:
"Rare occurrences of higher grade zones seem to be limited to relatively narrow intervals at great depth."
Our comment:
Relatively narrow compared to what? 65m isn't particularly narrow in an underground mine? The author doesn't take into account the 4km of existing underground workings the existence of which changes the underground mining economics significantly.
The author writes:
"The higher grade 65m interval starts at 561m downhole and grades are still very low when compared to other bulk nickel underground mines."
Our comment:
Wellgreen is not a high grade underground Nickel mine. Mines or projects with bulk mineable PGMs would be a better comparison; the intervals seen by Ivanhoe or Platinum Group Metals are similar equivalent grades with PGM's in underground mines in South Africa. Many of those projects are 1 kilometer deep or more; Wellgreen begins at surface and will mostly be an open pit operation.
The author writes:
"The two news releases published on March 3 and March 18 refer to results obtained for the Central Zone and the West Zone. Rather than boring readers with the results of our hole-by-hole analysis, let us summarize that we continued to see long intervals of low-grade mineralisation. In many cases the PGM and gold content was very low and we doubt that much of it can be recovered. And even in the higher grade intervals the mineralisation is dominated by nickel throughout."
Our comment:
Below are the actual central and west zones referred to. In the central zone, note proximity to existing underground workings of material above 5 g/t Pt Eq. That "narrow band" appears to run for 400 meters in the connecting drill holes; if it can be confirmed to continue only 100m in either direction, that means there could be several years of production of higher grade material just 50m from the existing adit of 5-6.5 g/t Pt Eq mineralization.
In west zone, note the higher grade at surface mineralization that is open at depth with 140 meters at 4 g/t Pt Eq. Holes 076 and 078 are significant so are many other holes including 065 and 211 in the West zone.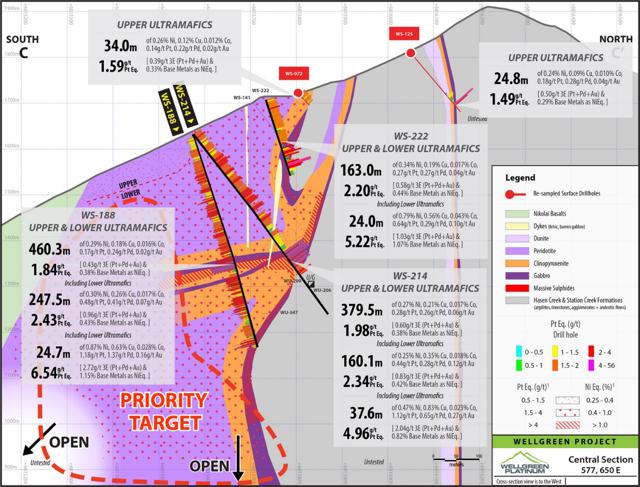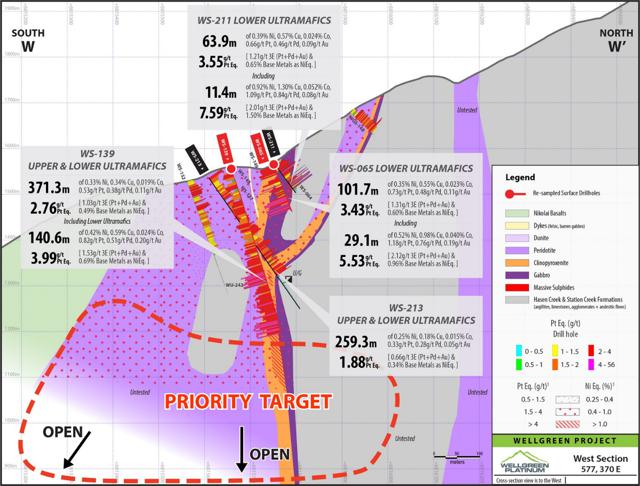 The author writes:
"We view the Wellgreen project as a nickel project dressed up as a platinum project…"
Our comment:
Wellgreen Platinum consistently states in news releases that Wellgreen is a polymetallic deposit that contains PGMs and base metals, nickel, copper and cobalt. The base and precious metals are co-products in most of the deposit. This will either be a very low cost co-product mine or an extremely low cost precious metals mine. It is difficult to see how this is a negative, and the author concedes this very point in bringing up their Mincor article which plainly states their position on why they see this being a potential double.
The author writes:
"In the commentary the company repeatedly mentions open starter pit potential, and indeed there are some promising indications of near surface mineralisation that could possibly be mined economically.
The company also mentions bulk underground mining. The grades, and the widths of the deep higher grade mineralisation are not supportive of this option, at least as far as we could deduct from the provided cross-sections."
Our comment:
Refer to central zone holes 188 and 214 - and consider the proximity to existing u/g workings and the potential size of that band of higher grade if it extends west and east.
The author writes:
"It is important to know that drilling is widely spaced, and the provided cross-sections are located hundreds of meters from each other. The geology appears complex and much more drilling will be necessary to confirm the current interpretation. Nobody knows what will be discovered once this deposit finally gets drilled out. It will take significant time and serious money to convert the currently inferred resource to higher confidence categories."
Our comment:
Refer to company's consistent statement that moving inferred to M&I is a priority goal. Furthermore, refer to the company's comparison with the operating Kevitsa PGM-Ni-Cu mine of First Quantum in Finland.
The author writes:
"Metallurgical work is ongoing, and judging from other much more advanced projects of similar character in North America it will take a lot more work to unlock the optimal flow sheet for processing the poly-metallic ore from the Wellgreen project."
Our comment:
And yet the company has repeatedly stated that updated metallurgical recovery numbers will be released prior to PEA.
The Nut Shell
Minerals export restrictions in Indonesia have created a catalyst for nickel prices. We are in agreement with analysts expecting nickel prices to increase throughout 2014 as a result.
Nowhere in the article does it talk about the tremendous cost saving from a switch from diesel to LNG, which is highly significant and an important factor in our estimates. LNG is generally accepted as 50% cheaper, and energy at many miners accounts for 35% of costs - including well-managed First Majestic Silver (NYSE:AG).
Nor is there any mention of the Wellgreen location, how it is off a major highway and within a short distance to West Coast ports, making this ideal for shipment to Asian smelters.
Here's a couple points more sensible investors may wish to consider:
1) The author is critical of the polymetallic nature of the deposit and the occurrence of significant amounts of Nickel and Copper along with the PGM's and gold; however, from our perspective, this is not a negative but gives exposure and potential upside during various cycles to metals that will be positive for cash flow on the project. This is very similar to why the big gold companies have been focusing on copper-gold porphyries - they are big, generate huge cash flow and net of base metal credits are very low cost producers. We see the same at Wellgreen, "which appears to be a porphyry scale PGM system" quoting the management team.
2) The author also seems to suggest that the grades seen at Wellgreen will not be high enough to support open pit mining. While we agree that 2 g/t Pt equivalent would probably be too low to mine deep underground, such as in the South African deposits, in a large open pit 2 g/t Pt is very attractive grade. Osisko for example is a 60,000 tonne per day open pit operation in the north and has an average grade of 1 g/t Au, which is approximately the same value as Pt, and has a cut-off grade of 0.3 g/t. At 2 g/t Pt and an estimated open pit cut off grade of 0.5 to 0.6 g/t we believe that the company is being conservative. This is supported by examples from the base metal side where most bulk, open pit copper projects are using 0.2% cut-off grade (which would be 0.1% Ni with Nickel twice the market price of copper) and is approximately equal to the Osisko cut-off of 0.3 g/t Au. This is also supported by the First Quantum open pit Ni-Cu-PGM project in Finland which uses a 0.1% Ni cut-off grade.
3) We would further point out that the potential underground zones that have been identified are grades of 4-6 g/t Pt Eq. over 30-60 meter widths and are very comparable to underground South African grades and as noted in some of the news releases these zones are often within 50 meters of existing underground infrastructure.
4) We believe that the author underestimates the significance of the new drilling and re-assay of historic work that has been done to build confidence in the resource estimate. At nearly 800 drill holes this deposit is fairly well defined by the standards of many projects and we estimate there to be about 40,000 meters of new drill information since the 2011 resource that is likely to support moving a large number of tonnes in the resource to the higher Measured and Indicated Categories.
5) Lastly, we believe that the new management team has done an admirable job of advancing the project in difficult market conditions and that had they not had the aggressive selling from their former controlling shareholder due to financial distress over the past 3 months - which is now gone - that the market would be ascribing an ever higher value to the work that has been completed over the past year.
6) We reiterate our belief that Wellgreen remains undervalued and that the fundamental technical work completed on the project over the past year has been critical to be able to bring a meaningful project concept to the market. We believe based on our own assessment of the drilling released over the past several months that they will be growing the resource, moving ounces and pounds of metal into the higher confidence categories and that their efforts to better optimize capital and focus on a higher rate of return but smaller tonnage PGM producing mine will be rewarded by the market.
Conclusion
Wellgreen has done a fantastic job at milking cash through what nobody will deny has been a very challenging market, while still impressively advancing the project. The author ignores this mature discipline - Wellgreen did not rush out and "tank up" like so many other miners recently. Yet, this author, who has never bothered to even pick up the phone and speak with the new management, makes this appear as a negative. Would not a hyped company, one that knows they have nothing (as this author implies) have done this? Of course not, they would have already issued a ton of stock.
We believe Wellgreen management is gaining confidence they will deliver, and that they do believe the new recovery studies and PEA will give them a well-deserved lift - the bigger investors are happy to "pay up" for less risk. That is the real story here.
Platinum prices are going higher - most of the world's Pt mines are losing money. If investors wish to read a report detailing the Wellgreen opportunity, please go to the "Wellgreen Platinum: Strong Tailwind Continues, Headwinds winds Abate" article. It's all coming together, will do so this year, and Wellgreen is going to end up as the "go to" choice in PGM's.
Disclosure: I am long WGPLF. I wrote this article myself, and it expresses my own opinions. I am not receiving compensation for it (other than from Seeking Alpha). I have no business relationship with any company whose stock is mentioned in this article.
Editor's Note: This article covers a stock trading at less than $1 per share and/or with less than a $100 million market cap. Please be aware of the risks associated with these stocks.
Editor's Note: This article covers one or more stocks trading at less than $1 per share and/or with less than a $100 million market cap. Please be aware of the risks associated with these stocks.