[Editor's note, April 10, 2014: This article has been amended to reflect the update made by the company to their previous nonbinding agreement that the agreement is now definitive.]
Over the past month, several publicly traded companies jumping in on the "Canadian Cannabis Craze" have caught our attention: Enertopia (OTCQB:ENRT), Creative Edge Nutrition (OTC:FITX), Next Gen Metals (OTCQB:NXTTF), Abattis Bioceuticals (OTCQB:ATTBF), and Modern Mobility Aids (OTCPK:MDRM). There is one restless giant, however, that has not had its fair share of the spotlight. And boy, does it need it.
Medican Inc. (OTCQB:MDCN): A Giant in our Midst
If you have been paying attention to headlines coming out of Canada, you would have heard about a company called "Zenabis" and their recent acquisition of a 400,000 square foot facility in Athloville for medical marijuana production. News like this makes investors drool. I briefly discussed this company in a previous article. What I didn't mention was that the company behind this acquisition has been Medican Enterprises. Medican might be the most ambitious player in the Canadian scene. If it succeeds, a few years from now investors will say, "Tweed who?"
The story begins last year on June 25, 2013. Kenneth Williams, a veteran of Michigan's Medical Marijuana Program, bought out a Nevada based shell, TC X Calibur Inc., for the very purpose of running a publicly traded Canadian MMPR firm. From this moment on, Mr. Williams has worked tirelessly to assemble an experienced team, accrue essential assets, and form strategic partnerships in order to create a medical marijuana empire.
The story is impressive. As of April 10th, Medican has signed a definitive agreement with IHMML to have immediate access to its 400,000 square foot facility in Athloville, New Brunswick. IHMML is in the inspection process to acquiring its licenses.
Team: The Marijuana Aficionados
Medican boasts one of the most impressive teams of any of the publicly traded Canadian marijuana companies.
Board of Directors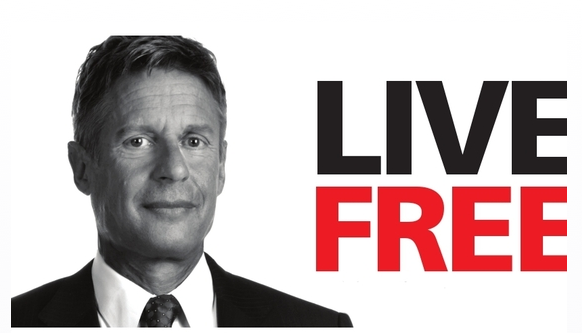 The honorable Gary Johnson, two-term governor of New Mexico, serves as a director of Medican Inc. In addition to starting a successful multimillion-dollar enterprise, the honorable libertarian has been a longtime advocate for marijuana legalization. You may remember Gary Johnson as the 2012 libertarian presidential candidate who won .99% of the vote.
Michael Thompson has been involved in the medical marijuana industry as a licensed provider since early 2012.
Management
Kris Klassen President. According to his bio, Mr. Klassen has "over 15 years experience in the medical marijuana industry." Disclaimer: this information is unverifiable.
Wayne Hansen CFO
Bal Sandu, P. Eng., COO.
Danny Camele, VP Marketing
Research and Development
Although a very knowledgeable team, it is questionable that these scientists are agreeing to apply their expertise to marijuana cultivation. Dr. Benkrima is a "wheat" specialist; Dr. Prasad is a "cranberry" specialist. As I am not an expert in any of the related fields, I do not know whether the fields are that different and that the R&D team will be unable to apply their horticultural expertise to medical marijuana.
Advisory Board
Some investors might be uncomfortable with the name David Tobias attached to the firm. However, I am fairly confident that he will benefit Medican immensely since he does have extensive experience in the field of publicly traded marijuana stocks.
It is clear that Mr. Williams has put together a distinguished team. Most of the Medican team boasts years of experience in the business of marijuana cultivation, production, and sales. This is the kind of team I feel comfortable investing in.
The Management Agreement
Although an experienced staff is comforting, there is only one reason to invest in Medican Inc.: their partnership with International Herbs Ltd's subsidiary ("IHL"), IHMML. Kevin Coft, General Manager of IHL, has gone on to create IHMML (International Herb Medical Marijuana Ltd) branded as Zenabis. Zenabis has acquired a 400,000 square foot facility in Atholville, New Brunswick and is in the process of acquiring two additional facilities, an approximately 300,000 sq. ft. (with the potential to expand to a total of 600,000 sq. ft.) facility in Pokemoush, NB and a 25,000 sq. ft. facility in Delta, BC
A Couple of Hiccups
It is clear from the filings that Mr. Williams has always had his sights set on Canada. Towards the end of 2013, Medican founded two subsidiaries:
Median Systems, Inc., a Yukon corporation
Medican (Delta) Systems, Inc., a British Columbia corporation.
Medican Delta was essentially established to obtain a Medical Marihuana Purposes Regulations (MMPR) producer license. Medican Delta signed a management services agreement with International Herbs Ltd. (IHL) and Lions Financial Group (LFG) for the purposes of promoting and assisting Medican Delta to obtain an MMPR license.
Hiccup #1: IHMML Going Rogue
Since the agreement, it is suggestive that IHMML went rogue and decided to acquire a facility for itself. Most likely because of strict rules preventing US based shell companies from acquiring the MMPR licenses. Medican Inc. still wanted in.
Resolution: "Amended Agreement"
On March 13, 2014, Medican, LFG, and IHL entered into an "Amended Management Services Agreement." Under the terms of the "Amended Management Services Agreement" IHL and LFG agreed to cooperate and work together to promote and develop the business of Medican CanaLeaf and to assist Medican partnering with IHMML, a company that is applying to obtain licensed producer status from Health Canada through its subsidiary Zenabis.
Definitive Agreement: No More Hiccups
It has already been all over the news that Zenabis has acquired a 400,000 square foot facility. Not wanting to lose out on its meal ticket, Medican on March 24, 2014 entered into a nonbinding Letter of Agreement (LOI) with IHMML to become a 50% holder of IHMML by way of subscription for 41,600,000 common shares of IHMML for an aggregate subscription price of $52,000,000.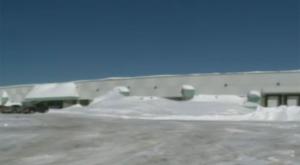 *400,000 square foot facility in Atholville
As of April 10th, 2014, this agreement is now definitive. The proceeds of the deal will be used by IHMML to complete not only the purchase of the 400,000 square foot facility in Atholville, New Brunswick, but also two additional facilities that would give Medican and IHMML a total of 1.025 milion square feet of cultivation space.
1.025 Million Square Feet Marijuana Facility
Medican is will be the 50% owner of 1.025 million square feet of marijuana cultivation space, or 512,500 square feet. To give you an idea of the profitability of owning a million sq ft. facility:
| | | |
| --- | --- | --- |
| | Medican Inc. & IHMML | |
| Est. square footage | 1.025 million sq. ft. | 150,000 sq. ft. |
| Conservative: 1 plant per 9 sq. ft. | 114,000 plants | 16,500 plants |
| Maximum: 1 plant per sq. ft | 1.025 million plants | 150,000 plants |
| Average annual yield of 200 grams of dry bud per plant | 22,800 to 205,000 kilograms | 3,300 to 30,000 kilograms |
| Average sales at $7 (CAD) a gram | $156 million to $1.435 billion | $23.1 to $210 million |
| | 50,265 to 451,948 lbs | 7,285 to 66,138 lbs |
| Est. revenues | 50% adj. $78-717.5 million | $23.1 to $210 million |
| | ~$12~$107.5 million | ~$1,733,775 to ~$15,740,844 |
| Est. gross profits | $60 to $610 million | $21,366,225 to $194,259,156 |
| Realistic est. revenues at 68 grams per sqft. | 50% adj. $244 million | $71.4 million |
| Realistic costs | 50% adj ~$36.5 million | ~$5,4.million |
| Gross Profits | 50% adj. $207.4 million | $66 million |
**The above figures are estimates and do not reflect actual yields or earnings. They may be much higher or lower depending on the given circumstances, yields, and facility utilization. I assume 5 harvests, annually yielding 40 grams per plant per harvest for a total of 200 grams per year.
As you can see, the numbers yield a wildly large range. This should help investors understand what goes into investing into an agricultural company that has limited space and resources. The slightest misstep in space utilization or production inefficiency can yield grossly divergent results.
Additionally, nearly all MMPR firms have agreed to offer compassionate pricing to patients living in households with under $30,000 a year in income. This will affect the return on investment.
Although the above figures are merely estimates, no matter what Medican Inc. potentially stands to yield 3x more in revenues than Tweed Inc. This is not to say that Medican will also be more efficient at keeping costs of production and overhead low.
Seal of Approval
Medican and IHMML are not only setting themselves apart by acquiring the largest facilities for growing medical marijuana. They have also joined an organization called the Canadian National Medical Marijuana Association (CNMMA). The CNMMA stamps companies with a "seal of approval" for upholding stringent MMPR guidelines. As a result, it has made itself the coveted ersatz endorsement needed to assuage investors and patients alike.

It is interesting that IHL is CNMMA approved, since it plans on entering the marijuana sector only through a subsidiary. It is unclear why IHL would also receive this stamp of approval.

Disclaimer: There is no publicly available information regarding the legitimacy of the CNMMA. Several attempts have been made to contact the CNMMA without success.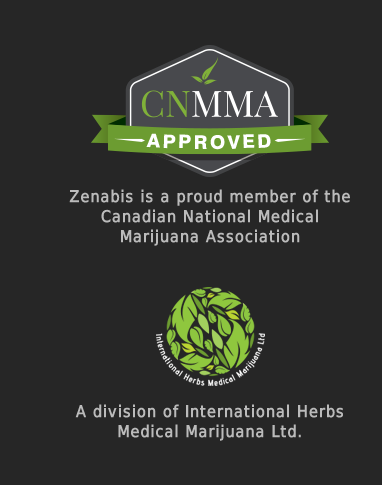 Zenabis Approved
With so many companies desperately finding ways of distinguishing themselves from the competition, the CNMMA brand gives the impression that these companies are certified and trustworthy. To the untrained eye, this seal of approval seems like an unbiased legitimation of the company's authenticity. However, without full disclosure of the CNMMA's independent board, investors should pause before demanding that their MMPR firms also receive their CNMMA membership.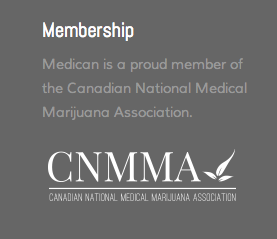 And finally Medican, along with Zenabis and IHL, also has the CNMMA stamp of approval. I must admit that it is tantalizing that a publicly traded company in the US had a Canadian CNMMA stamp of approval, even if I doubt the legitimacy of the CNMMA, it does give Medican the allure of having more legitimacy than the other Canadian players. Tweed does not even have the CNMMA stamp.
Market Outlook
MDCN

FITX

ENRT

(TSXV: TWD)

ATTBF

Share price*

2.75

.082

.51

2.59

1.48

Outstanding Shares

32,042,612

Proposed Facility Size

900,000 sq. ft.

58,000 sq. ft.

60,000 sq. ft.

150,000 sq. ft.

N/A

Authorized Share Count

35 million***

Market Cap

90.75 million

280.19 million

45.24 million

82.99 million

84.36 million

Adjusted Share Price**

0.908

2.802

0.452

.83

.76 (US)

0.854
**April 4th, 2014
**Adjusted share price at 100 million shares
***Canadian law allows for unlimited authorized shares but it has been suggested that this is the 'cap'
On an adjusted per share basis FITX is the most expensive. The combined market cap of ENRT, MDCN, ATTBF, and TWD equals 296 million, roughly 16 million more than FITX. This may be surprising because it is by far the "cheapest" of the five companies.
Remember a share price can "look cheap" that does not mean the company is cheap. Even though the share price of MDCN "appears" 2,647.7% greater than FITX, the actual per share cost of FITX is 384.6% greater than MDCN.
One can interpret FITX as "market perform," which would suggest the other companies are currently undervalued. I would not endorse this interpretation. Value is interpretative and I'll leave it to the more savvy fundamental analysts to determine intrinsic values.
Overall, I believe Medican has the most potential out of all the publicly trading MMPR plays. Although Tweed actually boasts a license and a facility, Medican has the potential to be 3X bigger.
Canada versus the US
| | | | | | |
| --- | --- | --- | --- | --- | --- |
| | Use | | US: 25,768,000 9.6% of adult population 15+ | Canadian consumption | US consumption |
| Estimated casual 45% | .6 grams p/year | 1,356,750 | 11,595,600 | 814,050 g | 6,957,360 |
| Estimated regular users 41% | 15 grams p/year | 1,236,150 | 10,564,880 | 18,542,250 g | 158,473,200 g |
| Estimated daily users 9% | 320 grams p/year | 271,350* | 2,319,120 | 86,832,000 g | 8,245,760,000g |
| Estimated chronic users 4% | 1,825 grams p/year | 120,600* | 1,030,720 | 220,095,000 g | 47,026,600,000 g |
| Estimated totals | | 3,015,000 | 25,768,000 | 326,283,300 g | 55,438,035,105 g |
| At $7 a gram | 108 grams p/year | $2.283 billion | $38.806 billion | n/a | n/a |
| Estimated 391,950* core MMPR patients | 783 grams p/year | $2.148 billion | n/a | n/a | n/a |
*The Canadian Centre on Substance Abuse (CCSA) estimates that 25% of marijuana users over the age of 15 consume daily. If 25% of Canadian marijuana users consume daily, I believe that the core market equals 753,000 daily and chronic users. 753,000 users is nearly double the above estimates. Maintaining a similar distribution, I estimate there are perhaps 225,900 chronic users and 527,100 daily users. That is 7.7% chronic users and 17.28% daily users out of 3 million Canadians who reported using marijuana.
I believe the core Canadian market comprises of the approximately 753,000 people who use marijuana daily and will therefore utilize the legal and accessible MMPR program. And since 7% of Canadian physicians support prescribing medical marijuana, this will make it easier for a larger portion of marijuana users to be able to obtain physician prescriptions.
With 225,900 chronic users and 527,100 daily users, that would mean 580,940 kilograms consumed. If this was purchased through the market at $7 a gram, that would yield total annual revenues of $4.067 billion in the Canadian market. This figure sounds more reasonable since the CCSA has stated that in 2002 the illegal marijuana market was estimated to be approximately $8.2 billion.
But let us not get ahead of ourselves. Returning to the original estimates, in the event that 25,600 patients under the MMAR system are able to keep growing for personal that still leaves the low estimate of 356,350 chronic and daily users. If the additional 12,000 licensed users continue to buy from the 4,200 that are licensed to grow for a maximum of 2 patients that will mean 37,000 will not participate in the MMPR program.
Let's say that the 37,000 MMAR patients are all chronic users. That would still leave 83,600 purchasing an average 1,825 grams p/year and 271,350 purchasing 320 grams p/year to yield a $1.675 billion market for users who were unable to access legal marijuana under the old system. This is a conservative estimate.
On the other hand, if my estimates are correct-that there is a greater percentage of chronic and daily users in Canada-then the market is potentially $3.594 billion. In both scenarios, I reduce revenues by $473 million, which should account for the 37,000 patients allowed to keep their MMAR licenses and consuming 1,825 grams p/year.
This research is limited because it does not consider whether current total MMPR licensed producers have the facility capacity to fulfill the annual of 529,107 to 1.28 million pounds of marijuana needed to satisfy this "core" market.
Medican Inc.: The Nevada Shell Game
A huge issue for potential shareholders of Medican is the seemingly 25,000% increase in stock price. Well, there actually hasn't been a "25k" increase. Stock prices tend to act funny after the shell is taken over by an ambitious company (compare this with Charter Communications (NASDAQ:CHTR), for instance, which went from .10 a share to $35 a share).
(Below: What a shell looks like before it resumes trading. Click to enlarge)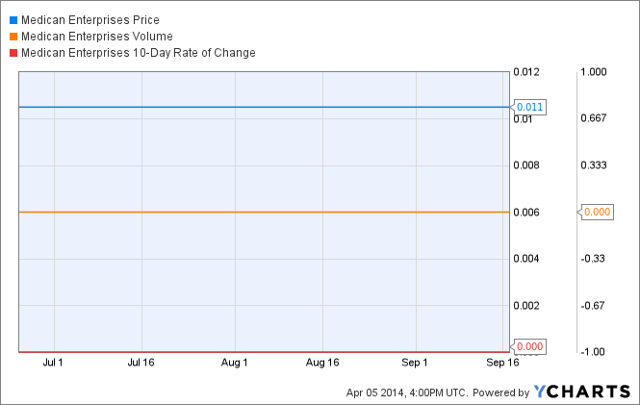 (MDCN Resumes trading. Price jumps to .50.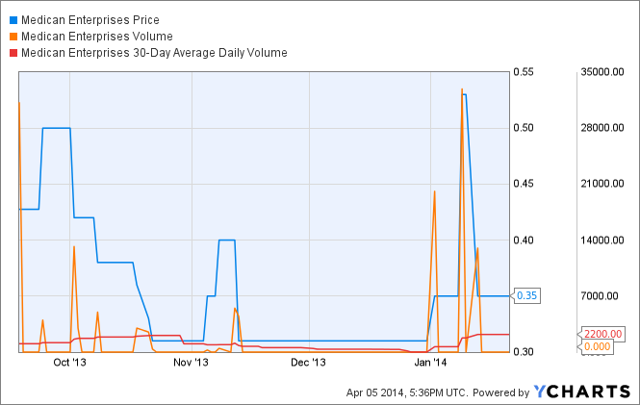 MDCN data by YCharts
From the date of the stock dividend to the announcement of plans to enter the Canadian marijuana market the stock price dropped 18.1% in value.
(MMPR announcement. Still very light volume. Click to enlarge)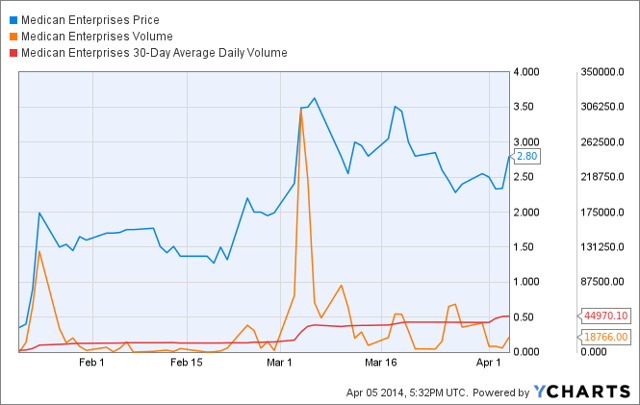 MDCN data by YCharts
Within 3 days of the announcement, the share price shoots up to $2.55 on January 24th, 2014 on a volume of 126,000 shares. It closes at $1.99.
The price jump from $0.35 a share on the 21st to $1.99 on the 24th represents a 569% increase. The price drops down to $1.32 on February 24th before bouncing and hitting a high of $3.83.
I think we can dismiss the 25,000% increase as the effect of a shell-takeover since no trading actually occurred from the company's reorganization until the 20:1 stock dividend. Arguably the stock is up 700% from 0.35 since the reorganization.
Ken Williams procured this company precisely because it was a cheap shell, based in Nevada. Nevada has become the hub for shells because of its loose regulations giving it the "Offshore Advantage" for tax evasion, since corporate taxes are unheard of in Nevada. This will be highly beneficial for shareholders because it will mean higher profit retention. This was clearly a strategic move to do business in Canada while avoiding costly taxes. Another company, MDRM Canada Ltd., also chose to procure a Nevada based shell for similar reasons.
(The price jump from 0.35 to $2 occurred on relatively low volume. Click to enlarge)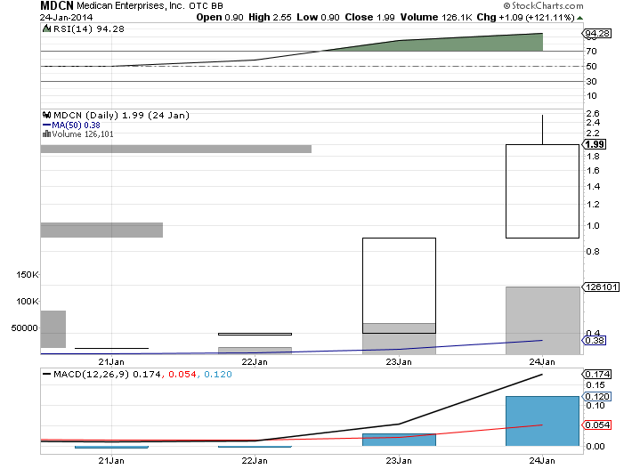 In fact, when I look at this chart I only see two major purchases: one at .90 and another at $2. The volume by price indicator suggests that 61k shares were bought at .90 on January 23rd, and 126k shares bought at $1.99 on January 24th (The price did drop to $1.50 the following Monday, most likely because a new shareholder was willing to sell their shares at that price, perhaps open market). What this tells me is that major shareholders will be unwilling to sell their shares for anything less than $1 moving forward. But I don't believe we will ever get near that $1.50 to $2 price range again. Since February 24th, this stock remained above $2.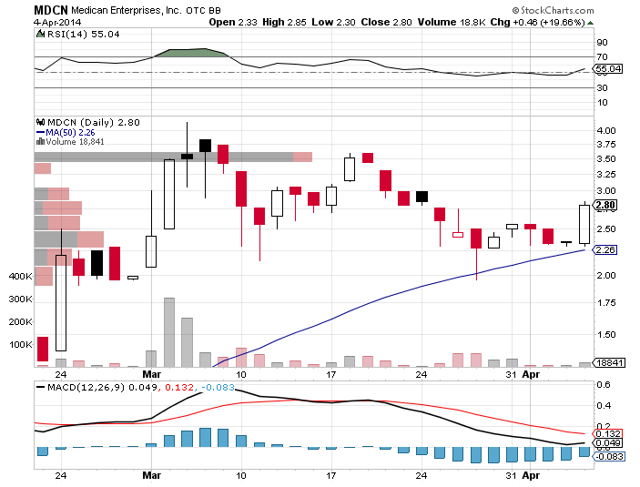 With an average volume of 18k, MDCN sees only .07% of its total outstanding shares traded daily.
Thinking about a 700% jump in context of Medican's plan to raise $52 million ($47.32 million US), it seems clear to me that Mr. Williams may have had a hand in boosting share price. It would be ideal for the price to stay above the $3+ range in order to raise enough money to pay for the 50% stake in IHMML without considerable shareholder dilution. I believe investors have an incentive to keep the share price where it is at. At current price, shareholders may see a maximum of 16 million issuance of shares to raise money for the agreement. That would bring the current outstanding shares to 50 million.
But if the deal goes through, shareholders will potentially see a conservative $164 million in annual revenues. I see this as a worthy risk. I believe revenues can go up as much as $573 million if Medican Inc. plays its cards right. In that case, I'd say $3 a share is a bargain. I expect that shareholders in the marijuana industry won't mind paying a small premium now for exponential rewards in the coming years.
Conclusions
With signing the definitive agreement, Medican is one step closer to the coveted MMPR license. This one is now more than just a speculative play. If they are able to accomplish what they are setting out to accomplish, they will be the biggest player in the MMPR scene.
I do not doubt for a second that Medican and IHMML will do whatever they can to enter the MMPR market. Even if you decide not to invest in Medican, there's still a way for you to make money from Medican Inc. Zenabis is looking to hire 1,000 people for their facility in Atholville.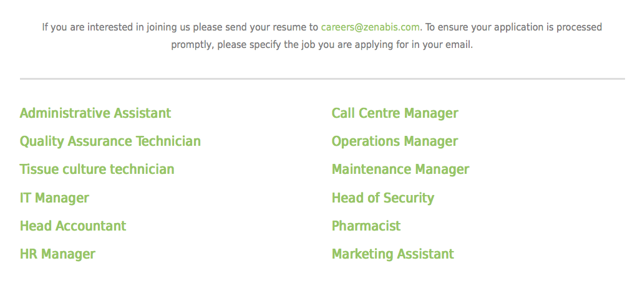 This company is very serious about becoming a powerful player in the MMPR scene and I'll be joining them for the ride.
I am very bullish on the Canadian market, but it is still speculative. The possibility of patients continuing to access medical marijuana through illicit channels and that there is no cap on the amount of MMPR licenses that will be approved with 600 pending applications makes any investment very risky.
Furthermore, the changeover to MMPR will be gradual. It is my expectation that Canadian producers will be in full swing within 2-5 years. Hopefully by that time, other countries will decide to legalize.
The US marijuana market in my estimates represents a $38.8 billion market. If the time comes when the US legalizes marijuana for medical purposes, we might see Canadian producers making up for shortages. If that time comes, we will definitely see the Canadian market grow.
At the same time, the estimated $7 a gram most likely will not hold. As competition increases, we will most likely see prices drop.
Medican looks like it is building up for the long haul. In finalizing the agreement, this team will become the monster of the market.
Final Thoughts
"Only buy something that you'd be perfectly happy to hold if the market shut down for 10 years." -Warren Buffett
The last few weeks have not been positive for the marijuana sector. The recent plunge of pumped up stocks like Vapor Group Inc. (OTCPK:VPOR) and Minerco Resources (OTCPK:MINE) should make potential investors more cautious before jumping into this market. I believe the irrational pumping mixed with irrational exuberance has led to unhealthy volatility.
The sector is beginning to look like one big pump-fest manufactured by young, inexperienced traders who saw the value of their investments skyrocket 1,000%-45,000% and believed themselves to now be intelligent traders. As the reality is settling in that gains are not earned until realized, investors might take more pains to do individual research before throwing their money at a company that sends out press releases about the "potential marijuana market."
Investors should take caution before investing in a stock just because you saw someone mention the ticker symbol in a twitter post or in a Seeking Alpha article. It is important for you to do your own due diligence. To quote Buffett again, "Most people get interested in stocks when everyone else is. The time to get interested is when no one else is. You can't buy what is popular and do well." - Warren Buffett
Social media is unfortunately being used to pump up stocks (good or bad), rather than to give solid investment advice and analysis. If you feel the need to repeatedly send out tweets with ticker symbols telling investors to "buy the dip," what you are doing is contributing to a negative investment environment where the market as a whole suffers. Investors, realize that people sending out these tweets either are a) nervous that they might never be able to flip their investment or b) day traders who buy low, sell for a moderate profit, re-buy after it dipped and now need you to front more cash to help them make additional returns.
With that said, I'll go so far as this recent downturn has been a gift for the contrarian investor. The combination of several underperforming companies plunging and dragging along some of the more reputable ones with the news of MMAR being allowed to continue has provided a necessary correction. Prices of some valuable stocks have been reduced or kept low because investors are now hesitant about risking their money in the Canadian market.
If my conservative estimates are correct, then there is still a $1.675 billion marijuana market for the taking. If my more bullish estimates are correct, we are looking at a potential $4 billion market under MMPR. 37,000 patients in my estimates does leave out a potential $473 million market. But the fact of the matter is only 25,600 are actually allowed to grow for personal use. That is still a rough $372 million not being captured. But I am not betting on $372 million. I am betting $1.6-$4 billion
As a contrarian, I guess all I can say is, "Thank you Canada. Thank you investors."
**UPDATE**
As of Sept. 30, 2014, Medican revealed it was "uncertain" that it would finalize an agreement with IHMML.
" In September 2014, the Company announced that due to structuring and regulatory issues, the prospects for consummating this restructuring are uncertain and that although the Company will continue to monitor this situation, the Company was turning to focus on other potential opportunities. As such, no assurances can be given that the transactions described in such non-binding letter of intent will be effectuated.
Without even the prospects of a medical marijuana license, I do not see this as a viable investment.
**UPDATE Dec. 24th 2014**
After the stock sold off 90%, I offered some analysis in a blog post on why there was a selloff.
**UPDATE Dec. 2, 2014**
The company announced that it was shifting its direction to enter the marijuana real estate market. I remain skeptical. We have seen this story play once before. I'm not about to get my hopes up.
On Jan. 26, 2015, Medican increased its share authorization count from one hundred million to one billion and executed a reverse stock split up to a ratio of 1:10.
This decision was made by the majority shareholders, without proxy voting. The following shareholders approved the decision.
| | |
| --- | --- |
| /s/Kenneth Williams | /s/Wayne Hansen |
| Kenneth Williams | Wayne Hansen |
| No. of Shares of Common Stock: 17,165,264 | No. of Shares of Common Stock: 200,000 |
| | |
| /s/ David Rees | /s/Norman James Payton |
| Green Grow, LLC | Norman James Payton |
| No. of Shares of Common Stock: 4,000,000 | No. of Shares of Common Stock: 2,000,000 |
| | |
| /s/_Rick Brar | |
| Canada Bioceutical Corp. | |
| No. of Shares of Common Stock: 4,000,000 | |
| | |
| /s/John Lorencz | /s/ Dave Fong |
| Keyhole Kapital Inc. | Fong Capital Holdings Ltd. |
| No. of Shares of Common Stock: 2,000,000 | No. of Shares of Common Stock: 500,000 |
| | |
| /s/John Lorencz | /s/ Sam Perera |
| Jade Mercantile Ltd. | Perera Holdings Ltd. |
| No. of Shares of Common Stock: 1,000,000 | No. of Shares of Common Stock: 500,000 |
| | |
| /s/ Gary Johnson | /s/ Michael Thompson |
| Gary Johnson | Michael Thompson |
| No. of Shares of Common Stock: 110,000 | No. of Shares of Common Stock: 40,000 |
I stress extreme caution.
*****************WARNING************************
On April 4, 2014, Medican entered into a consulting agreement with Jade Mercantile and issued one million shares valued at $2.8 million. The consultant's identity has not been revealed until now.
John Lorencz, owner of Jade Mercantile, was booted out of the securities industry for life in 1997 after violating Canadian securities regulations. Mr. Lorencz misappropriated over $2 million in client assets from 1986 to 1995. In 1997, he was found guilty and sentenced to four years in jail.
The consulting agreement was disclosed on May 20, 2014. But the identity of John Lorencz was not disclosed until Jan. 26, 2015.
Disclosure: The author has no positions in any stocks mentioned, and no plans to initiate any positions within the next 72 hours.
The author wrote this article themselves, and it expresses their own opinions. The author is not receiving compensation for it (other than from Seeking Alpha). The author has no business relationship with any company whose stock is mentioned in this article.
Editor's Note: This article covers one or more stocks trading at less than $1 per share and/or with less than a $100 million market cap. Please be aware of the risks associated with these stocks.