RBN Energy continues its excellent energy market reporting with today's "Daily Energy Post": Da Duvernay - The Golden Canadian Diluent Play? Author Sandy Fielden explains how Canadian oil sands producers have been importing the majority of diluent demand from the US, how much diluent demand is expected to grow, and how Canadian diluent production could grow as a result of wet gas production in the Duvernay. Fielden goes on to discuss the possible implications if domestic diluent production pushes out US imports. While such a change to conventional wisdom would have far-reaching macro effects (for both Canadian and US energy companies), I am looking for specific beneficiaries. One company in an excellent position to benefit from the trend is Peyto Exploration (OTCPK:PEYUF) - the Alberta Deep Basin's low cost natural gas producer. Peyto enjoys a geographic competitive advantage and also owns and operates the great majority of its gas production, transport, and processing infrastructure. As a result, RBN's report merely reinforces my rating of Peyto as a STRONG BUY with a potential 40% total return over the next 12 months.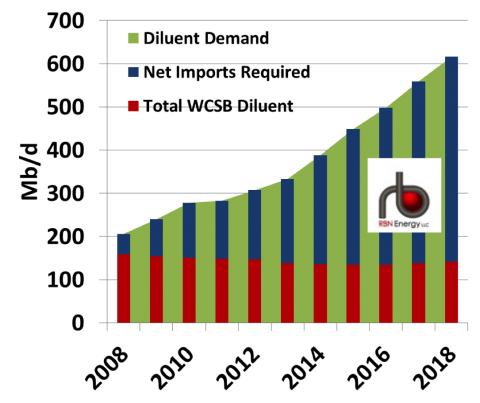 As can be seen from the chart above, Canada imported more than 150,000 bpd of diluent from the US in 2013 (blue bar). That is expected to grow to more than 450,000 bpd in 2018 as total diluent demand is expected to grow to over 600,000 bpd.
RBN reports that lease condensate production from US shale basins is already over 1 million bpd and is headed to ~1.6 million bpd by 2018. US natural gasoline production will increase from about 340,000 bpd in 2013 to almost 570,000 bpd in 2018. In its article Whole Lotta Splittin' Going On - Processing Gulf Coast Condensate, RBN explains how light feedstock must be run in the US due to a ban on lease condensate exports to all countries but Canada. Luckily for US condensate producers, the Canadian oil sands producers have provided strong diluent demand and served as a ready market. But what if Canada is able to supply more of its own diluent? What companies will benefit?
One company that is in an excellent position to profit from these trends is Peyto Exploration. As I explain in my first article on Peyto, Petyo: Set to Soar On Higher Production, Gas Prices, And Profit Margin Expansion, Peyto is the lowest cost gas producer in Alberta's Deep Basin. Production is expected to grow 30% in 2014 and profit margins could double on higher gas prices. The company owns, operates, transports, and processes the majority of its production, which gives it a huge advantage over most other producers in the area.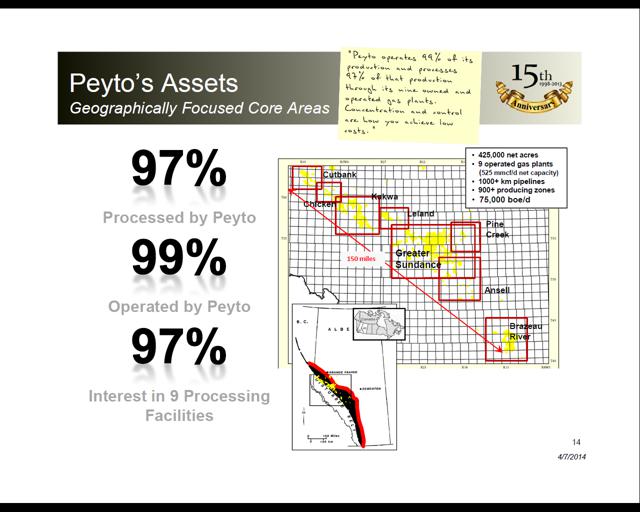 Another big advantage for Peyto when it comes to oil sands diluent demand is obvious: geography. Peyto's 425,000 acres in Alberta's Deep Basin as well as its 9 operated gas plants and 1,000+ km of pipelines are all within ~200 miles of Edmonton - the center of oil sands production. This compares with over 3,000 miles to transport diluent from South Texas to Edmonton and the many costly hurdles that feedstock must negotiate to get there. One such transport example cited by RBN: shipping Eagle Ford condensate from South Texas to Louisiana by barge; then through the Capline pipeline to Chicago; then through the Enbridge Southern Lights condensate pipeline to Edmonton. And of course, along the way each middleman gets his cut on every barrel.
While companies like Exxon Mobil (NYSE:XOM) and Chevron (NYSE:CVX) have been beefing up acreage positions and operations in the Kaybob play of the Duvernay, their efforts are in the early days and additional infrastructure is sorely needed. Meantime, Peyto is already producing ~450 MMcfe/d (75,000 boe/d) out of the Deep Basin and production is expected to grow 30% this year.
The following slide from a recent Peyto presentation summarizes 2013 realized prices: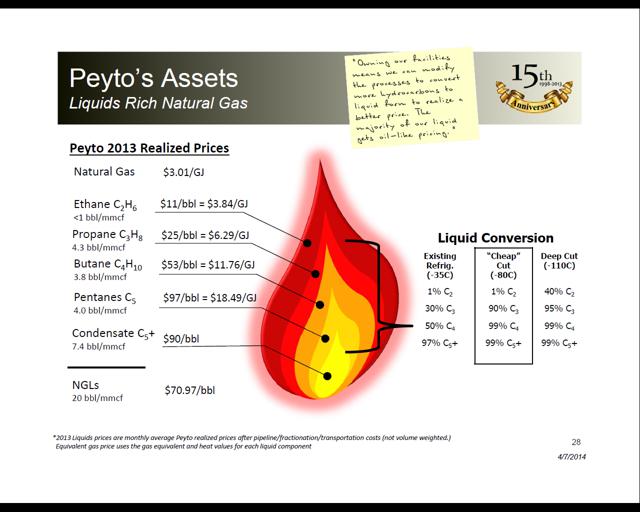 Of particular interest is the $90/bbl price the company realized on its 7.4 bbl/mmcf condensate production in 2013. Due to the strong demand for oil sands diluent, condensate is a very valuable product in the region. RBN reports condensate actually sold at an average premium of about $7/Bbl over local light sweet conventional crude in Edmonton over the past year.
At 7.4 bbl/mmcf, 2013 production of 450 MMcfe/d works out to 3,330 bbl of condensate per day for Peyto at $90/bbl. That equates to about $300,000/day ($27 million/quarter) for 2013. If Peyto reaches its 30% production growth target (to 585 MMcfe/day) and if the condensate split remains the same in 2014 @ $90/bbl, that means an additional $32 million in revenue in 2014 - or about $0.20/share. Meantime, while AECO natural gas pricing has fallen from extreme highs over the cold winter, prices continue to be strong and are still up 27% year-over-year: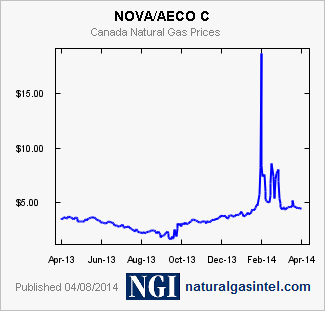 The stronger Canadian gas price underpins Peyto's drive for margin expansion in 2014. Peyto's Q1 should be a blowout quarter. The company will announce results for the quarter ended March 31 on May 14th with a conference call to follow on May 15.
Other beneficiaries of local diluent supply would be the oil sands producers themselves as diluent feedstock costs should trend lower over time. Suncor Energy (NYSE:SU) is the largest oil sands producer and is perhaps the largest beneficiary of that trend. Down in the US, less condensate shipped to Canada means more condensate build-up on the Gulf Coast. This will lead to feedstock cost reduction for large chemical producers with splitter capacity. One of my favorite stocks to play that angle is Phillips 66 (NYSE:PSX) and the expansion of its chemical operations through Chevron Phillips Chemical Company ("CPChem"), a 50-50 JV with Chevron. CPChem announced just last week that it had broken ground on its U.S. Gulf Coast Petrochemicals Project at the Cedar Bayou plant in Baytown, Texas. The project includes a 1.5 million metric tons/year (3.3 billion pounds/year) ethane cracker to be built at the Cedar Bayou facility in Baytown, and two 500,000 metric tons/year (1.1 billion pounds/year) capacity polyethylene facilities to be built in Old Ocean, Texas. Another beneficiary of the strong growth in diluent demand is Inter Pipeline (OTCPK:IPPLF). Inter Pipeline is the dominant pipeline transport provider in the oil sands region and yields over 4%.
Summary & Conclusions
Additional domestic diluent supply is likely to come online from the Duvernay and Alberta Deep Basin regions in Canada. While Canadian oil producers will likely continue to import significant quantities of diluent from the US, local providers will have a geographic advantage. Peyto Exploration is uniquely positioned to profit from this trend because it not only has the production and infrastructure to supply condensate, but as owner and operator of its gas processing facilities, it cuts out the middle man and retains more profit/boe. An additional short-term catalyst for Peyto is upcoming Q1 results, which should be a blowout due to a huge bump in AECO gas pricing over the winter and prices that are still up 27% YOY today. Peyto is a STRONG BUY.
| | |
| --- | --- |
| Market Cap: | 5.20B |
| P/E (TTM): | 35.76 |
| EPS (TTM): | 0.98 |
| Div & Yield: | 0.96 (2.8%) |
click to enlarge)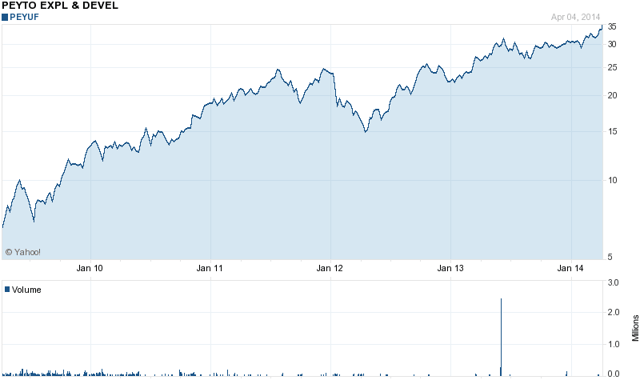 Disclosure: I am long CVX, IPPLF, PEYUF, PSX, SU, XOM. I wrote this article myself, and it expresses my own opinions. I am not receiving compensation for it (other than from Seeking Alpha). I have no business relationship with any company whose stock is mentioned in this article.
Additional disclosure: I am an engineer, not a CFA. The information and data presented in this article was obtained from company documents and/or sources believed to be reliable, but has not been independently verified. Therefore, the author cannot guarantee its accuracy. Please do your own research and contact a qualified investment advisor. I am not responsible for investment decisions you make. Thanks for reading and good luck!