Congratulations. You're now a part of a community which is 500,000 members strong! (That's greater than the population of Miami, St. Louis or New Orleans!)
What else can I say about our users other than, "You astound me"? Your comments are insightful, rigorous, well argued and (typically) respectful of other members of the Seeking Alpha community. You provide authors and your fellow readers with a valuable sanity check on investment ideas. You challenge each other by offering alternative viewpoints, but more often you offer support and sometimes passionate analysis of ideas that resonate with you on Seeking Alpha.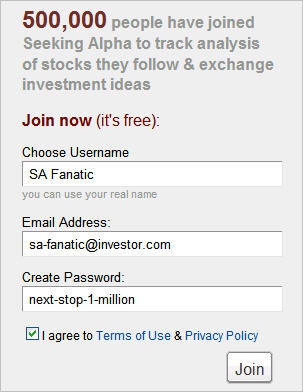 Now that we've reached the 500,000 member milestone, I'd like to take the opportunity to thank our amazing community for all I've learned from you. It's no secret that I built this site with myself in mind, and I'm thrilled the site also resonates with so many people.
As many of you know, I'm often found in the comment streams of articles about dividend investing and tech stocks, thinking, challenging and discussing investments with you. Among my most memorable moments as Seeking Alpha's CEO have been times when people have said they made better investment decisions based on things they read here - in an article, a comment, an Instablog, a Market Current, StockTalk, email, etc.
As Eli Hoffmann, our VP Content and Editor in Chief, mentioned in a recent Instablog post:
Our name, Seeking Alpha, underscores our core mission: To help investors make smarter investment decisions and realize alpha - high risk-adjusted returns on their portfolio. This has always been our core strength, and to this day is what many users first think of when they think of Seeking Alpha.
And now, a question for you: How have we helped you realize alpha?
In the comment stream below, I'm asking SA users to highlight a time that being a Seeking Alpha user has helped them make better investment decisions.
Everyone who responds with a good example will receive a small token of my appreciation - a Seeking Alpha T-shirt. We'll also feature the best example on the site, and its writer will receive an iPad.
If you have any other feedback or suggestions, we'd love that as well - but please not here. To help us keep feedback organized, direct message Fara - she is responsible for helping us make changes on the site based on the suggestions and requests of our users.
Once again, thank you. It is an honor to meet you here every day.
David