In the investing world, there are a few universal truths. One of them is that companies that consistently raise their dividend payouts are good investments. There's another one that says a brand sells for itself and, therefore, companies with strong brands are good investments too. When you combine these two truths, you derive one of the most reliable ways to get consistent returns on your investment dollars.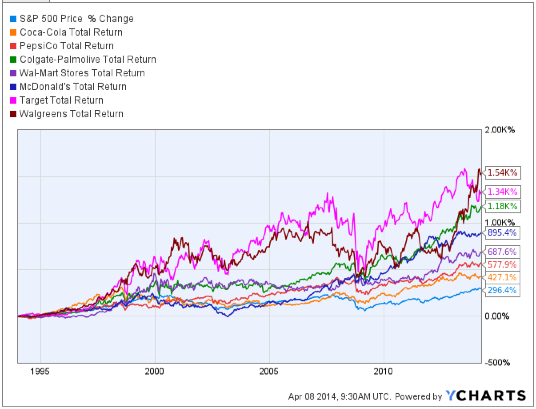 As illustrated in the chart above, a simple investing strategy that focuses on brand strength and consistent dividend hikes can considerably increase your returns as compared to the S&P 500 Index. The combination results in high-quality dividend growth portfolio, and below are a few great candidates for the same.
Bluebloods of rising dividend payouts
There are a number of companies that have consistently grown their dividends over the years and excellent brand presence, however, to derive the cream of the crop, the following three criteria were considered:
i. Years of dividend payout hikes > 25: Companies that have proven their financial strength to deliver steadily growing dividends to shareholders for at least 25 years. Although many companies figure in this list, only a handful of them are household names or renowned consumer brands.
ii. Price/Book Value (P/BV) > 3: Brand-heavy companies usually have higher P/BVs compared to companies with little or negligible brand presence.
iii. Facebook (NASDAQ:FB) + Twitter (NYSE:TWTR) fans > 25 million: To analyze the popularity of these companies, social media trends were studied.
Based on the above criteria, Coca-Cola (NYSE:KO) topped the list. The world's leading beverage company has the one of the most impressive dividend growth histories in the market. The company has consistently raised its dividend payouts for the last 52 years, including a 9% increase this year. The stock has a dividend yield of 3.20% and payout ratio of 59%. Over the last 20 years, Coca-Cola has returned over 421.7%, compared with 300.7% for the S&P 500. Being a household name, the company is extremely popular, as indicated by its P/BV ratio of 5.07 and around 83.5 million fans, collectively, on Facebook and Twitter.
In comparison, PepsiCo (NYSE:PEP) has only 34.2 million fans, but a comparable P/BV of 5.17. The company comes behind Coca-Cola in the soft drink industry, but is a market leader in the salty snacks business. It has raised its dividend payout for 42 consecutive years, including a generous 15% increase in February. The stock has a dividend yield of 2.70% and a payout ratio of 52%. Outperforming Coca-Cola, PepsiCo returned 567.2% in the last 20 years.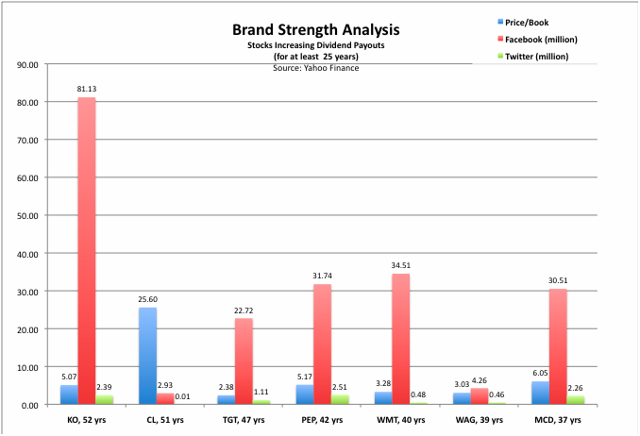 With 40 years of continuous dividend payment hikes, Wal-Mart (NYSE:WMT) figured next on the list. The world's largest retailer pays a dividend yield of 2.40% and has a sustainable payout ratio at 39% of its earnings. It has a P/BV of 3.28 and all-in 35 million fans on Facebook and Twitter. Between 1994 and 2014, Wal-Mart's stock returned 687.6%.
In comparison, McDonald's (NYSE:MCD), the fourth and the last company to make it to the list, returned 895.4% during the same period. The world's largest chain of hamburger fast food restaurants has raised its dividend payments for 37 straight years. It has a dividend yield of 3.30% and payout ratio of 56%. In terms of social media popularity, it does nearly as well as PepsiCo and Wal-Mart, with approximately 32.7 million Facebook and Twitter fans in all. It has P/BV of 6.05 that compares to 6.0 and 1.7, respectively, of Burger King (BKW) and Wendy's (NYSE:WEN).
Other dividend aristocrats that could make to the list in future include Colgate-Palmolive (NYSE:CL), Target (NYSE:TGT) and Walgreen (WAG). Despite significant dividend growth track records, these are less popular brands as compared to the above four. That being said, all three have markedly outperformed the S&P500 over the last two decades.
Emerging brand-dividend plays
Apart from stocks with long track records of dividend growth, there are a few brand-heavy companies that have a relatively shorter dividend growth history, but nevertheless, have enormous potential to continue hiking distributions in the years ahead. These stocks have also consistently outperformed the broader markets.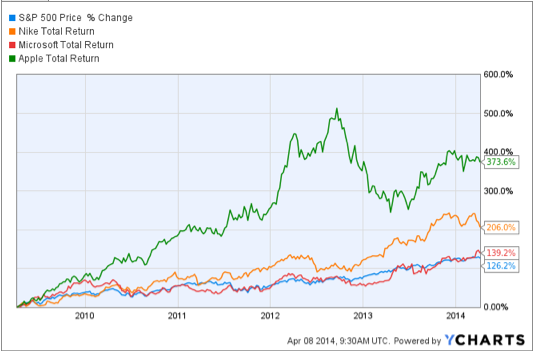 Nike (NYSE:NKE), a leading brand in the sports shoes and apparel market worldwide, has increased its dividend payouts for the last 12 years. The stock has a dividend yield of 1.30% and a payout ratio of only 32% of earnings. Over the last five years, Nike has returned around 206%, compared with 126.2% for the S&P500 Index. It is an exceedingly popular brand that is further validated by the social media trend. Altogether, it has nearly 19.6 million fans on Facebook and Twitter, and a P/BV of 5.63.
The world's largest software maker, Microsoft (NASDAQ:MSFT), is another emerging brand-dividend play. The company has increased dividend distributions in each of the last nine years. Currently, the dividend yields at 2.80% and the payout ratio is quite safe in the area of 36% of earnings. It has only 8.6 million fans on Facebook and Twitter, however, the popularity of the company is unquestionable. The stock has returned nearly 140% in the last five years and has P/BV of 3.88, which compares to 3.60 for Apple (NASDAQ:AAPL). With as many as 13.4 million fans, Apple beats Microsoft in terms of social media popularity.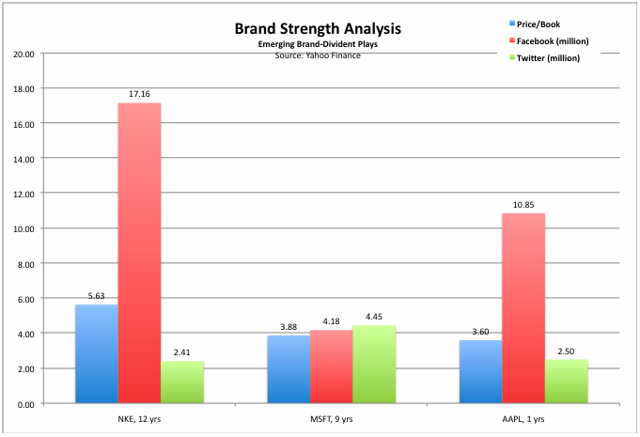 Apple, the world's second-largest technology company (by revenue) and the third-largest mobile phone maker, recently surpassed Coca-Cola to become the world's most valuable brand, according to report by Omnicorn Group. The tech-giant reinstated its dividend in 2012, and increased payout by a generous 15% in 2013. It has a dividend yield of 2.20% at current price levels. Although it only has a one-year history of dividend hikes, there are a number of factors that point to a continued growth. The company's pricing power enables it to generate an approximately 30% of profit margin at the operating level. It has a strong balance sheet with around $147 billion in cash and liquid investments at the end of 2013. In addition, its huge cash flow generating capabilities and a low payout ratio of 29% of earnings are solid indicators of growing capital distributions in 2014 and beyond. Apple has returned 373.5% over the last five years.
Bottom line
As demonstrated through various examples, investing in companies with growing dividends and valuable brands can be a straightforward and effective method for better gains. The time-tested combination enables investors to benefit from high-quality dividend candidates with huge brand presence. Based on the analysis, Coca-Cola, PepsiCo, Wal-Mart, McDonald's, Nike, Microsoft and Apple are the best-positioned for superior long-term returns while also rewarding investors with increasing dividend payouts for years to come.
Disclosure: I have no positions in any stocks mentioned, and no plans to initiate any positions within the next 72 hours. I wrote this article myself, and it expresses my own opinions. I am not receiving compensation for it (other than from Seeking Alpha). I have no business relationship with any company whose stock is mentioned in this article.