Market Correction Continues With Gusto
Who first said, "Sell in May and go away?" They get a gold star this year (and what a year to get gold)! Equity markets have now fallen for seven straight days, reinforcing the downward trend that began in the last week of April. The five down days last week brought a decline of 4.5% in the DJIA, 5.0% in the S&P 500 and almost 6% in the NASDAQ. Basic Materials was the big loser, down 8%. Financials and Industrials fell 7%. All that made for a terrible quarter.
The 10-year Treasury continued its limbo dance last week. How low can you go? The answer last week was 2.98%, which broke the 3.00% yield barrier. The DJIA broke below the 10,000 milestone, and the S&P500 and the NASDAQ are within striking distance of 1,000 and 2,000, respectively. We needed a holiday.
First Coverage Sell-Side Sentiment Rebounds
After several weeks at the highest levels seen First Coverage starting track data, and then a few weeks of declining, the Index gained back some of those recent losses last week with a substantive rise of 1.4%. Last week sentiment ran down with the market; this week it ran counter. It is now flirting with the highs of a few weeks ago. Eight of the ten industries saw a rise in sell-side sentiment last week. Four rose by 5% or more, with Oil & Gas leading the way at 8%. Utilities rose by 7%, Technology by 6%, and Basic Materials by 5%. The only industry to show a decline was Financials, which fell only by 2%.
Sell-Side Sentiment Leadership Mostly Intact
The shift in industry leadership in sell-side sentiment that began two weeks ago was cemented last week. Tightly grouped at the top, in order, are Oil & Gas, Basic Materials, and Technology. Not surprising that these three are the favorites as economic and market uncertainties rise.
After hitting a 12-month high the first week of June, sentiment for Oil & Gas fell the next three weeks but jumped 8% last week to move into the number one spot. Sentiment for the other commodities industry, Basic Materials, jumped 5% last week after a 6% gain the prior week to continue what is now a three-month uptrend. Sentiment for Technology hit a 12-month high at the end of February and then fell sharply in March. Over the last three months, sentiment has been volatile but with an underlying trend that is gradually sloping upward.
Consumer Goods and Telecommunications remain the two lowest rated industries for the seventh week in a row.
Tough Week for Fundamentals
Last week was a big week in economic news and produced a lot of surprises, mostly on the negative. The disappointments came in employment, consumer spending, housing, and even in manufacturing.
About the best thing one can now say about the U.S. economic recovery is that the recovery is losing momentum. A renewed downturn in housing is now in progress, a double-dip recession is a reasonable possibility, and a slowing in economic growth is a probability.
The most widely watched numbers came in the Friday employment reports. The misleading headline number of 125,000 jobs lost included laid-off census workers. Jobs in the private sphere grew a disappointing 83,000 in June, greater than the 13,000 in May, but less than the 110k expected or the 140k needed to keep pace with new workers entering the market. Unemployment fell from 9.7% to 9.5%, but only because the job force fell by 652k as many stopped looking for work.
The Wednesday ADP payroll report that preceded the big Friday employment report gave a heads-up on what was to come. It estimated only 13,000 private jobs were added, down from a disappointing 55,000 in May. It was the first monthly decline since January. It appears the upward trend in month-to-month change in ADP private payrolls that began in March 2009 may be starting to roll over. Pay close attention to this report next month.
Adding to the employment worries last week was the disappointing rise in weekly jobless claims. After declining throughout most of 2009, jobless claims have leveled off this year in a range of about 450k to 490k. They rose by 13,000 to 472,000, a number far higher than in expected in a good economy. A decline was expected. The period covered falls into the July monthly employment report, so the coming period is not off to a good start. Pay attention to this number every week.
The worries on consumer spending were reinforced by the consumer confidence report. Investor expectations were for a small drop from 63.3 in May to 62.9 in June. The report came in a full ten points below expectations, a real shocker at 52.9. To repeat: This was a real shocker. The biggest problems were consumer expectations for jobs and income fell further. Consumer buying plans for autos, appliances and homes all fell. Tell me again why we can't have a double dip in the economy. Later in the week, the automakers reported unit auto sales in the U.S. fell from an annualized rate of 11.6 million in May to 11.1 million in June.
There was some good news in the consumer spending area reports last week. Consumer spending managed only modest gains from April, but the accompanying report on personal income was encouraging. Consumers forked over 0.2% more in May than they did in April and March. But they their income rose 0.4% in May, following a similar gain in April. Recent progress in personal income is one of the most encouraging signs that there may be no double dip.
The 10-city Case-Shiller housing price data for April showed a 0.7% surge over March and 4.6% over the prior April, but it doesn't mean much. It was just another housing report that benefitted from the homebuyer tax incentive that expired June 30. Pending home sales fell 30% in May. A decline was expected since the tax credit ran out for sale agreements on April 30, but a drop as great as 30% was not expected. Year to year, May pending sales fell 16%. April had been up 22%. The rate for a fixed rate 30 year mortgage, as in the prior week, hit a record low, but it just doesn't seem to matter. The housing market is toast, at least for a while.
Even manufacturing could not avoid the bad news. The ISM numbers on what purchasing managers in manufacturing were seeing in June came in at 56.2, down from 59.7 in May, but still well above the 50 that signals expansion. The next day, factory orders for May were reported to have fallen 1.4% from April, with non-durables rather than durables being the problem. Could it be that the inventory bounce of the past six months or so may be mostly over?
Placid Week Possible for Next Week
Not a bad week to take a breather. It's only a four-day work week and there are not many economic reports to worry about and it's the calm before the storm for earnings reports. The earnings reporting season for Q2'10 does not get under way until next week, and the biggest weeks are not until the two weeks after that. The recent market declines have suddenly gotten investors worried that Q2'10 earnings may disappoint. Baloney!
First, back in April when Q1'10 earnings were reported to have beaten estimates by far more than normal, analysts raised Q1'10 estimates from 23% to 27%. Estimates are still at 27% for year to year growth for S&P 500 earnings. The 4% increase in estimates is greater than the 3% decline in estimates, the norm. Second, Q2'10 earnings pre-announcements are running less negative than normal. Last week and this week are peak weeks for Q2'10 pre-announcements. At the end of last week, the ratio of negative to positive pre-announcements stood at 1.2. It is unchanged in recent weeks and 1.2 is well below the 2.1 norm. Given that these indicators of Q2'10 earnings are running above average, the burden of proof lies with those who believe Q2'10 earnings may disappoint. We believe Q2'10 earnings will beat the final estimates by at least the 3% average, and that earnings growth will be at least 30% for the S&P 500.
As always, the real issue is not how much we beat the final estimates by, but what are companies saying about future quarters. Given recent economic trends that guidance might be less positive than usual. Analysts kicked up earnings growth estimates for Q3'10 from 23% to 26% and for Q4'10 from 31% to 33% during the April reporting season. Changes since then have been less than a percentage point, so analysts still have big expectations for the second half that they are holding to. We likely will get back to trimming the estimates as happens in typical quarters, but if the reductions go beyond the normal three percentage points for Q3'10 or Q4'10, fasten your seat belts. Watch the analyst reaction to the guidance.
The only monthly economic reports of consequence this week are the ISM services index on Wednesday and wholesale trade on Friday, neither of which are likely to have much impact. As has been the case in recent months, the two weekly reports to watch are the jobless claims on Thursday and the purchase mortgage applications on Wednesday.
Probably the reports of greatest note will be the June same-store sales reports from a number of the retailers on Thursday. The March and April reports were muddled because of the early Easter, but there were no anomalies to blame for the disappointing May results.
Stocks to Watch
Over the last week, the following stocks had the largest bullish and bearish sentiment shifts amongst the sell-side.
Bullish: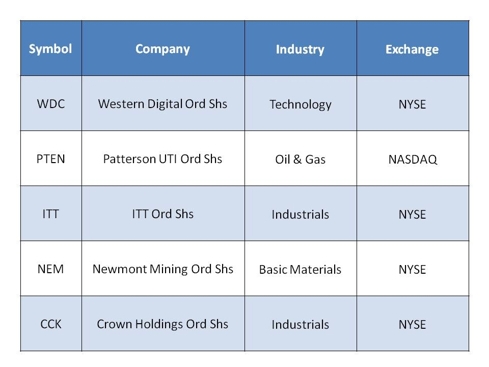 Bearish: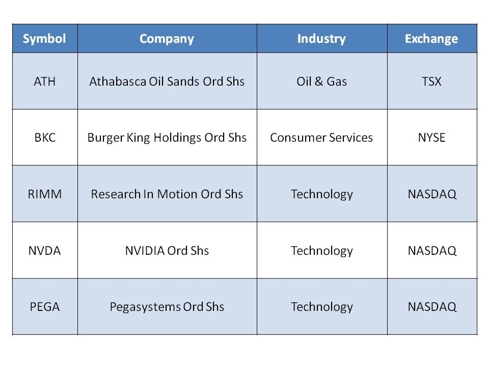 Until next week …

Disclosure: No positions