Financials Improved
Amarantus BioScience (OTCPK:AMBS) has spent much of the past year cleaning up its balance sheet and creating the necessary financial strength and flexibility to drive its pipeline forward. Below we highlight a number of the recent transactions that have helped position the company for future clinical endeavors in 2014 and 2015.
Based on all the above transactions, we estimate Amarantus is currently sitting on $4.5 million in cash as of early April 2014. It's been a highly dilutive endeavor for the company - the fully-diluted share count as of today is around 800 million - but a necessary one considering Amarantus has three candidates in MANF, eltoprazine, and LymPro all worthy of increased R&D funding over the next few quarters. Despite the dilution, the current market capitalization of only $60 million remains attractive given the potential for these three assets. We discuss recent updates on the pipeline below.
Enhanced Leadership
Besides creating financial strength and flexibility, the company has also expanded its management and board of advisors in 2014. In February 2014, the company appointed Kerry Segal as Head of Business Development and Tiffini Clark as Head of Regulatory Affairs. More about the bios of Mr. Segal and Ms. Clark can be read in the press release announcing the hires. In March 2014, the company announced Dr. Louis Kirby would join the Board of Advisors. Dr. Kirby is a board certified neurologist, and is a specialist in the development of drugs, medical devices, and laboratory developed diagnostics, over the course of his career in the pharmaceutical and medical device industry. Dr. Kirby was brought on to assist the company in the development and commercialization of the LymPro Test® for Alzheimer's disease.
In April 2014, Amarantus further expanded and enhanced its management team with the hiring of Robert Farrell as Chief Financial Officer, JD (NASDAQ:CFO) and Dr. Charlotte Keywood, MD as Chief Medical Officer (CMO). Mr. Farrell was previously CFO and CEO of Titan Pharmaceuticals, as well as CFO of Sanovas, Inc., One World Health, and Fresenius USA. Dr. Keywood joins Amarantus from Addex Therapeutics, where she held the same position and brings significant experience in developing drugs for Parkinson's disease levodopa-induced dyskinesia (PD-LID). She also brings extensive experience in medical marketing, pharmacovigilance activities, and relevant areas of development to Amarantus, including central nervous system disorders and cardiology.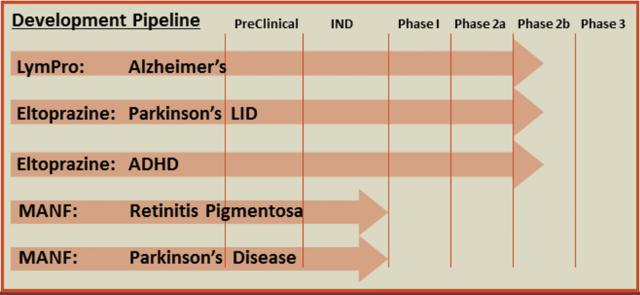 LymPro Update
Investors looking for updates on LymPro need to look no further than a recent shareholder letter written by Amarantus CEO Gerald Commissiong on March 31, 2014. In the update, which primarily focuses on LymPro, Mr. Commissiong highlights the upcoming steps to potential commercialization under CLIA later this year. Over the past few months, Amarantus has made significant effort to confirm the findings from the previous clinical studies with LymPro. For example, in October 2013, Amarantus announced positive analytical performance data for the test, validated by the Custom Technology Team at Becton, Dickinson (NYSE:BDX). This data demonstrated that CD69 was in fact a valid biomarker for diagnosis in the blood.
Earlier in March 2014, news broke of an Alzheimer's blood test in development through collaboration of Georgetown University and the University of Rochester. The story received considerable media attention, reporting up to 90% accuracy in a 54-patient early-stage trial. Study authors called the results a "potential game-changer" and the "holy grail" of Alzheimer's diagnosis. The media attention is clearly positive for Amarantus, as we believe LymPro, the company's own blood test, is both ahead of the test in development at GU/UR in stage and efficacy. Results from the 88-patient Phase 1 study, published in Neurobiology of Aging (Volume 33, Issue 2), show sensitivity up to 91% and specificity up to 92% for LymPro.
Up next for Amarantus is completing certain essential validation steps required to generate pilot data for the Analytical Performance Package (APP) and CLIA application. This data must be generated in a commercially validated laboratory. This will improve the commercial viability of the assay once approved under CLIA. In accordance with this goal, the company has initiated partnering activities with LymPro, with a goal of securing a U.S. CLIA partner in the next few months. We believe this will be a significant catalyst for the shares, as the revenue opportunity under CLIA is in the hundreds of millions. The company's goal is to receive approval under CLIA before the end of 2014. We think CLIA approval can be achieved with as little as $5 million investment, and that is now entirely possible thanks to the newly created financial strength and flexibility noted above.
Following clearance under CLIA, Amarantus will focus on gaining U.S. FDA approval for multi-lab use. Once enough clinical utility data has been generated, Amarantus can approach the Center for Medicare and Medicaid Services (CMS) and gain reimbursement for broad-scale use. This is an important step, especially in light of the fact that CMS has denied reimbursement for Eli Lilly's Amyvid given a lack of clinical and pharmaco-economic evidence. Amarantus believes it has identified CPT codes relating to cell cycle dysfunction and Alzheimer's disease that might facilitate reimbursement for LymPro under CLIA or commercial sale. This would be an enormous advantage for the company, and something worth looking deeper into by management.
We see a significant market need for an Alzheimer's diagnostic product like LymPro. Specifically, the goal of any Alzheimer's disease diagnostic should be to distinguish between patients with Alzheimer's disease and other degenerative dementias, such as Parkinson's disease dementia (PDD) or psychosis, and mild cognitive impairment (MCI) or age-related memory loss (AAMI). A simple and economical test that can accurately and reliably do such would have a number of benefits, including the ability to:
1) Significantly expedite diagnosis, allowing for earlier treatment in the primary practice setting;
2) Significantly simplify the diagnosis process, allowing for meaningful economic savings to the healthcare system;
3) Improve outcomes by allowing for a more focused treatment based on the type of cognitive impairment, and;
4) Distinguish between patients for clinical trials and therapeutic development.
We agree with neuro-science researchers from Georgetown University and the University of Rochester. A blood test for the diagnosis of Alzheimer's disease is a potential game-changer. We do not think the market appreciates the potential for a test like LymPro, or the fact that Amarantus is the public company way to play this potential "holy grail" of a diagnostic product.
Eltoprazine Update
Besides LymPro, we believe newly acquired eltoprazine is a significant value driver for Amarantus. We are highly intrigued by the potential for eltoprazine. The asset was acquired by Amarantus for a bargain price from privately-held PsychoGenics (PGI), thanks to former PGI Chief Scientific Officer and current Amarantus Board member, David A. Lowe, PhD. Investors can read more about David Lowe in this recent interview with the Life Science Report. Amarantus intends to push eltoprazine forward in a Phase 2b clinical study during the second half of 2014 for the treatment of levodopa-induced dyskinesia (LID), a common treatment-related adverse event that develops in patients with Parkinson's disease (PD).
LID is characterized by hyperkinetic movements, including chorea (abnormal involuntary movement), dystonia (sustained muscle contraction, abnormal posture), and athetosis (involuntary convoluted movements). It is most common at times of peak levodopa plasma concentrations (peak-dose dyskinesia), although it may also occur when plasma concentrations rise and fall (diphasic dyskinesia) or during off-time (off-period dystonia).
Eltoprazine is a selective 5-HT1A/1B partial receptor agonist previously studied for the alleviation of involuntary movements, including dyskinesias, in Parkinson's disease patients who experience side-effects of their levodopa medication. In fact, the Michael J. Fox Foundation (MJFF) has funded human clinical proof-of-concept studies with eltoprazine as recently as 2012. The National Institutes of Mental Health (NIMH) in Cognitive Impairment Associated with Schizophrenia (CIAS) has also funded work on eltoprazine. Clinical data also shows statistically significant effects in adult ADHD patients. Biotech investors may be familiar with the success that Alcobra Pharma has had pursing adults with ADHD.
In June 2012, PsychoGenics Inc. announced positive results from a clinical study of eltoprazine in Parkinson's disease levodopa-induced dyskinesia (PD-LID). Eltoprazine met the primary objective of the study by exhibiting a statistically significant reduction in LID at the 5 mg dose (p = 0.0007) and the 7.5 mg dose (p = 0.0467), without adversely affecting levodopa efficacy. The primary efficacy was measured using the Clinical Dyskinesia Rating Scale (CDRS) and the Unified Parkinson's Disease Rating Scale (UPDRS). Secondary endpoints included the Rush Dyskinesia Rating Scale and evaluation of the patients' mood using the Hospital Anxiety & Depression Score (HADS) and Montgomery-Asberg Depression Rating Scale (MADRS). Eltoprazine was also well tolerated in this study and there were no serious adverse events.
The MJFF has made a concerted effort to repurpose drugs for the treatment of Parkinson's disease, and one of the drugs they list in their December 2012 presentation (slide 13) on this subject is eltoprazine. This is not the first clinical trial to show efficacy of eltoprazine in this indication. The MJFF has funded additional work testing eltoprazine in combination with other candidates for PD-LID, including amantadine. We have found evidence that eltoprazine has been studied in several clinical trials to date and has amassed safety data in several hundred (the news release from Amarantus says 700) subjects without serious adverse events, with doses tested up to 30mg (note the best dose for LID looks to be around 5mg). We see no safety issues that would impede future development in LID or ADHD.
Our only concern at this stage is a paper published by Bezard et al, 2013 in Neuroscience Research. The paper notes that, "Eltoprazine was found to completely suppress LID, but at the expense of the PD score in MPTP-treated macaques." This would be a potential end-game for development of eltoprazine if the effects were severe. However, management contends that this effect has only been evidence in animal studies, and to date no worsening of Parkinson's disease has been seen with eltoprazine in human studies. We have asked Dr. Lowe for additional information on this subject and will post his response in the comments below.
A potential major competitive advantage for Amarantus and eltoprazine is the drug's secondary benefits, which include potential improvements in cognitive function as seen in the PGI Phase 2a study noted above. The drug also seems to reduce the onset of future dyskinesia. Eltoprazine has been studied in general anxiety disorder (GAD), depression, and aggression. The mechanism of action is well-understood and if Amarantus can confirm these secondary improvements in patients, the drug has blockbuster potential in our view. Upside potential comes from potentially expanding development into ADHD or cognition, where a non-stimulant / non-scheduled product could have major advantages over generic methylphenidate. The new hire of Dr. Charlotte Keywood, previously from Addex Therapeutics where she oversaw development of dipraglurant in PD-LID, is a great one, and should help Amarantus tailor its development strategy with eltoprazine in a way that creates positive value for shareholders, be it in LID, ADHD, GAD, or another psychiatric indication.
MANF Update
Not much new to report with respect to MANF. Amarantus is continuing to make progress with translational development and preclinical toxicology work on MANF prior to filing the first investigational new drug (IND) application to being human clinical studies. In March 2014, the company outlined the MANF research strategy for shareholders. We discuss key areas of focus below:
Finally, we remind investors that back in September 2013, Amarantus hired F. Randall Grimes as Director of Sponsored Research. Mr. Grimes has been focused on working with Amarantus' scientific team, Board of Advisors and outside collaborators to support the acquisition of non-dilutive funding from disease foundations, non-governmental and governmental organizations to advance Amarantus' pipeline. According to the company (as of the third quarter update conference call on November 18, 2013) the company is aggressively pursuing grants and a number of applications have been drafted.
Final Thoughts
We believe fundamentals are improving at Amarantus Bioscience, both with respect to the advancing the pipeline and improving the balance sheet. These improvements are the primary reasons why we believe the shares remain an attractive long-term investment. Yes, the company still has significant challenges with respect to clinical development of its products, and with 800 million shares outstanding, at some point management is going to have to reverse split the stock. The current plan is that this be done in conjunction with an uplisting of the shares to an exchange like the NASDAQ or NYSE-MKT.
However, in the near term, we believe as fundamentals continue to improve, the shares will react well. We believe the shares will be $0.20 to $0.25 by year end 2014.
Disclosure: I have no positions in any stocks mentioned, and no plans to initiate any positions within the next 72 hours. I wrote this article myself, and it expresses my own opinions. I am not receiving compensation for it (other than from Seeking Alpha). I have no business relationship with any company whose stock is mentioned in this article.
Editor's Note: This article covers one or more stocks trading at less than $1 per share and/or with less than a $100 million market cap. Please be aware of the risks associated with these stocks.