How many companies do you know deliver a three year average net income growth of 161%? It's hard to name many but Delta Air Lines (NYSE:DAL) is definitely one of them. The company's share value has increase by more than 120% in one year with upcoming return potential making it certain that this trend will continue. In this article, I will take you through Delta's recent performance and we will then have a look at what the company is doing to make sure investors receive good gains in the future.
2013 Performance
During the year that ended last February, Delta's passenger revenue increased 4% to almost $33 billion as a result of higher corporate sales and investments in in-flight product enhancements such as those introduced for Economy Comfort that attracted customers seeking improved service. Mainline remained strong posting 5% growth while regional carriers delivered falling sales. On a geographic front, the US remained a core market experiencing an 8% boost to passenger revenue compared to 2012. The second best growth market was destinations going to Latin America that saw an 11% increase in revenue.
With regards to costs airlines profits are greatly impacted when fuel prices fluctuate. Fortunately, Delta's fuel expense including regional carriers under capacity purchase agreements decreased $787 million last year because of a 4% decrease in fuel market price per gallon and fuel hedge gains that were partially offset by a 2% increase in consumption.
Salaries, the second biggest cost, increased 6% to $7.7 billion due to employees receiving a higher pay. The wage increases were important, given the present conditions when the pilots recently demanded higher pay and improved pensions from the airline. This caused Lufthansa to cancel 900 flights as part of the total 3000 anticipated causing millions in lost revenue. Keeping employees happy is becoming crucial to ensuring smooth operations.
The final result was diluted EPS rising more than 900% to $12.29. Of course, the figure was very well inflated due to an $8 billion net tax benefit Delta utilized through its deferred tax assets. This was a good move since the company's deferred income tax assets were not being realized. Excluding the gain, diluted EPS would have grown almost 150% to $2.94 compared to last year.
This is still impressive and credits could be given to lower fuel costs that contributed towards total expenses that fell because of rising revenue.
Now let's have a look at Delta's current affairs to determine what makes it a profitable investment for new buyers.
Careful Route Selection Is Key to Growing Profits
While the statement above may seem overrated, acquiring destinations that offer a higher margin should improve total earnings delivered to investors of Delta. New York has been an important route for many airlines. Last year, the city's unit revenues increased for Delta because of improvements due to investments in JFK and LaGuardia as well as many in-flight product enhancements according to consumer preferences. To continue that growth Delta will now be benefiting from its agreement with Virgin Atlantic whose stake it acquired last June from Singapore Airline.
The company is opening up the New York to London travel route in partnership with Virgin. The route is one of the world's most popular itineraries and the agreement will now allow both companies to complement each other's services and prioritize customer convenience by allocating slots at London's Heathrow airport. From this month onwards, Delta will begin 9 non-stop flights between New York and London. While this is less than the 17 daily flights offered by American Airlines (NASDAQ:AAL) and its partner British Airways future plans to enhance operations will likely eliminate the difference.
Restructuring Fleet
Secondly, restructuring the older and less efficient fleet will allow Delta to absorb cost increases coming from higher wages and fuel price fluctuation that the airline might experience at some point. The company is restructuring its domestic fleet by reducing the 50-seat regional flying aircrafts and replacing them with newer and more efficient models. The agreement with SkyWest Airlines and Bombardier Aerospace as well as the acquisition of Endeavour has allowed Delta to eliminate more than 200 50-seat aircrafts. It is currently replacing these aircrafts and older B-757-200 aircrafts with more efficient and customer preferred CRJ-900, B-717-200 and B-737-900ER aircrafts. Deliveries are scheduled to take place during this year and continue till 2018.
Bottom Line
The New York to London itinerary is one of the most rewarding platforms for airline carriers as executives are ready to pay high fares for last minute travels. The enhancement by companies such as introducing Wi-Fi and flat-bed convertible seats is making the service offered all the more appealing. This flight path will support the previously rising passenger yield that has gone stable lately (see graph below).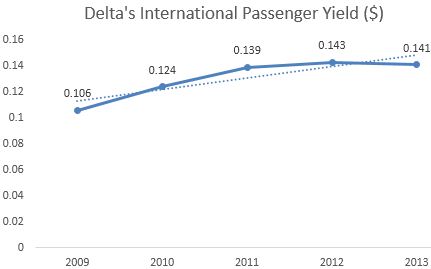 Source: Trefis
Another important note for those looking at short term profitability is the company's tax assets. At the end of 2013 Delta had $15.3 billion of US federal pre-tax net operating loss carryforwards. As a result I do not believe the company will pay any cash federal income taxes during the next several years. Its US federal pre-tax net operating loss carryforwards do not begin to expire until 2023 so that leaves a lot of room for better liquidity.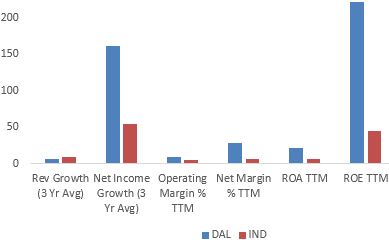 Source: Morningstar
Delta has given results above the industry levels (see graph above). It wasn't just net income growth that was strong but return on equity was also good. Though a lot of credit could be given to the tax gain let us not forget that the top and bottom lines both improved without the tax gain. With a more efficient fleet and growing routes Delta will continue delivering enhanced returns. Therefore, I recommend buying the stock.
Disclosure: I have no positions in any stocks mentioned, and no plans to initiate any positions within the next 72 hours. I wrote this article myself, and it expresses my own opinions. I am not receiving compensation for it (other than from Seeking Alpha). I have no business relationship with any company whose stock is mentioned in this article.