What was Morgan Stanley thinking when it decided to start coverage on monthly dividend stalwart Realty Income (NYSE:O) with a bearish "Underweight" rating? Realty Income is one of better triple net REITs out there, with its strong 5.20% yield, modest FFO multiple, and diversified tenant base. It seems as if the market largely ignored this news, with shares of the company up 1%, though a few jitterbugs did sell in the pre-market trading at a slight loss.
Realty Income's valuation is inline with its historical average
According to Morgan Stanley, Realty Income share price should be $38 at max. This implies a multiple of under 15.0x FFO. While some may argue that Realty Income is an expensive stock, the current valuation is largely inline with its sector. Indeed, at around 16x 2014 FFO, Realty Income is still 20% off its early 2013 multiple of over 20x FFO.
That being said, we are approaching the upper bound of what I consider to be a fair multiple for Realty Income. The company anticipates its FFO growth rate per share to range from 5 to 7% this year. For this level of growth, I would be hard pressed to initiate a position if prices continue to creep higher.
Realty Income equity offering: The decline proved to be short-lived
A few weeks ago, Realty Income offered 12 million shares of its common stock via a secondary public offering. This offering was upsized from an initial 10.5 million shares, which proves that there is large demand for steady dividend paying stocks like Realty Income. With the underwriters exercise of their 1.80 million share over-allotment option, a total of 13.8 million shares were sold by the company, raising about $528.5 million after expenses.
As I noted in a recent article, equity offerings like these are the definition of a buying opportunity. Realty Income's stock fell hard on the news. Yet, its fundamentals remained intact, if not improved. Realty Income recovered quickly from its equity offering, with the stock now up 5% from the offering price of $39.96.
Realty Income is likely on the hunt for acquisition targets
In addition, these funds will be put to good use. Like nearly all REITs, Realty Income uses a mix of both debt and equity to fund acquisitions. This is necessary as the company usually pays out about 90% of its cash flow via dividends.
These acquisitions are accretive on a per share basis as the cost of capital is less than the estimated yield on the acquired properties. For 2014, Realty Income expects to complete about $1.20 billion in acquisitions.
With the equity completed, Realty Income now has enough spare capacity on its credit revolver to make a sizeable acquisition. I suspect the company may announce one fairly soon, likely after its quarterly earnings report. Its last major transaction occurred in December when the company bought 84 single-tenant net-leased properties for $503 million.
Why buy Realty Income?
Finally, let us not forget the most compelling aspect of this stock -- its monthly dividends.
Known as the "monthly dividend company", Realty Income has paid out 525 consecutive monthly dividends, including an impressive streak of 75 dividend increase since 1994.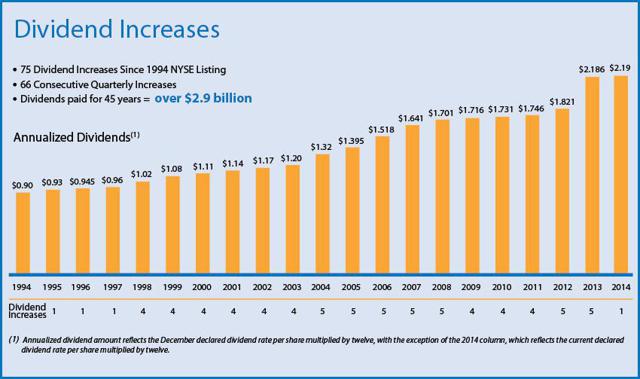 In 2013, Realty Income posted an above average dividend growth rate of 20%, thanks to the acquisition of ARCT. However, for 2014, I suspect the company to post a dividend growth rate inline with its FFO growth rate of 5 to 7%.
Conclusion
I really cannot believe Morgan Stanley and its bearish rating on Realty Income. The stock is still below the average analyst price target of $44 and is now at a modest valuation, unlike last year.
Slow and steady wins the race. While some may argue that dividends are a waste of time, in the case of Realty Income, they have provided a respectable rate of return for its shareholders when reinvested.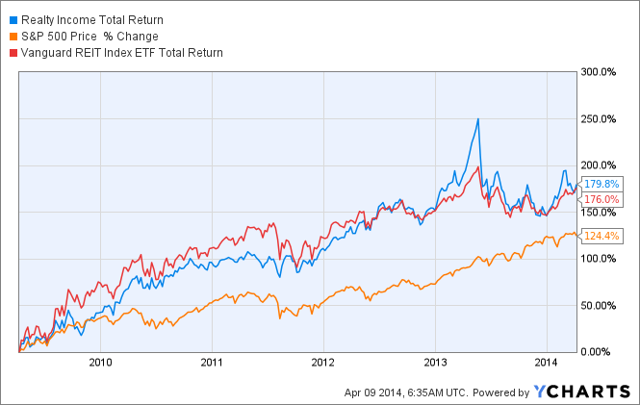 O Total Return Price data by YCharts
Disclaimer: The opinions in this article are for informational purposes only and should not be construed as a recommendation to buy or sell the stocks mentioned. Please do your own due diligence before making any investment decision.
Disclosure: I am long O. I wrote this article myself, and it expresses my own opinions. I am not receiving compensation for it (other than from Seeking Alpha). I have no business relationship with any company whose stock is mentioned in this article.