I tend to spend a great deal of my time reading investment tomes and articles. If my consumption of alcohol equaled my consumption of market related information, I would be jobless, homeless, wifeless and driver's license-less.
As I pan through the stream of information seeking a gold nugget or two, I often find myself discovering companies that do not conform to my investment paradigm; however, ideas I reject may suit the needs of other investors. As a matter of fact, I often find myself musing that if I had greater resources, I would make a small investment in companies I cast aside.
Francesca's Holdings Corporation (NASDAQ:FRAN) and Ann Inc. (NYSE:ANN) are two companies I recently researched.
FRANCESCA'S HOLDINGS CORPORATION
Francesca's Holdings Corp. is a string of rapidly expanding boutique stores. The company seeks to differentiate their offerings by operating small stores, each differing in appearance from other Francesca's properties. Interactions between the store's patrons and staff are intended to provide the customer with the sense that she is dealing with a trusted acquaintance rather than a sales associate. The inventory of any particular clothing item in Francesca's stores is intentionally limited, conveying a sense that the item is nearly unique. The clothing and accessories are affordable and designed to appeal to women 35 and younger.
While I was researching this potential investment, I asked a number of my female friends and relatives to provide me with their perspective on Francesca's as a shopping experience. There was a universally positive response; however, older women viewed the concept as catering primarily to younger women (as is the company's plan). Meanwhile, younger women, while speaking well of Francesca's, did not give me the impression that it is a "I gotta have it" experience.
Francesca's experienced explosive growth over the last few years, and the company plans to open 85 stores in 2014, roughly a 20% increase in locations over Francesca's current store count. Francesca's stores generate an average of over $160,000 in annual operating income, while a normal outlay for a new Francesca's store is less than $250,000. Francesca's intends to eventually expand to 900 stores, approximately double the number currently operating in the U.S.
It is Francesca's rapid expansion (sales are up 45.44% over the last five years, largely through increased store counts), lack of long-term debt and management effectiveness metrics, that drew my attention to the company. Francesca's boasts ROA, ROE and ROI of 34.01, 59.74 and 39.92 respectively, (All metrics are gleaned from Capital IQ and are MRQ).
Francesca's recent stock movement presents patterns that might appeal to a skilled trader. Over the last half year, the shares reached peaks and troughs in a fairly predictable pattern.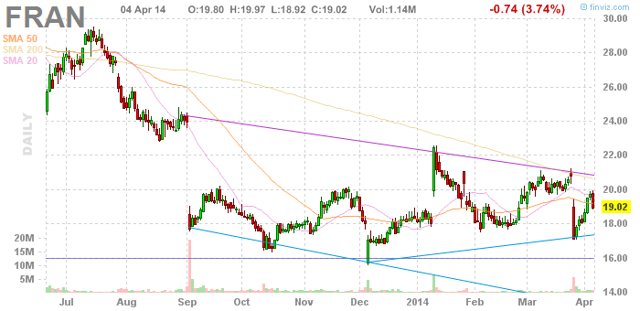 GRAPHIC FROM FINVIZ.COM
Sounds good? Well I'm not biting. Francesca's is in the midst of a class-action complaint registered by the Arkansas Teacher Retirement System. Filed in the Southern District of New York, the plaintiffs claim Francesca's boosted profits and earnings by purchasing merchandise at below-market prices from vendors related to former management.
Francesca's 2013 10K cited KJK Trading and Stony Leather as two of the company's largest vendors through FY 2011 and 2012. Both suppliers are owned and operated by relatives of a former board member and executive of Francesca's.
ANN INC.
Ann specializes in woman's apparel in career and casual wear lines. It operates in over 1,000 stores in the U.S., Canada and Puerto Rico. The company's stores operate under the names of Ann Taylor and LOFT with outlet locations for both brands.
Ann is investing in the expansion of the Lou & Grey loungewear line, and there are those that view this development, coupled with planned international store openings, as a strong catalyst for a future boost in the stock price.
Ann reported four straight quarters of strong growth. The company's day sales are at a five-year low, and the company is free of long-term debt.
Ann initially caught my eye while reading results of a recent 13D filing by Golden Gate Capital. Golden Gate now owns over 7,000,000 shares constituting approximately 10% of the voting stock. The share were purchased at prices ranging between $31.37 and 37.85. In the 13D filing, Golden Gate praised Ann's "extremely competent management team" and stated they viewed the company's stock as "significantly undervalued."
While I agree with the assessment of Ann as undervalued at Golden Gate's lower purchase price of $31.37, I see Ann as at fair value today, in the low forties.
I view Ann's technicals as trending upward.
I am passing on both companies, but I admit I'll keep them in the back of my mind for future trades. Once again, my investment needs and practices differ from others, and hopefully this article will provide worthwhile information to my fellow investors.
For additional information concerning Fran, use this link.
For additional information concerning Ann, use this link.
Disclosure: I have no positions in any stocks mentioned, and no plans to initiate any positions within the next 72 hours. I wrote this article myself, and it expresses my own opinions. I am not receiving compensation for it (other than from Seeking Alpha). I have no business relationship with any company whose stock is mentioned in this article.