By Bryan McCormick
US stock index futures are up sharply this morning after a key upgrade of Goldman Sachs (NYSE:GS) and strong sessions in Asia and Europe.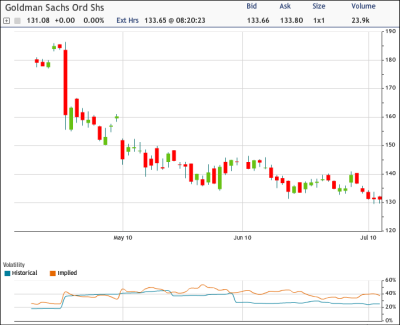 JP Morgan's upgraded Goldman shares to "overweight" overnight. The bank also cut Deutsche Bank (NYSE:DB) to "underweight," but the stock rallied along with the rest of the banking sector.
After a weak start overnight, Asian markets rallied back to finish higher. In Europe stocks were very strong, with markets up 2 percent on average.
In short, that is the sum of catalysts present before the ISM Non-Manufacturing Index at 10 a.m. ET. There has been a bid higher in all other currencies except the yen against the dollar, which has seen the greenback come off its highs of last night. That move has helped commodity prices to firm.
There are no major earnings releases scheduled today, but Family Dollar (NYSE:FDO) will report tomorrow. That is the only S&P earnings event of the week until Alcoa (NYSE:AA) kicks off the season in earnest on July 12.

Disclosure: No positions