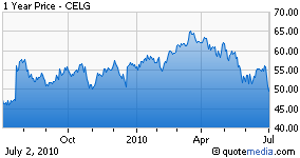 During the last decade, Celgene (NASDAQ:CELG) has been one of the best performing stocks. With a market cap in the year 2000 of just $2.4 billion, it has grown to become the third largest biotech company behind Amgen (NASDAQ:AMGN) and Gilead (NASDAQ:GILD), sporting a $22.9 billion market cap; however, that is down from its recent high of over $30 billion. Its stock has been trending downward since 2008.

Its top drug, Revlimid, was initially approved in 2005 for a subset of myelodysplastic syndrome (MDS) patients after a highly successful Phase II trial. It went on to gain approval in multiple myeloma (MM), with sales hitting $1.7 billion in 2009.
Celgene had four main products: Revlimid, Thalomid, Vidaza, and Alkeran, which together accounted for 99% of all sales. Thalomid sales fell 13% as a result of tough competition and continues to decline, while Vidaza saw a surge from $207 to $387 million due to full marketing approval in the EU. Its final year of regulatory exclusivity in the US is 2011, although it has until 2018 in the EU. Alkeran sales will disappear altogether; Celgene's license from GlaxoSmithKline (NYSE:GSK) to sell the drug expired March 2009. That means of its existing products, Revlimid and Vidaza will be the only drivers of growth.
Revlimid sales have slowed significantly in recent years. Between 2007 and 2008, sales increased over 71%, but between 2008 and 2009, it slowed to 29%. This year, Celgene is off to a good start, booking 46% and 60% first quarter year over year sales gains for Revlimid and Vidaza. Revlimid has benefited from a price increase and its increased usage as a maintenance therapy, lengthening the time each patient is on therapy. The company estimates overall revenues will be in the range of $3.3 to $3.4 billion- an increase of about 25% over 2009. Of that, $2.2 to $2.3 billion can be attributed to Revlimid.
Through its years of commercial success, Celgene has failed to develop much of a pipeline. Its only Phase III compound, Amrubicin, for small cell lung cancer came from the purchase of Pharmion. Sales of the drug could reach approximately $1 billion, though Celgene will owe royalties of 25% to Dainippon Sumitomo Pharma (OTCPK:DNPUF), the original licensor. Phase III results are expected Q4 this year. Amrubicin is an anthracycline, a class of drugs that includes Doxorubicin. Their usage has been hampered by side effects, particularly, cardiotoxicity. Only long-term data will determine if Amrubicin will have the same issue.
Phase III trials are being planned for two compounds. Pomalidomide, the follow-on drug to Revlimid, has shown promising results in multiple myeloma. A report from Piper Jaffray suggests Celgene intends to position it as a replacement for Thalomid in refractory myeloma, with potential sales of $500 million. The second compound planned for Phase III is Apremilast, an oral drug for psoriasis and psoriatic arthritis. It will complete with current anti-TNF therapies, but with the convenience of oral dosing compared to injection. The drawback is Apremilast does not appear to be quite as effective as the anti-TNF therapies. Apremilast may not be quite the multi-blockbuster Celgene describes.
In the last couple years, Celgene has been on an acquisition spree. It paid $2.9 billion in 2008 for Pharmion and with it, drugs Vidaza and Amrubicin. Vidaza is a leader in the treatment of MDS. Soon after Pharmion's acquisition, it was approved in the EU, leading to increased sales and becoming a revenue driver for Celgene. Vidaza is complementary to Revlimid in MDS- they are approved for different groups of patients, and may be effective when used in combination. If Amrubicin is approved and found safer than older anthracyclines, it could well have blockbuster potential.
In 2010, Gloucester was aquired for $340 million in cash and $300 million in milestones. Gloucester has Istodax, currently approved for cutaneous T-cell lymphoma (CTCL), a market valued at less than $100 million. The drug's potential lies in peripheral T-cell lypmphoma (PTCL), with an estimated market of around $300 to $400 million. The pivotal trial has completed enrollment, if data is positive, an NDA will be filed late this year. Istodax will accelerate Celgene's entry into the lymphoma market.
On June 30, a deal was announced for the purchase of Abraxis (ABBI): $2.9 billion upfront with an additional $650 million in future milestones. This adds Abraxane to Celgene's portfolio. Abraxane is currently approved only for breast cancer, with sales of under $400 million. In recent studies it has shown potential in non-small-cell lung cancer and pancreatic cancer. Celgene believes these additional indications in combination with its marketing muscle can drive sales to $1 billion for this product by 2015.
In each of these deals, the target company has a marketed product with significant untapped growth potential. Sales growth for each product is expected to come through increasing regulatory approvals, expanding geographic coverage, and improving marketing with Celgene's sales force. The acquired products augment the company's core strength in oncology. Some bolster its already thriving haematology business while others help make inroads in areas such as treatments for solid tumors, where Celgene is targeting its expansion.
It is nice to see a company maintain its focus on its core competencies rather than flailing around attempting to enter unfamiliar areas of business. Purchasing companies with approved drugs also lowers the risk of the deals. So far, it appears Celgene has done well with its acquisitions; I wonder though, if it will be successful with this strategy as a way to maintain revenue growth in the long run.

Disclosure: Author long GILD