To add to my opinion on Bank of America (NYSE:BAC), today I will also explain quite simply why Wells Fargo (NYSE:WFC) is a bank that can be held by income-seeking investors with much greater confidence than BAC.
It is not that difficult, actually.
Dividend Increases
While the Fed has approved an increase for BAC to $.05/share per quarter for a yield of about .80%, Wells Fargo has been approved for a solid 16.7% increase in a string of increases in the last few years. This quarter, the dividend goes from $.30/share to $.35/share, which is almost at the 3% yield level as of yesterday's closing price.
Now, for dividend investors, it seems fair to say that since you are getting 3-4 times the dividend as income from WFC, you will benefit 3-4 times greater than by owning BAC.
Of course, the growth folks will point to the undervalued share price of BAC, but consider this: Why does it continue to remain below book value? Perhaps it has something to do with a "minor" inconvenience such as was noted here.
And even BofA's hike came with some disappointment. The bank simultaneously announced it would pay more than $9.3 billion to settle a complaint with the Federal Housing Finance Agency. And the Federal Reserve review of the bank's capital plan indicated the capital payouts may have been reduced from their original intentions after BofA fell short of many peers in last week's stress tests...."BofA's results were actually lower than we originally anticipated," KBW noted.
Now those of you who choose to ignore these facts could be in for a rude awakening in future quarters, in my opinion.
Let's take a quick look at some charts:
Since the lows of 2009 (after March 2009) of $15.00/share, the price has more than tripled to the current price of almost $49.00/share, while at the same time increasing its dividend from $.05/share to the newly announced $.35/share.
So basically, WFC has increased its dividend by nearly 10 times and more than tripled in share price.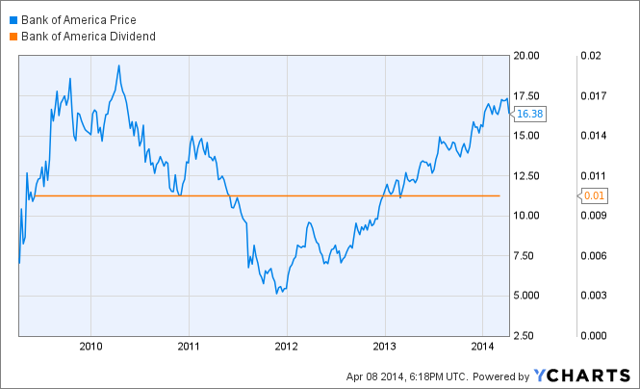 This chart of BAC is a tad more confusing. Not only did it tank back in 2008/2009, but it tanked again in 2011-2012. The "easy" money was made if someone bought at $5.00/share, of course, but what of those who bought back in 2009? Well, the share price was about $7.50 back then. If held to right now, you would have doubled your investment dollars (a bit more than double, but nowhere near a triple), the ups and downs would have been painful once again, unless your timing for trading was great.
Of course, you would have also only received $.01/share per quarter as well. If you weren't trading the stock, you lost again and were not paid to hold it. This is an awful chart, folks. Especially for those who keep hoping for a competitive dividend from BAC.
The Facts Speak For Themselves
Those two charts should be a road map for income-seeking investors, as well as long-term growth investors. Of course, that is my own opinion, and all of the BAC bulls will argue their points. The bottom line to me is that I see a similar chart going forward for BAC, while WFC keeps gaining momentum and increasing dividends.
Interest rates are not co-operating the way BAC would like, but WFC is just fine with it, and the Fed's stress test agreed.
As a value investor, WFC is much more attractive than BAC for dividends AND capital appreciation, from where I stand. If you are looking for a bank stock to hold for retirement, Wells Fargo is far superior than BAC, for very obvious reasons.
Disclaimer: The opinions of the author are not recommendations to either buy or sell any security. Please do your own research prior to making any investment decisions.
Disclosure: I am long WFC. I wrote this article myself, and it expresses my own opinions. I am not receiving compensation for it (other than from Seeking Alpha). I have no business relationship with any company whose stock is mentioned in this article.