Shares of AT&T (NYSE:T) have held up relatively well since the last time I wrote about the company.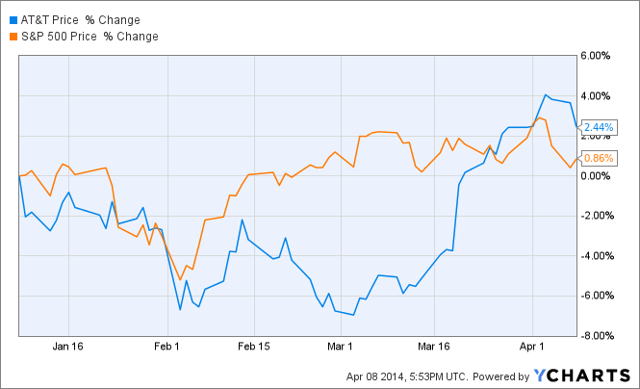 AT&T still looks attractive at this point, especially for those looking for a solid defensive play in a potentially turbulent upcoming market.
High yield, low beta, shareholder friendly
The company's beta sits at 0.29, indicating low volatility. In a down or sideways market, this could come in handy, especially since shares yield 5.20%. While AT&T's dividend growth rate isn't very impressive, it doesn't need to be with such a high starting yield.
AT&T returned $23 billion to shareholders in 2013 through dividends and buybacks. This included $13 billion in buybacks and $10 billion in dividends, according to CFO John Stephens. The company pays its dividends out of free cash flow, which totaled $13.6 billion before dividends, indicating that the dividend is safe and sustainable.
Since starting its buyback program in 2012, the company has bought back 737 million shares, reducing the amount of shares outstanding by 12%. That was as of January 28, when the company reported its fourth quarter earnings.
In March, the company announced that it would be repurchasing another 300 million shares, or roughly 6% more of shares outstanding. Couple these buybacks with its high yield, and you get a company that is extremely shareholder friendly.
CapEx going forward
Assuming modest 2% U.S. economic growth, AT&T is expecting free cash flow to be around $11 billion both this year and most likely for 2015. Recall that the dividend hovered around $10 billion. CEO Stephenson did state, however, that free cash flow and dividend coverage would return back towards historical levels "post VIP."
Stephenson reiterated at the company's most recent conference call that 2014 would be the "peak year" for VIP investment. Another encouraging comment was related to LTE coverage. The company thinks it will hit its target "ahead of schedule." The company is expecting around $32 billion in cash from operations this year, with $21.2 billion in CapEx. As CapEx declines, that leaves more money for shareholders and reinvestment.
Other assets and cash options
The company also has other cash-generating options at its disposal. AT&T raised around $7 billion in cash from the sale of assets in 2013. This included:
selling or leasing 9,700 of its towers to Crown Castle International (NYSE:CCI)
selling real estate assets
decreasing its stake in America Movil (NYSE:AMX) to its historical 9% level of ownership
The company raised close to $4.85 billion from the Crown Castle deal alone, and raised half-a-billion from shedding a portion of its stake in America Movil.
The America Movil stake is especially interesting, as it gives the company minor exposure to South America not only through its ownership stake, but also through strategic alliances. It will be able to provide services internationally by leveraging America Movil's assets without necessarily having to spend more on CapEx. The AMX stake is a very lucrative asset, therefore, and can also be trimmed to raise more cash if need be going forward.
Building out the network for bigger plans
AT&T has been aggressively building out its network. With a saturated, slow-growth smartphone market, the company realizes it needs to focus on the future. Randall Stevenson explained that:
"you see our network puts us in a great position for what we think is the industry's next growth wave. There is a lot of talk about the connected world ahead... but I think we're all going to agree that it's a big opportunity and when you combine these pervasive, superfast LTE networks with the cloud it changes everything. It changes every industry, every aspect of our society and the economy and for this industry it means we're moving past the era of smartphone wars to rethink on how we work, how we conduct commerce, how we learn and manage our healthy and so much more."
The new era will revolve around the Internet of Everything, or IoE, and subsets of it. Stevenson said that his company has "a number of new services that will begin to move the needle this year." These include its Digital Life platform and the connected-car market.
Everything connected is good for AT&T
AT&T is an early mover and leader in the connected-car, and already has deals inked with BMW, Audi, General Motors (NYSE:GM), Ford (NYSE:F), Nissan, and Tesla (NASDAQ:TSLA). This could prove to be a growth market going forward, and the company is smart for entrenching itself early.
GM, for instance, will allow customers with one of its 4G "connected" models to be added onto mobile data plans through AT&T. Tesla is also linked up with AT&T's Drive connected-car platform, and embedded SIM cards will equip its vehicles with services such as remote engine diagnostics, web browsing, live traffic updates, telematics, and infotainment services. As cars become more like rolling hotspots, AT&T will be looking to capitalize from this trend and has already established a dominant presence.
AT&T's Digital Life platform deals with making homes "smart." The home security and automation platform originally launched a year ago in 15 markets, and the company has since been looking to expand it. An app allows users to perform remote tasks such as locking doors, closing the garage door from work, or even turning appliances and lights on and off remotely. It also offers 24/7 monitoring home security options.
The Industrial Internet
Besides connected homes and cars, AT&T is also working with General Electric (NYSE:GE) on an "Industrial Internet." GE will be embedding AT&T's global wireless SIMs into its industrial products, which will enable machines and devices to then connect and communicate over AT&T's cloud-based network. Both companies also plan on collaborating down the road, to develop software that allows industrial machines to be controlled remotely.
Morgan Mullooly, an analyst at Analysys Mason, summed it up by explaining:
This is a hugely significant win for AT&T... We expect a tremendous number of M2M connections to be activated in the next two to three years, as millions of industrial components roll off GE productions lines fitted with embedded M2M modules and ... dispersed around the globe.
The Internet of Everything is a major trend going forward, and if/when it moves from buzzword to reality, AT&T appears positioned to soak up a good amount of the growth that will be generated from it.
Valuations and fundamentals
The closest competitor to AT&T is Verizon Wireless (NYSE:VZ).
| | | | | | |
| --- | --- | --- | --- | --- | --- |
| | P/E | Forward P/E | EV/EBITDA | Dividend Yield | Market Cap (Billions) |
| T | 10.4 | 12.55 | 5.5 | 5.20% | $183.65 |
| VZ | 12.05 | 12.59 | 4.91 | 4.40% | $199.64 |
Data provided by Yahoo! Finance
Both companies look similarly valued, although AT&T has the superior dividend yield. Pricing them by free cash flow tells a different story, however.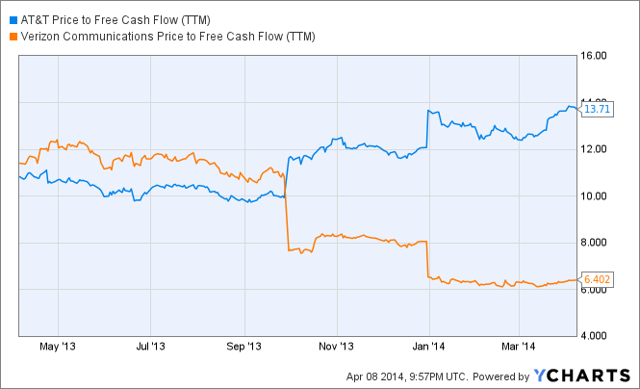 T Price to Free Cash Flow (TTM) data by YCharts
When AT&T's free cash flow gets back to normal post VIP levels, however, the gap will likely narrow.
The company's most recent quarter was also the end of its full year 2013, and it revealed how its existing businesses were doing. Mobile data saw revenues of $23 billion, growing by 17%. Strategic Business Services hit a $9 billion run-rate, and U-verse reached $13 billion in revenues -- growing by an impressive 28%. AT&T also reported its lowest-ever fourth-quarter postpaid churn at 1.11%.
U-Verse is an exceptional growth business for the company, helping expand overall wireline consumer revenue growth to 2.9%. The company claimed 10.7 million U-Verse subscribers at the end of its 2013 fourth quarter.
The bottom line
AT&T offers decent value and excellent yield. It's certainly not a "high-flyer," but it's a nice anchor stock to have in a portfolio as increasing volatility hits the market. Moving forward, as CapEx starts to drop-off, it will free up more free cash flow for the company. Machine-to-Machine communications related to the Internet of Everything will also provide new growth outlets for the company.
AT&T is a safe pick in today's market environment and makes for a suitable long-term holding at current levels.
Disclosure: I am long T, F, GE. I wrote this article myself, and it expresses my own opinions. I am not receiving compensation for it (other than from Seeking Alpha). I have no business relationship with any company whose stock is mentioned in this article.