When Twitter (NYSE:TWTR) came to market five months ago, I searched for similarities between the preceding IPOs of LinkedIn (LNKD) and Facebook (NASDAQ:FB). Surprisingly, the charts, with the exception of opening day trading, looked nearly identical. Both stocks hit their all-time lows after six months of trading and both took 16 months to break above the highs shares hit on their first day of trading.
Twitter may have taken a different route, at one point jumping 33 percent above its IPO high by December, but as shares approach their sixth month of trading, the similarities are still very evident. Shares have crashed to near all-time lows and the future seems more than uncertain. However, for those who missed the eventual surges in both Facebook and LinkedIn, Twitter offers an appealing opportunity.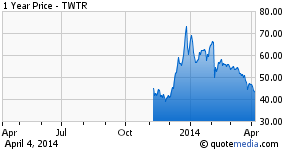 Sure, the risk is high and leading the risk is the company's upcoming first quarter earnings report scheduled for April 21. With a projected loss of $0.03, getting in now appears more than a gamble considering the reaction the stock had following its fourth quarter report. It was then that shares fell 24 percent in response to a slowdown in user growth.
However, even the poor reaction to earnings was similar to the way both Facebook and LinkedIn traded following their opening report. Facebook lost almost 25 percent for the week of its initial report while LinkedIn dropped as much as 20 percent.
Also helping to calm some of the hesitation heading into earnings includes a recent report by MKM Partners analyst Rob Sanderson who advised clients to buy ahead of earnings while raising the price target on the stock from $50 to $72.
"In our view, momentum stocks continue to work until revenue momentum stalls, key metrics reverse or the market breaks," Sanderson noted. "Revenue momentum for TWTR is impressive, accelerating to 116% growth in Q4 (105% in Q2 and Q3) and implied 101%-110% in Q1 guidance. On the other hand, user growth and engagement have become issues following the Q4 report."
Although slowed user growth is certainly the main concern, expectations have arguably become more conservative following the recent report. All of this caution makes the continued potential all the more enticing. Twitter is expected to post a profit of $0.06 by the fourth quarter while top line estimates have the company posting profits in all four quarters this year.
That may be one reason why the company also recently received positive comments from Janney Capital which initiated coverage on the stock with a buy rating only a couple weeks before the upcoming earnings report.
The firm noted Twitter as benefiting from the noticeable shift to mobile advertising where the company garners 75 percent of its revenue compared to 53 percent for Facebook. Although some may point to the fact that mobile advertising is far less profitable, the growing shift to this particular platform shows no signs of easing. Most importantly, with the increased presence should eventually come the increased costs advertisers would be willing to pay to reach customers through such a venue. Also, in the constantly evolving market of social media, it's reassuring to know that Twitter is making an effort to keep up with the times instead of being clearly left behind.
Now there's no denying the recent weakness in the stock or possibilities shares retest or perhaps fall slightly below their all-time low of $38.80. However, as LinkedIn continues to trade with a P/E ratio over 750 and Facebook shares continue to sell for triple the price they went for only 17 months ago, one thing remains clear. That is the fact the risk appetite remains strong. Twitter surely isn't a safe haven, but it can still leave investors with a significant profit.
For those interested in taking up a position, a stop loss order around $38 should be considered.
Disclosure: I am long TWTR. I wrote this article myself, and it expresses my own opinions. I am not receiving compensation for it (other than from Seeking Alpha). I have no business relationship with any company whose stock is mentioned in this article.