Well, you can add Barclays to the list of people that I think are getting it dead wrong about Herbalife (NYSE:HLF). And, as of last week, I can take the Dan Loeb picture down off of my dartboard as well. Loeb has sold out of Herbalife, seemingly not to get involved again. So now, the list of bears is starting to even out with the list of longs. The only two left on Herbalife's side are Icahn and Stiritz. One the bears side? We've picked up Jim Chanos, Whitney Tilson, William Keep, Herb Greenberg, myself, and Matt Stewart. As a constituency, we're probably the biggest we've ever been. But, alas, in the case of Loeb and Barclays, one person sees the light, another analyst completely misses the point.
It was out and about in the news yesterday that Barclays issued a 22-page report, trying to figure out just what the possibilities were for Herbalife at the end of the FTC investigation. Barclays concluded the most likely path was a slap on the wrist and some business changes that would only affect sales in the U.S. Barclays kept its overweight rating on Herbalife, with a price target of $94.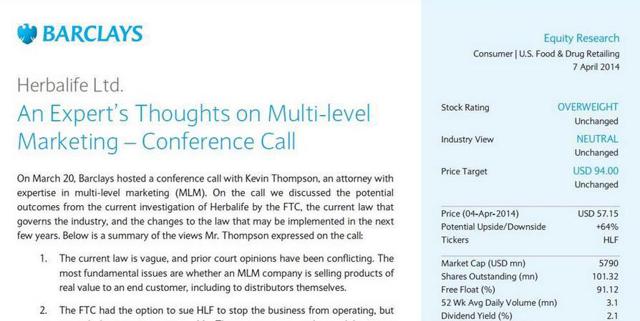 I conclude that Barclays is likely dead wrong and kept my "pyramid scheme" rating on Herbalife, with a price target of $0.
Meredith Adler, who is an analyst for Barclays, enlisted the help of MLM lawyer and Herbalife bull, Kevin Thompson, to draw her conclusions. Interesting that Adler did not seek the counsel of someone like William Keep - the FTC expert witness on pyramid schemes - to draw her conclusions. I wonder if this is a case of drawing conclusions based on others opinion, or finding someone's opinion to meet your already drawn conclusions.
Regardless, predictions made by Adler, as reported by ValueWalk, are for a change in business and a small penalty to pay:
The investigation of the Federal Trade Commission (FTC) against Herbalife Ltd. (NYSE-HLF) of the allegations that it is a pyramid scheme may lead to a consent decree wherein the company will be required to agree to change its business and pay a penalty, according to the report released by Barclays Equity Research based on an interview conducted by its analyst Meredith Adler with a lawyer who is also an expert in multilevel marketing (MLM).

According to attorney Kevin Thompson, if the company agreed to sign a consent decree, it will not have an impact on the business operations of the company in other countries. Herbalife Ltd. (NYSE-HLF) generates around 75% to 80% of its revenue outside the United States. The lawyer said other countries will probably be aware of the decree, but will continue to implement their own MLM laws. Some of the other countries have stricter laws, such as China.

Another potential outcome is for the FTC investigation to take a period of time or the agency may also file a lawsuit against Herbalife Ltd. (NYSE-HLF), but Thompson opined that it may not happen with the seller of nutritional and weight loss products.
"Or, the agency may also file a lawsuit against Herbalife Ltd." - tough one to skip over quickly. And clearly not the reality that Mr. Thompson was predicting for Herbalife in December 2013.
On to Mr. Thompson - remember an article he wrote in December of 2013, pointing out "7 Assumptions that Led Bill Ackman Astray?" Mr. Thompson was probably eager to try and defend the comments he made in that article which, since December 2013, look rather farcical. Just for some perspective, here is how he concluded his article in December:
Ackman's gamble is over. This is not false bravado. I'm calling it now like I called it with Bob Chapman weeks after Ackman's first presentation. Ackman can waste his investors' money as long as they'll allow. It does not change the fact that Ackman's argument was premised on several assumptions, all of them faulty.

It took little skill to craft an argument and seem convincing to those unfamiliar with the issues. The MLM space is murky, to say the least.
Murky, you say? Surely there's no murk in the squeaky clean, FTC defying, law dodging MLM industry - right?
Gamble is over, you say?
Surely, Mr. Thompson wasn't expecting the FTC to peek their head in and investigate. And surely, this Herbalife debate is anything but over. And look, it's 5 months since Mr. Thompson penned that piece.
This is like Mr. Icahn admitting that self-consumption "problems" have been dealt with live on CNBC a couple of weeks ago. "Problems had been cleaned up" - remember? What problems? I thought this industry was squeaky clean and rock solid? Remember the Amway litigation?
It turns out that even Herbalife supporters like Mr. Thompson are missing some of the bigger points in this argument. I don't contend that this is a "fine and penalty" situation - I contend this is a situation where people may have been knowingly bilked out of money, and that there's going to be some liability to go around after the FTC concludes its investigation. To what extent, who knows - more than a fine, though, I'm guessing.
Further, Mr. Thompson's conclusion that any action taken here in the U.S. will only effect the U.S. is bogus. Any action undertaken here is likely to turn a lot of head in major countries (although they may slip through the cracks of high caliber governments like Cambodia) - if the U.S. acts, it is setting a precedent for other countries to act. And, if the U.S. comes out and says that Herbalife is operating a pyramid scheme, other countries are definitely going to take notice.
Today is a great day for a reminder of Mr. Icahn's FTC lawyer, who informed him that the FTC would not be investigating the company at all - I wonder if that ol' chap is still on Mr. Icahn's payroll?
And when all is said and done, will Mr. Thompson still be "on the payroll" at Barclays?
Investment thesis: I believe Barclays has this one wrong, and the results of the FTC action will likely prove that in the coming year. I continue to contend that Herbalife is a worldwide confidence game that will ultimately be shut down by regulators.
Disclosure: I am short HLF. I wrote this article myself, and it expresses my own opinions. I am not receiving compensation for it (other than from Seeking Alpha). I have no business relationship with any company whose stock is mentioned in this article.