By David Russell
Dana Holding (NYSE:DAN) is staging one of the most impressive runs after the crash, and now investors are getting bullish again.
optionMONSTER's Heat Seeker tracking system detected both put selling and call buying in the auto-parts maker, which rallied more than 70,000 percent between March 2009 and May 2010. The transactions reflect a belief downside is limited and more gains are coming.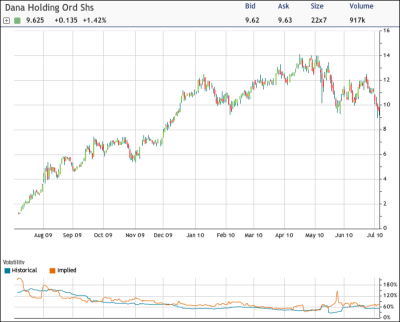 One investor sold 1,050 July 10 puts for about $0.58 against open interest of 176 contracts. The transaction occurred when the shares traded for $9.70, meaning they were $0.30 in the money. He or she stands to make $0.28 if the shares remain at that level through expiration, with a maximum gain of $0.60 if DAN climbs over $10.
The move was unusual because most put sellers target out-of-the-money strikes. In this case it makes sense because the next available strike is $7.50, where there is currently no bid.
DAN rose 1.42 percent to $9.63 in early afternoon trading and has lost 17 percent of its value in the last two weeks. The stock is now trying to hold the lower end of the $9.40-to-$14 range where it's traded since mid-December.
Management raised its full-year guidance the last time the company reported earnings on April 29.
About two hours after the puts were sold, an investor purchased a block of 2,500 December 15 calls for $0.45 against open interest of 1,873. He or she needs the shares to rally by about 60 percent by expiration for the trade to turn a profit.
Overall options volume in DAN is nine times greater than average so far today.
Disclosure: No positions