One of my favorite investment ideas for 2014 and beyond continues to be Dream Unlimited [(OTC:DRUNF)(DRM.TO)] because it exhibits many classic inefficiencies (e.g., recent spin off), owns/operates a set of related operating businesses (e.g., land/real estate development and asset management) and is led by a solid management team.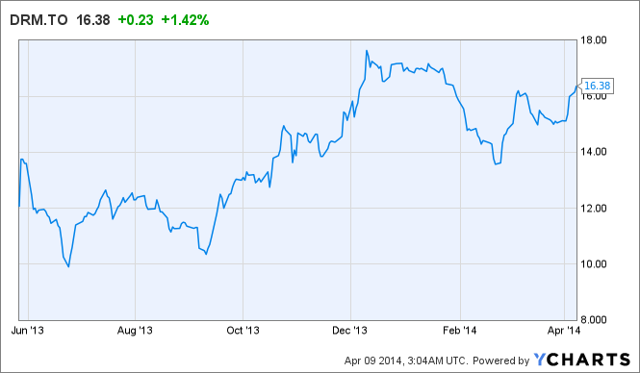 After reporting solid year-end 2013 results, the company recently issued two press releases (here and here) that continue to validate the investment thesis.
First, Dream reported that it reached a deal with Return on Innovation Advisors, to acquire the rights to manage $700 million of various real estate asset classes, including real estate lending and infrastructure. In my mind, this is an important deal because it expands Dream's high-margin and scalable asset management platform, and suggests that industry players are seeking to partner with Dream to utilize its asset management expertise in these areas. More details around the transaction will be available in mid-May, but Dream's assets under management ("AUM") will increase by about 5%, and will likely provide for many of the same advisory fees provided for in Dream's other external asset management arrangements. This will add another recurring revenue stream, and broaden Dream's revenue base.
Second, management indicated that it intends to raise $50 million by selling 3.2 million common shares at $15.70/share. While dilutive raises typically depress equity prices in the near-term, the market reacted favorably to the raise given management indicated that it has several accretive deals in the pipeline, including certain land acquisition and housing development activities. Specifically, Dream is using the proceeds to fund the purchase of 1,000 acres in Western Canada, 358 acres of land under contract in Saskatoon and to fund certain renewable energy projects under contract.
As part of the equity raise, Dream announced that it made equity investments in certain partnerships that own the rights various attractive land assets in Ottawa, Canada's capital. I understand that the deal provides Dream access to 37 acres of premier land around the National Capital Region, including Albert Island, Chaudiere Island and the Gatineau Waterfront. Collectively, these land assets are larger than the valuable Distillery Project and Pan Am Athletes Village land in Toronto. Given the attractive assets, this part of the land bank should ensure that Dream has plenty of land to develop in favorable real estate markets.
Catalysts
One key catalyst I see for Dream is brand recognition. In particular, given Dream historically operated under the Dundee Corporation umbrella with various brands, I believe Dream remains misunderstood by investors. To address this issue, Dream has rebranded itself to make its value proposition more clear. To wit: Dream divided its activities to derive the following marketing strategy to educate consumers and investors:
Communities To Live In (e.g., Homes By Dream and Dream Development)
Communities To Live & Work In (e.g., Dream Centres and Dream Alternatives)
Communities To Work In (e.g., Dream Office REIT, Dream Industrial REIT and Dream Global REIT)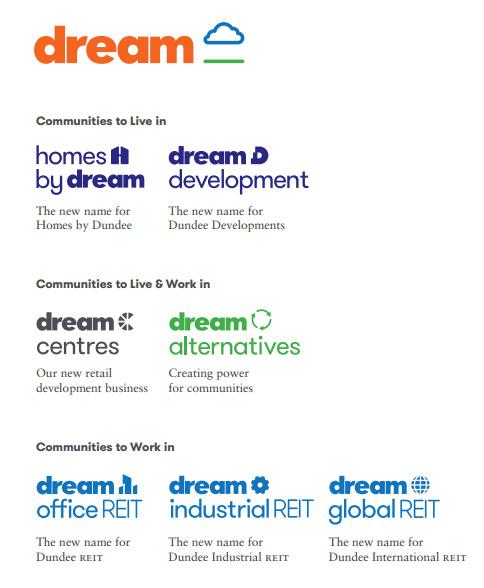 Many of these assets used to adorn the Dundee name; now they are uniquely known as Dream assets. As inconsequential as it seems, I believe that as market participants are made aware of the name changes to the Dream REITs, investors will follow the story to Dream Unlimited. Because shares trade only lightly in Canada (some 16k shares daily), it is evident that Dream remains under the radar from a volume perspective. I expect that to change as the go-to-market strategy becomes more unified on the branding front.
Should management continue to expand its industry relationships with various real estate asset owners, I see a growing asset management platform as another catalyst that could drive Dream's shares appreciably higher. In particular, I believe that large, institutional investors will continue to seek alternative assets such as real estate to hedge against inflation. Dream is a natural partner given its large, global platform and expertise for managing real estate assets.
Conclusion
Dream remains an interesting investment opportunity given the unique nature of its various assets and operating businesses, and most importantly, because management has a demonstrated record of success related to the real estate industry. The recent nod given to Dream from an industry participant, ROI, provides some validation on this front.
Management also tipped its hand in the most recent earnings call and the 2013 Annual Report by guiding to demonstrably higher levels of profitability in 2016 as its investment strategies begin to bear fruit. Meanwhile, management suggests that Dream is currently operating on "auxiliary power," a tell that Dream has powerful cash generation and earnings capabilities that are not being fully demonstrated by its current operating results.
Investors are now able to buy Dream for under 13x LTM earnings (based on a fully diluted 79 million share count, and excluding favorable tax adjustments). Because of the low price and likelihood of higher future profitability given the asset base, I continue to think that Dream is an asymmetric bet. Accordingly, I am long these share and think that Dream could offer meaningfully higher returns than relevant benchmarks over the next several years.
Disclosure: I am long DRUNF. I wrote this article myself, and it expresses my own opinions. I am not receiving compensation for it (other than from Seeking Alpha). I have no business relationship with any company whose stock is mentioned in this article.