Investors with a true long-term view are becoming an endangered species. As average holding periods continue to trend lower (see interesting chart on article linked here), investing with a multi-decade mindset appears to be an increasingly rare approach. But trying to think about a company ten or twenty years from now, and developing the discipline to closely monitor a company for at least a few years before making a commitment, has the benefit of making you learn about the fundamentals driving results, the risks, the opportunities and the strategic planning. These are all integral elements needed to develop a meaningful projection of long-term performance and to adequately discount such projection.
Having such a long-term horizon in mind when analyzing a business makes you go about it as if you were buying it to keep forever, ignoring the liquidity of your stock. It removes most of the short-term noise from the equation. Things like recent quarterly results, charts of stock prices, stock price relative to moving averages and analyst upgrades or downgrades become less important. Instead, focus will inevitably shift to management's performance and board competence, long-term earnings trends and - by far the most important aspect - a company's track record of deploying available capital in a way that creates value.
When you invest in a small non-controlling portion of a business with a long-term holding period in mind, essentially what you are doing is trusting your capital to a board and management team to deploy as they see fit. The board, using management's recommendations, will approve allocation on excess funds the business generates between i) shareholder returns in the form of dividends and/or repurchase of shares, ii) capital expenditures beyond the amount required to maintain the business, acquisitions, etc. and iii) changing the capital structure (for example, repaying debt).
There is no doubt that no matter the industry in question, the business you are studying as an investment today will look very different ten or twenty years from now. Every year, capital allocation decisions will be made that over time accumulate and cause great differentiation in performance and results between competing companies. This is especially true for technology stocks, where disruptive innovations happen more frequently.
Warren Buffett, Berkshire Hathaway's (NYSE:BRK.A) (NYSE:BRK.B), chairman and CEO, and hands down the greatest investor of all time, likes to point out the different outcomes of investing a dollar with Sam Walton or in Sears 50 years ago.
In fact, I believe that Warren Buffett's greatest skill is precisely that; he is consistently able to pick those companies with the best outcome as measured by return on capital invested. In other words, he is able to identify others who possess similar skills to his own. More recently, his hiring of two portfolio managers (Todd Combs and Ted Weschler) to assist in deploying capital at Berkshire, is an example of him finding like-minded individuals. These two gentlemen are obtaining outstanding returns with the funds Buffett has allowed them to invest. See latest shareholder letter, which praises his portfolio managers.
One of the things Buffett does as a starting point is narrow the potential universe of investment alternatives by admitting his own inability to develop confident projections for certain sectors. This is why he usually avoids technology stocks [IBM (NYSE:IBM) is the exception, and only after tracking it for 20 years did he feel confident - it will take a few more years to judge the outcome of this decision]. After defining his area of competence, Buffett discriminates by looks for:
Companies that have consistent high return on equity without use of significant leverage.
Management teams with long tenure proven track records of successful operations.
Businesses that can be scaled upward without significant capital expense requirements.
Companies that operate in generally positive macro conditions.
The first three characteristics all are supportive to capital deployment thesis as being central to his thinking. The fourth is an acknowledgement that even the best management teams, with the strongest capital deployment records can fail if the macro headwinds are too strong (like the textile business that gave his company its name but eventually failed to survive).
One of the most important and often overlooked tools available to an investor is a corporation's disclosure about its executive compensation program or programs. Through the years, greater transparency has resulted from shareholder activism on this issue. By studying these disclosures we can now see more clearly the board's attitude towards short versus long-term goals and the resulting management incentives, which will, infallibly, guide decision making around capital deployment, and all other areas of a firms operations. In a previous article, I pointed to Exxon Mobil (NYSE:XOM) as an example how a well-designed program (and related policies) can create an organization that consistently outperforms on return on capital over the long term; even in a highly competitive and "commoditized" environment.
Another great example of effective capital allocation can be found by looking at Walt Disney's (NYSE:DIS) last few years. First, it purchased Pixar, which went on to create fantastic franchises that DIS could exploit in its TV, and consumer businesses (this purchase also reinvigorated Disney's own animation studio, which produced hit films like Planes and Frozen after a period of lackluster performance). More recently DIS acquired Marvel, and went on to break all kinds of box-office records with the superhero film series around The Avengers. Again, the knock-on effect of this success on Disney's parks, TV, and consumer business is unique to this company. After Marvel, it acquired Lucasfilm and will develop the next series of Star Wars films, which can potentially bring this franchise to a new level. We will have to wait a few years to see how this latest acquisition will play out, but work has started on the first movie.
Due to a generally questionable track record, large acquisitions tend to scare investors when announced. However, as the Disney example shows, when management has the right incentives and is guided by a strong board, very large acquisitions can be transformational and produce exceptional rewards to shareholders.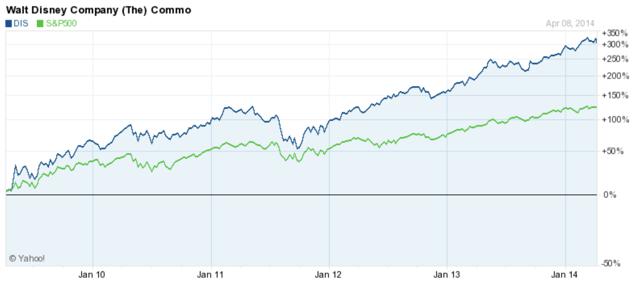 To conclude, for the truly long-term investor (those of us surviving out there), the investment decision thesis should be centered on a company's strengths and opportunities, but especially on management's degree of alignment with shareholders as evidenced by compensation scheme and track record with capital allocation decisions. This information is not as readily available as analyst ratings or breaking news, and it necessitates a long period of observation before making a decision, but the rewards in the long term are worth it.
Disclosure: I am long BRK.B, DIS, XOM. I wrote this article myself, and it expresses my own opinions. I am not receiving compensation for it (other than from Seeking Alpha). I have no business relationship with any company whose stock is mentioned in this article.