Background
Johnson & Johnson (NYSE:JNJ) is the world's largest healthcare conglomerate. They operate in three main segments, medical devices and pharmaceuticals both around 40%. Consumer products brings in about 20% of their revenue. The medical devices and diagnostics division includes products that treat illness from cardiovascular disease to orthopedic procedures. These products are sometimes distributed to hospitals directly. The company employees around 128,000 workers. Johnson & Johnson is located in 60 different countries and compete locally and around the world.
Figures and Statistics
U.S sales increased 7% in 2013 as compared to 3.2% in 2012 and a decrease in sales of around 2% in 2011. International sales also increased slightly from 2012 from 3.4% to 5.4%
Sales in the Western hemisphere, not including the US saw operational growth of 8.9%. The company also saw losses due to currency impact which was not accounted for.
In 2013 sales worldwide increased 6.1%. In 2012 sales only increased 3.4%, while in 2011 they increased 5.6%. These numbers seem a bit inconsistent but impressive to say the least. R&D costs last year estimated around 7.7 billion, which was higher than the previous two fiscal years.
Sales of Remicade, Johnson & Johnson's largest product accounted for around 9.5% of the company's revenue's for the 2013 fiscal year. Twenty-Five percent of sales in 2013 came from products introduced within the last 5 years. 8.2 billion was invested in R&D in 2013 which has been steadily increasing over the past couple of years. Previously it was around 7.5 billion.
In 2013 Johnson & Johnson was forced to pay an excise tax due to healthcare reform which totaled around 200 million.
Growth Potential
Pharmaceuticals is where the growth potential comes for JNJ. The company obviously has a strong core model, but is 1.7% growth enough to sustain the future dividend?
JNJ's Core model:



Source: 10k
Pharmaceuticals is where the growth potential comes for JNJ. Obviously the dividend has been consistently strong for the company but management will have to continue to take risks and expand Pharmaceuticals even further in order to sustain positive growth. As mentioned before Johnson & Johnson's total sales has been increasing YOY but how much of that growth is strictly due to pharmaceuticals?
Valuation
Looking at the numbers JNJ is slightly expensive at this point. The stock is trading at all time highs. This fact coupled with a higher than average P/E and price to book may signal some caution before going long. JNJ has a PEG of around 2.9 which is considerably high compared to Abbot which is at 1.4.
JNJ has consistently raised dividends over its existence, however recently yields have slightly flattened out. While JNJ has always been a safe stock it is uncertain if it's growth potential is enough to make it a clear buy at this point.
JNJ's price to sales is a bit concerning at a ratio of 4. The S&P average is around 1.7.
Price to Book JNJ 3.8 S&P 2.6
The company has a AAA rating and is loaded with cash at this point so this aspect is not of concern.
Recent Ventures
Johnson & Johnson recently accepted an offer from the Carlyle group to acquire its ortho clinical diagnostics group for 4 billion dollars. Ortho clinical diagnostics delivers in vitro diagnostic products and serves the global transfusion medical community. Johnson & Johnson also just agreed to become the official healthcare partner of the USO.
The question moving forward is whether or not Johnson & Johnson will stick to its core business model, thus maintaining a safety net of cash and dividend growth. Or, will the company continue expanding into different growth opportunities.
Sub markets, Expansion and Competition
The Immunology drug division up 16% for the full year. Immunology drugs has been consistent for the 2013 year with 9% YOY sales growth and 33% international growth.
Orthopedic sales are up over 22% over the past year mostly because of the acquisition of orthopedic company Synthes in 2012. Recently sales have been around 2% in the last quarter. This is typical with many healthcare acquisitions primed for immediate grown and long terms slow down. The success of Stryker (NYSE:SYK) in the orthopedic field however gives some hope for the division as a whole but also presents obvious competition.
Sales of oncology cancer drugs were up around 40% in the past year. Zytiga jumped around 75% in the past year, however there is significant competition in this field.
Stock Price
JNJ stock has reached all time highs and seems to just gradually increase each year. There looks to be a long terms support at around $85 although it doesn't look like the price will drop there anytime soon. The stock recently breached its resistance at $95 on very high volume. This looks to be a sign that the price can be sustained at these levels. Over the past few weeks the stock has leveled out. Look for a possible drop down to previous resistance levels, however as previously stated the current price levels remaining in the high 90s seem sustainable from a technical perspective.
Source: Finviz.com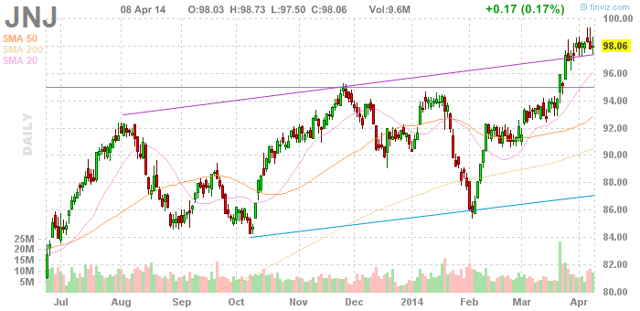 Disclosure: I have no positions in any stocks mentioned, and no plans to initiate any positions within the next 72 hours. I wrote this article myself, and it expresses my own opinions. I am not receiving compensation for it (other than from Seeking Alpha). I have no business relationship with any company whose stock is mentioned in this article.