Qualcomm (NASDAQ:QCOM) gets revenues of about $39.50 for its baseband and power management components sold in every iPhone, eyeballing the iPhone 5S bill of materials estimated by IHS and assuming the iPhone 5C and iPhone 4S have similar amounts of Qualcomm content.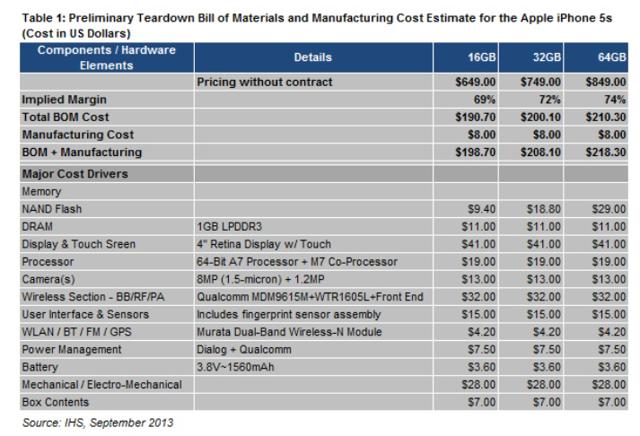 Source: IHS
In an article on SA published December 7, 2013, I referenced an estimate by Ashraf Eassa that Qualcomm revenue per iPhone might be higher:
"

That estimate generated a debate and the issue turned on whether Apple paid Qualcomm a royalty based on the selling price of its iPhone or the price it paid assembler Foxconn for the iPhone, as I recall. In the end, the consensus seemed to be that Qualcomm received close to $40 per iPhone so the $39.50 number is reasonable.
Last year 153 million iPhones were shipped by Apple (NASDAQ:AAPL) garnering revenues for Qualcomm of about $6 billion if that $39.50 per unit estimate holds up. Apple also buys components for its iPad from Qualcomm reportedly with a cost of about $32 per unit for the cellular versions, likely adding another $1 billion or so of purchases from Qualcomm. That makes Apple undoubtedly Qualcomm's largest customer comprising some 25% to 30% of Qualcomm's 2013 revenues of $25 billion.
It seems Apple wants to develop its own baseband components beginning in 2015 according to Digitimes. Being dependent for 30% of your revenues on a single customer is always a risk and it seems the chickens may come home to roost for Qualcomm, if Digitimes is right. At a minimum, the threat that Apple might develop its own baseband components and perhaps an integrated SoC with baseband incorporated cannot be good news for Qualcomm, since that threat alone could be factor in negotiations over price even if Apple continues to source components from Qualcomm.
Much of the revenue Qualcomm earns from Apple is likely to be high margin royalty revenue and the overall after tax margin on Qualcomm's Apple business should be around 35% to 40% I would think, if not higher. Loss of the Apple business could easily wipe $2 billion from Qualcomm's annual net income.
I would expect the stock to react negatively to that news. At fifteen times earnings, a net income fall of that magnitude would take about $30 billion out of the market value of Qualcomm knocking its share price down about $25 to $30 points.
Apple certainly has the resources to design its own radios and no doubt is looking at where it can cut costs to maintain margins while meeting price competition in what is becoming an intensely competitive market. While Qualcomm's technology is leading edge, it is not alone in the market. Apple could probably license IP from competitors like Intel (NASDAQ:INTC) and Broadcom (BRCM) to fill gaps in what it can achieve in house.
In any event, if there is any substance to the Digitimes report it will put a cloud over Qualcomm. I am short the name.
Disclosure: I am short QCOM, AAPL. I wrote this article myself, and it expresses my own opinions. I am not receiving compensation for it (other than from Seeking Alpha). I have no business relationship with any company whose stock is mentioned in this article.