Earnings season kicked off last night when Alcoa (NYSE:AA) reported earnings of 9 cents per share, which beat estimates of 5 cents per share.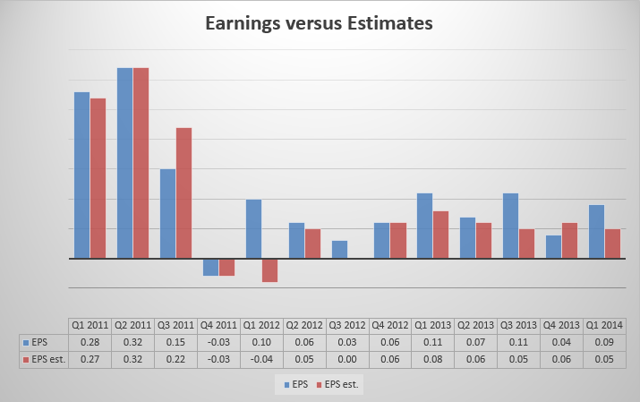 Earnings data sourced from: CNBC
Shares of Alcoa traded up 2.63% after hours, adding to the stocks near 50% gain over the past year.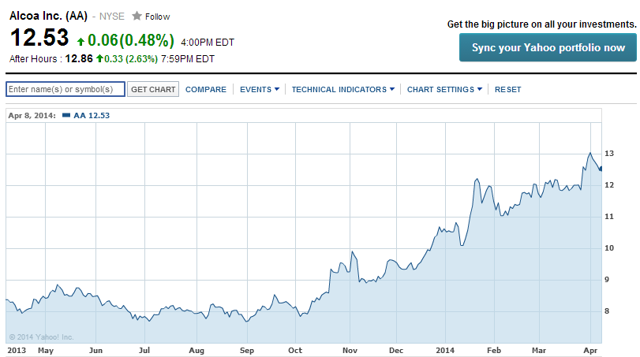 Source: Yahoo Finance
In a press release, the company reported that the earnings surprise came despite an 8% drop in aluminum prices and Alcoa continues to believe that the aluminum market is going to grow at 7% this year. But, by digging deeper in the press release reveals a few red flags.
According to the press release, Alcoa "holders of $575 million principal amount of Convertible Notes due March 15, 2014 exercised their option to convert the Notes into shares of Alcoa common stock."
An examination of the financial tables revealed that this led to an increase of 89 million shares outstanding. Since this event happened during the quarter, only 23 million shares are being recognized. An additional 66 million shares will be added in the second quarter. While this represents only 1% dilution of current shares outstanding, prospective investors should research Alcoa's $7.6 billion debt more thoroughly to ensure that larger quantities of these options aren't in place.
Alcoa's revenue continues to struggle. Based on the revenue numbers released yesterday, the company's four quarter trailing revenue continues to decline. In order for Alcoa to generate revenue stability, aluminum prices must stabilize.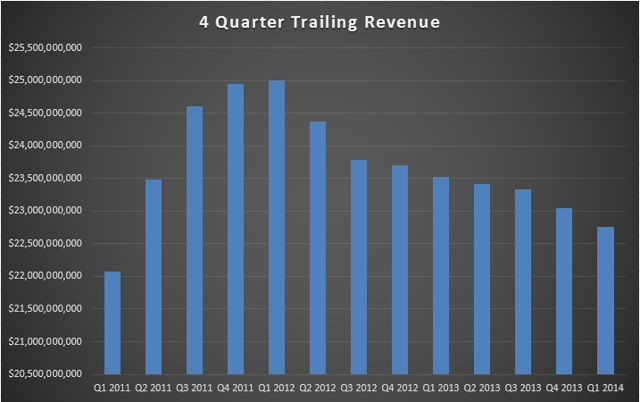 Revenue numbers prior to Q1 2014 courtesy of YCharts
Finally, and perhaps most concerning is Alcoa's free cash flow. The press release indicated that Alcoa was expanding in Iowa, Tennessee, Brazil, and Hungary in what the company calls "high value expansions." While these investments may pay off, the current results have left Alcoa's four quarter free cash flow negative for the first time in at least three years.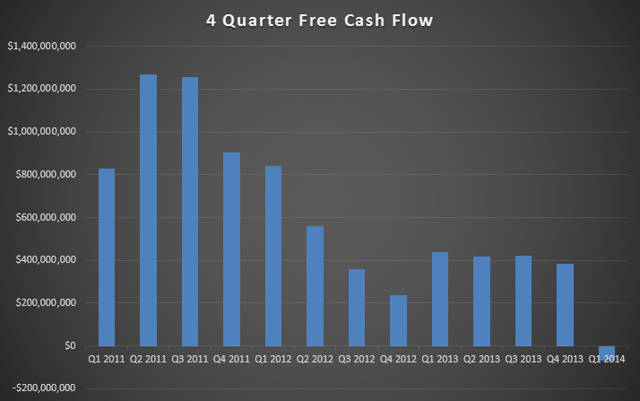 Free Cash Flow prior to Q1 2014 courtesy of YCharts
In addition to this, I'm having a difficult time valuing Alcoa's stock at these levels. Taking into account forward earnings by Nasdaq, Alcoa closed Tuesday priced at 33.8 times 2014 earnings and 19.5 times 2015 and 2016 earnings.
It's tough to see how Alcoa marches on past the $13 or $14 levels without large guidance increases and future earnings beats.
Disclosure: I have no positions in any stocks mentioned, and no plans to initiate any positions within the next 72 hours. I wrote this article myself, and it expresses my own opinions. I am not receiving compensation for it (other than from Seeking Alpha). I have no business relationship with any company whose stock is mentioned in this article.