(Editor's Note: Trading in AFRNF is very illiquid, and investors should consider the risks of operating in illiquid securities. Afren PLC's primary listing on the London Stock Exchange AFR.L offers substantial liquidity.)
Company Overview
Founded in 2004, Afren PLC (OTCPK:OTCPK:AFRNF) is an international independent exploration and production company with assets in three core business units: Nigeria and other West Africa, Afren East Africa Exploration and the Kurdistan region of Iraq.
As of December 2013, Afren has 2P reserves of 286mmboe, 2C resources of 810mmboe and prospective resources of 10,031mmboe. A majority of the company's prospective resources are in the promising East African region where the company has a gross acreage position in excess of 100,200 square km.
Afren has producing assets and the net production for 2013 was at the top end of the company's guidance at 47,112boepd. Afren clocked a turnover of $1.6 billion and had a strong operation cash flow of $1.2 billion for the year ended December 2013.
Consistent Growth In 2P Reserves Through Accretive Acquisitions
Afren has demonstrated excellence in terms of asset acquisition and growth in 2P reserves, which will ultimately translate into production growth. There are several key points to discuss here, which are important from a shareholder value creation point of view.
2P reserves for Afren have increased from 80mmboe in 2010 to 269mmboe as of December 2013. This increase is significant and has been associated with an increase in production from 14,333boepd in 2010 to 47,112boepd in 2013.
While the increase in reserves and production is a positive, the most important point here is the value created through timely acquisition of assets. As the chart below shows, the consensus present value of assets per barrel is way ahead of the acquisition cost per barrel. The use of capital has therefore been efficient and there is visible value creation.
Production, Revenue and Cash Flow Estimates
Afren is targeting double digit growth in production over the next five years. This guidance can help in deriving revenue and cash flow estimates for the foreseeable future.
I must mention here that the production guidance can be scaled up significantly with the large scale development of Ogo and Barda Rash (Kurdistan) in the pipeline. I will discuss these assets later in the article. Even in the immediate term, Afren is allocating $845 million to the capital expenditure program for 2014, which includes 76% development capital expenditure. The probability of production guidance revision on the upside is therefore significant.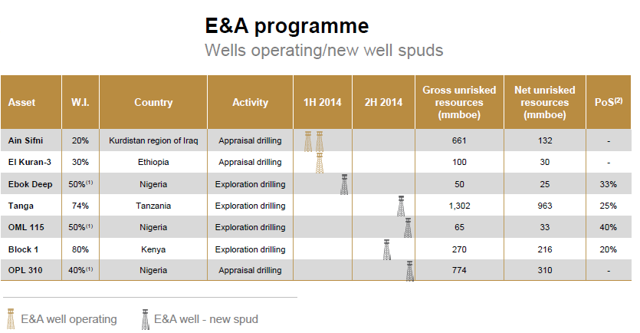 Even in terms of exploration and appraisal, the company is targeting 1,200mmboe in prospective resources over the next 12 months. This will trigger significant upside to the company's valuation. I will however stick with the current guidance to arrive at revenue estimates.
I do believe that oil prices will remain firm over the next few years and I will consider the 2013 realised oil price per barrel of $106 as a standard for deriving the revenue estimates. Considering the basic assumption of 10% production growth and above mentioned oil price, the table below gives the revenue, and operating cash flow estimates for 2014 to 2016.
With a relatively conservative estimate of 10% growth in net production, the company revenue is expected to increase from $1.6 billion in 2013 to $2.4 billion in 2016. During the same period, the operating cash flow can potentially increase from $1.2 billion in 2013 to $1.8 billion in 2016.

More than anything else, I wanted to highlight the operating cash flow growth through these rough estimates. This is important for a company involved in significant development, exploration and appraisal activity. Besides external funding (largely through debt), the operating cash flows will meet the capital expenditure.
Talking about the funding side, I would like to add here that the company has a strong financial flexibility even when it comes to debt financing. As of December 2013, Afren had a total debt of $1.1 billion and a net debt of 739 million. More importantly, $863 million of bond repayment comes only after 2016 and $290 million of bank facilities are payable on and after 2015. Therefore, there is no immediate debt financing pressure and long-term cash flows can be used to repay the debt in 2016 and beyond. With a strong capital structure, Afren has the flexibility to leverage for capital expansion needs.
Barda Rash - Potential Production Surprise in 2014 and 2015
As mentioned above, the production outlook guidance can be considered to be conservative and Barda Rash asset in Kurdistan can be one of the potential surprises in terms of production upside over the next two years.
Afren has a 60% working interest in the Barda Rash asset and is the operator for the field. The asset is in the production and development stage with an average gross production of 639bopd in 2013. Given the field's potential underscored by gross 2P certified reserves of 190 million barrels and gross contingent resources of 1,243 million barrels, the production is yet to take off in the asset. Once that happens, there will be a significant impact the overall production for Afren as the company holds a 60% stake in the asset.
According to company reports, Afren has now moved to the second phase of development on the field, which involves drilling new wells to increase production capacity. As per the 413 report -
The Partners commenced drilling on the BR-5 well in Q1 2013 using the Romfor-23 drilling rig which is currently operating at circa 14,436 ft. They also commenced drilling the BR-4 well in May 2013, using the Viking I-10 rig. The well reached a total depth of 13,800 ft. As part of an ongoing programme BR-4 has tested two horizons in the Triassic Kurra Chine formation at 6,100bopd and 1,750bopd respectively. The BR-5 well has intersected a similar hydrocarbon-bearing sequence in the Kurra Chine formation and will be tested in due course. Flow lines and facilities will be updated to bring BR-4 and BR-5 into production during 2014.
There are two positives in this statement: First, BR-4 has tested for significant oil flow and BR-5 also looks probable to test for similar hydrocarbon. Second, BR-4 and BR-5 are expected to be in production in 2014. Therefore, the upside trigger for production is in place and it is entirely likely that a major production ramp-up will happen in 2014 or 2015.
What is important to mention for Kurdistan is the fact that the sales so far has been domestic from the Barda Rash production. However, with the export pipeline in operation, the sales in 2014 and 2015 will be export sales. The importance of mentioning this is the fact that domestic sales are at a much lower price while exports will be at globally prevailing prices. I had discussed the export infrastructure in Kurdistan in one of my earlier articles on DNO International (OTCPK: OTCPK:OTCPK:DTNOF).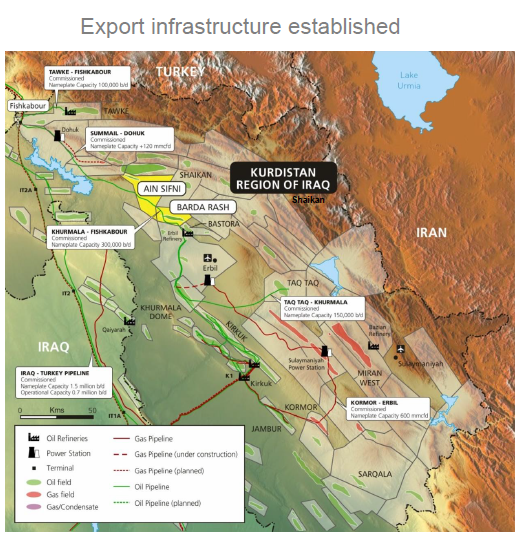 Risk Factors
Afren operates in politically unstable regions with significant amount of geo-political tensions. I however believe that this factor is always discounted by the market and the growth potential is being underestimated given the size of assets the company has in possession. In particular, Barda Rash will be the asset to watch out for over the next two years.
Afren witnessed sales of $1.6 billion and operating cash flow of $1.2 billion in 2013 largely due to firm oil prices (realised oil price of $106 per barrel). Weakness in oil prices can hamper revenue growth as well as exploration activities. I personally believe that oil prices will remain firm as the world might have seen the worst of Euro zone as well as China.
Conclusion
Afren operates in regions of high political risk. However, given the immense reverse and growth potential in the African region, local government is encouraging investment in the E&P sector and Afren has an early mover advantage. In the near-term, the Barda Rash asset in Kurdistan promises to be a money spinner.
Over the long-term, Ogo, which was the third largest global discovery in 2013, promises to be a money spinner. Amidst this, the company's production is expected to grow at a stable pace and the strong operating cash flows will support the intensive capital expenditure program.
Overall, the company has assets to generate cash flows in the near term and prized assets for the long-term as well. As mentioned in the article, Afren has proven over the past that its investments have been timely and shareholder value creating. I recommend Afren with a two year time horizon as a "Strong Buy" and I believe that this stock will need re-initiation at some point of time as more news flows on the potential production and reserves.
In terms of trading risk, the liquidity is relatively less in the OTC market. A better option to invest is through the London Stock Exchange where the stock is listed with a ticker of AFR.L. The liquidity in the LSE is robust.
Disclosure: I have no positions in any stocks mentioned, and no plans to initiate any positions within the next 72 hours. I wrote this article myself, and it expresses my own opinions. I am not receiving compensation for it (other than from Seeking Alpha). I have no business relationship with any company whose stock is mentioned in this article.