The Media's View
If you have been watching Mad Money over the last few months you would think that Chipotle Mexican Grill, Inc. (NYSE:CMG) will make you rich like dentist inside a candy store. To be fair, the stock has done quite well for itself, up over 70% this year alone.
Jim Cramer sees CMG as a growth story and attributes the price appreciation to CMG's astronomical growth; he calls it a company "that just keeps on going and going." Although I must agree with Jim that top line growth has been phenomenal, 13% in FY09, I do not believe this growth is sustainable and fear that one day we all may be in for a surprise. The growth is solely attributable to the addition of new restaurants; CMG has been ineffective in achieving growth at its existing locations.
A Similar Failed Growth Story
Does anyone remember when Jim thought Crocs, Inc. (NASDAQ:CROX) would provide long term growth that would fuel our portfolios for years to come? His sentiment, that "If you want explosion, you want Crocs!," mirrors his current sentiment on CMG's growth prospects.
Before it crashed, CROX's share price did explode, increasing nearly 233% from October 2006 to October 2007. Unfortunately for Jim, he was recommending CROX up to 15 days before the stock lost nearly 60% of its value on disappointing earnings. Only then did Jim reverse his stance and say he was "done with Crocs". A year later CROX, which was once trading above $70, ended 2008 at just below $1.50.
For those of you who are visual, I have included an overlay of CMG's price chart for the last year and CROX's price chart from October 2006 until just after its price collapsed at the end of October 2007.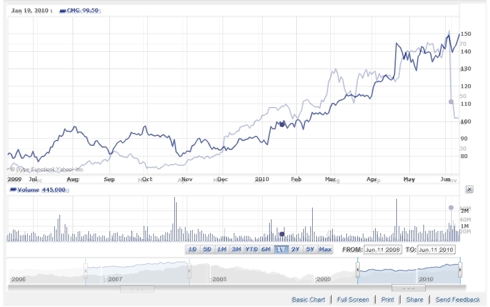 *The lighter chart is CROX, while the darker chart is CMG.
On to CMG
A keen eye will notice that I have, so far, said very little about CMG; so let us get back to it.
I mentioned that CMG has had great top line growth, it's revenue has grown on average 25% a year since 2006. Seemingly even more impressive is the EPS growth which has averaged 33% YoY growth.
2009

2008

2007

2006

2005

Revenue

(in thousands)

1,518,417.00

1,331,968.00

1,085,782.00

822,930.00

627,695.00

Growth

14.00%

22.67%

31.94%

31.10%

EPS

3.95

2.36

2.13

1.28

1.43

Growth

67%

11%

66%

-10%
This trend has continued into the most recent quarter ending March 31 (reported on April 23rd), with quarterly top line YoY growth of 15% and EPS growth of 52%.
Analysts estimate CMG to earn 5.85 in FY10, at it currently trades at $135.26, CMG has a forward P/E of 23. Many would argue that, although compared to the market this valuation is rich, it is justified by the company's growth. The PEG ratio of 0.38 (using a 60% growth rate) may seem to support this conclusion. However, I would conclude otherwise.
The Concerns
First, Apple Inc. (NASDAQ:AAPL) is trading at a 15.7x forward P/E and has EPS growth of 33%, bringing its PEG to 0.475, not significantly different than CMG.
Second, although EPS has been growing, part of the growth is due to CMG's stock repurchase plan. Between 2008 and 2009, CMG was authorized to repurchase $200M worth of class B shares. Although share repurchases demonstrates management's commitment to the firm and allows the remaining shareholder to share in a greater proportion of the earnings, it also skews the growth numbers when only EPS is examined.
Looking at total earnings, the growth rates seen in regard to EPS are tempered slightly.
Third and most important is the same-store sale. Chipotle's growth is almost entirely driven by the addition of new stores. In 2009 the company added nearly 120 stores and expects to do the same in 2010. However in FY09 CMG existing stores were only able to increase revenue by approximately 2% (4% in the most recent quarter). By comparison, Yum! Brands, Inc.(NYSE: YUM) reported 2% same store sales growth in the United States (although globally this number was negative, as CMG does not have a real presence outside the United States the US metric is the proper comparable).
Moreover, in large part, the same-store sales growth was due to an increase in price and not from driving new customers to the stores (the most recent quarter was more promising in this regard). Therefore, should prices stabilize the same-store sales growth may start to slide.
To be clear, the addition of each store adds approximately $1.5M of revenue to CMG's income statement, while existing stores, on a yearly basis will each add only between 30 and 50 thousand dollars.
These same store sales should be a waiving red flag that the growth is not sustainable. It took four years before the heard realized that Krispy Kreme Doughnuts, Inc.'s (NYSE: KKD) growth, which was attributable mainly to the opening of new locations, was unsustainable, and where KKD was able to maintain 10% same-store-sales growth in the year before its stock price deflated, the same cannot be said about CMG.
It took Dave Thomas 50years to build Wendy's to a 6,500 outlet franchise. CMG already has nearly 1000 stores; I can't explain why people believe this growth can be sustained. (remember as the number of stores increase a greater number of stores need to be added each year to maintain the current growth.)
I don't want to detract completely from CMG, the company has been doing a good job at increasing gross margin and reducing labour and other costs, but if you choose to buy CMG you are doing it for the growth, and one day, just like with CROX and with KKD, you will be surprised that the growth did not materialize.
To be clear, I am not suggesting CMG is a short, I am sure if you did this you'll get burned. CMG likely still has some legs to ride the growth honey train, but the train will run out of steam one day and any gains will very likely evaporate.
Disclosure: I am not long any stock mentioned in this article.
Editor's note: This article was originally posted as an Instablog on June 14th when CMG was trading at $150 and has been updated to reflect CMG's current price of $135.26.