Anybody who has suffered through a Beijing rush hour knows that China has gone car crazy. IBM's Commuter Pain Index has just rated Beijing's commute the worst in the world.
When I first went visited Beijing in 1983, swarms of bicycles thronged in the streets. Now, traffic jams have pushed bicycles to the margins.
So it's no surprise that auto sales in China have been booming. The global economic crisis has actually boosted sales. That's partly because of government subsidies that have encouraged trade-ins as a part of Beijing's economic stimulus program.
Just as important to the auto boom is China's ever-growing economy which continues to generate new wealth and new consumers.
The latest car sales figures are in and they are intriguing.
China's auto sales surged more than 30 percent during the first half of the year. Turnover topped seven million units, a new all-time high.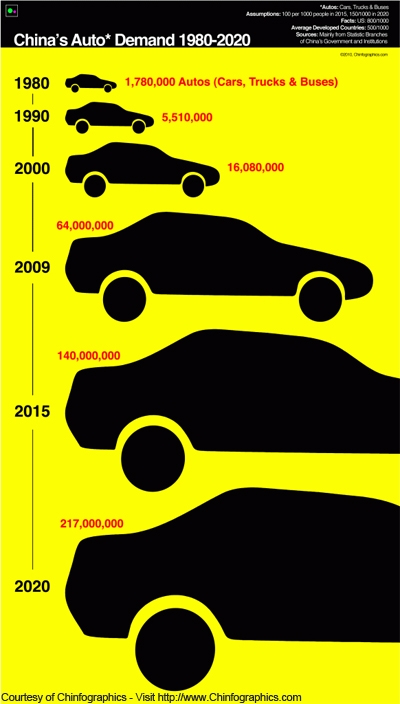 With these record sales figures, we're looking at companies that are making money. Some of the names will surprise you.
Winners and Losers
Not everyone is doing booming business in China's auto industry. The Wall Street Journal notes that some car dealerships have full lots. What's going on?
China's auto production is growing more quickly than sales. Although sales hit 7.18 million units during the first half, production sped up even more.
Factories ramped up output by a stunning 44 percent this year. Total production for the first half was 8.47 million units. That's a surplus of more than one and a quarter million cars!
Amazingly, new auto factories are still being built throughout China. If surpluses continue to grow, there will be some big losers in this battle for the Chinese market.
This year's winners will surprise some investors. Ford (NYSE:F) beat the averages by a mile with a sales increase of 53 percent!
A three-way joint venture called Changan Ford Mazda Automobile racked up first-half sales of 205,563 vehicles. That joint venture is a private company. Two other Ford Joint ventures sold another 113, 590 vehicles.
Just as impressive was GM. First half sales by GM's joint venture in China rose by almost 50 percent. For the first half, GM sold more than 1.2 million vehicles to the Chinese.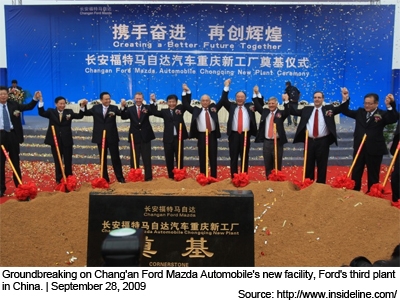 GM is such a success in China that its sales on the mainland have now soared past the U.S. GM sales in the United States were1.08 million during the first half, more than a hundred thousand units below Chinese volume. GM says this is the first time any overseas market has outsold GM's domestic market.
GM is expected to emerge from bankruptcy with an IPO near the end of the year. Fat profits from China could bolster its share prices. (GM's partner in China, SAIC, is traded only in Shanghai.)
Ford shares appear to be quite cheap considering the firm's rising sales. It has a P/E multiple of only 6.76.
Ford's PEG ratio is a dirt-cheap .40! A PEG is a Price to Earnings Growth ratio and anything below a figure of 1.0 is usually considered inexpensive.
Toyota's (NYSE:TM) sales gain was the weakest. First-half sales totaled 362,300 vehicles, up 27% from a year ago. Despite quality problems, Toyota retains a P/E multiple above 45 and a PEG of .80 and that means Ford is a much better buy.
Nissan's (OTCPK:NSANY) first-half sales totaled 330,573 vehicles, up 47%. Again, Ford is the cheaper stock.
Other Auto Plays
Chinese auto parts companies have delivered stunning returns during China's auto boom. China Automotive Systems (NASDAQ:CAAS) shares have risen almost 200 percent over the past year. Prices are still attractive as shares rise to a .92 PEG ratio.
Another contender is Sorl Auto Parts (NASDAQ:SORL) which has gained 117 percent over the last twelve months. Sorl is slightly cheaper with a lower P/E and a .73 PEG ratio.
The Chinese have embraced America's love affair with the car. The untapped market is still huge. But most western business media are focusing on a softening of June growth figures.
Take their pessimism with a pinch of salt.
Sales of all passenger cars in China increased by almost eleven percent in June. That's a decline from the May sales increase of 24 percent.
But keep in mind that these are year-over-year comparisons. China's car boom was really taking off in the spring of 2009. As sales boomed then, the rate of growth this year seems smaller because of the sky-high comparison figure.
When will the boom end?
Last year's growth spurt was touched off by a government subsidy program. Beijing has decided to extend the car-buying subsidy for another six months.
That should help ensure healthy auto sales in China at least until the end of the year.
Disclosure: No positions