Southwest Airlines (NYSE:LUV) recently completed its 41st consecutive year of profitability - a stunning number for any airline.
And following better-than-expected Q4 results in January, analysts revised their earnings estimates significantly higher for Southwest for both 2014 and 2015. This sent the stock to a Zacks Rank #1 (Strong Buy). Estimates have continued to climb as the company approaches its Q1 earnings release on April 24.
Southwest Airlines Co. is the nation's largest carrier in terms of originating domestic passengers boarded. Including AirTran (which it acquired in 2011), it operates the largest fleet of Boeing aircraft in the world, serving 96 destinations in 41 states, the District of Columbia, Puerto Rico, and five near-international countries.
Fourth Quarter Results
Southwest delivered solid Q4 results on January 23. Adjusted earnings per share reached a Q4 record of 33 cents, beating the Zacks Consensus Estimate of 28 cents. This was significantly higher than the 9 cents earned in the same quarter the year before.
Total operating revenues were also a fourth quarter record at $4.4 billion, increasing 6.1% year-over-year. Revenue passenger miles (RPMs), which calculates the number of miles traveled by paying passengers (# of paying passengers X distance traveled), rose 3.3%, while average passenger fare increased 5.4% to $156.05.
Southwest also reported solid results on the cost side as it "benefited from stable fuel prices, ongoing fleet modernization efforts, and rigorous cost control efforts," according to CEO Gary Kelly. The cost per available seat mile (CASM = operating costs / available seat miles), declined 3.1% to 12.68 cents.
For the full year, Southwest generated free cash flow of $1.0 billion. The company returned $611 million of that to shareholders through stock buybacks and dividends. It also reduced debt and capital lease obligations by $313 million.
Estimates Rising
Following strong Q4 results, analysts revised their estimates significantly higher for both 2014 and 2015, sending the stock to a Zacks Rank #1 (Strong Buy).
Estimates have continued to climb too as Southwest has reported encouraging monthly traffic statistics. Year-to-date, RPMs are up 1.7% as the load factor (RPMs / ASMs) has increased 2.2 points to 79.3%.
You can see the strong, steady rise in estimates in the company's "Price & Consensus" chart: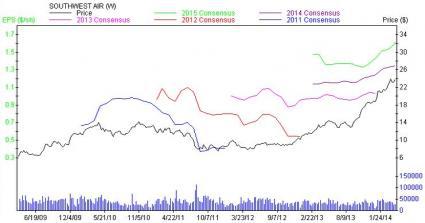 The current 2014 Zacks Consensus Estimate is $1.37, up from $1.24 ninety days ago. This represents 22% annual EPS growth. The 2015 consensus is now $1.62, up from $1.43 over the same period. This corresponds with 18% annual EPS growth.
Southwest is scheduled to report its Q1 results on April 24.
Reasonable Valuation
Despite the soft overall market, shares of LUV have soared 25% year-to-date. But the valuation picture still looks reasonable with shares trading at 16.5x 12-month forward earnings. That is a slight discount to its 10-year median of 16.9x. Its free cash flow yield of 6.2% is also above its historical median of 5.9%.
The Bottom Line
With strong earnings momentum, stellar growth projections, a history of profitability and reasonable valuation, shares of Southwest Airlines offer attractive upside potential.