Since I have been watching the litigation matter between ViaSat (NASDAQ:VSAT) and Loral (NASDAQ:LORL) ("the Viasat matter") unfold over the last two weeks, I added Echostar (NASDAQ:SATS) to my due diligence list because of its peripheral relationship to the Viasat matter.
At issue in the litigation is whether or not Space Systems / Loral ("SSL") breached certain intellectual property rights when SS/L manufactured certain of Echostar's next generation, high bandwidth satellites. While Echostar is not a named party in the litigation, there does exist certain competitive threats going forward depending on the outcome of the litigation in terms of providing high speed broadband satellite direct-to-consumers. Viasat and one of Echostar's subsidiaries, Hughes Communications, are direct competitors in this market.
The Business
Echostar is made up of three businesses, including:
Echostar Technologies which designs and manufactures set-top boxes for cable providers.
Hughes which provides high-speed satellite services in North America.
Echostar Satellite Services which leases capacity on its in-orbit satellites to commercial and government entities for broadcasting purposes.
Collectively, the operating businesses are a bit disjointed as a result of Echostar being spun out by Dish Network (NASDAQ:DISH) in 2008 to separate the set top box business. In the interim, Echostar acquired Hughes Corp. to market high-speed broadband and broadcasting services given Hughes constellation of in-orbit satellites.
To me, the set top box business and the high-speed internet / broadcasting businesses share little in common. Because of that, analyzing Echostar is difficult, but due to the disparate nature of the businesses, Echostar management does have certain ways to unlock value, including a spin off or asset sales.
In my view, the key to the Echostar investment thesis is the Hughes and satellite services offerings because of the large, total addressable market for each respective service. I understand millions of Americans in rural areas do not have access to high-speed internet from terrestrial providers given the economics of reaching small communities with fiber.
Because rural America remains unserved or underserved from a high-speed connectivity perspective, satellite operators such as ViaSat and Hughes are aggressively seeking to capture this market, which is characterized by high margin, recurring subscription income streams (from non-cancelable, long-term contracts). The growth in Hughes subscriber base sheds light on the market opportunity; subscribers grew to 860,000 subscribers, up 35% over the prior year. Viasat experienced similar growth, providing service to 620,000 subscribers, up 33%. I expect growth to continue at high rates given there is still a substantial unserved market in rural America for broadband services.
Valuation
After a recent pull back in Echostar shares, the company now is valued at $4.3 billion ($5.1 billion enterprise value).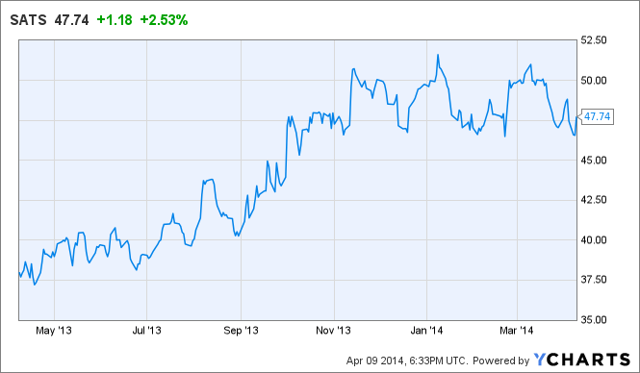 Given the high fixed costs of the satellite business, Echostar (like other competitors) possess significant operating leverage and take substantial depreciation and amortization charges due to GAAP accounting rules. Therefore, a traditional P/E analysis is less useful than an EV/EBITDA approach. On an EV/EBITDA basis, Echostar trades at 7.5x, a reasonable valuation for a company of this sort, but not cheap in light of certain obfuscating factors (discussed below).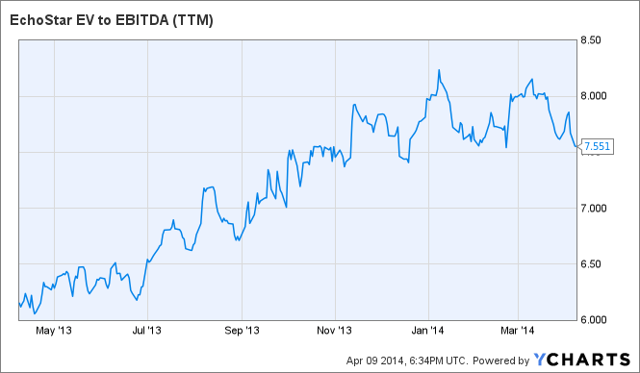 SATS EV to EBITDA (TTM) data by YCharts
However, I do believe there is substantial free cash flow opportunities with the Hughes' satellite internet business if it continues to scale at 20%+ subscriber growth rates (and if investors can accept Echostar as a "tracking stock" for the Hughes retail business).
To further illustrate the growth potential, I understand that Echostar is scheduled to launch Jupiter 1, the highest speed Ka band satellite in 2016 and which will cover large swaths of North America. With the increased pay load, the Hughes brand will continue to grow its capacity for additional subscribers.
Note that Echostar does have over $400 million in net operating loss ("NOL") carry forwards to which to apply to cash earnings going forward. This is a significant asset, and one that will likely be realized as Echostar scales its Hughes business.
Confusing Transaction, Shareholder Friendly?
In my view, shares of Echostar sold off in February partly due to a confusing series of transactions with Echostar's largest customer, Dish Network. Details of the transaction were laid out in the most recent conference call (transcript courtesy of Seeking Alpha):
We agreed to a series of transactions with DISH Network effective March 1, 2014, in which we will receive 5 of DISH's currently owned satellites, namely EchoStar I, VII, X, XI and XIV, in exchange for shares of newly created preferred tracking stock representing 80% of their economic interest of the retail satellite consumer broadband business of Hughes.

EchoStar will retain ownership of all assets associated with delivery of Hughes satellite broadband services, including Spaceway 3 and EchoStar XVII. And Hughes will continue to manage and control the day-to-day operations of the broadband business going forward, just like today.

We have entered into long-term operating leases for transponder service to DISH on the 5 satellites that we will receive in this transaction. The satellites we are receiving are already managed by us -- by our ESS organization and along with other satellites that DISH is retaining. So we have really no operational risk and no real incremental challenges in integrating them into the fleet.

This transaction is consistent with our strategy of increasing the scale of our satellite service business with high-margin revenues, while continuing to benefit from the growth of the satellite broadband business. It will provide an immediate boost to our cash flow to allow us to further pursue other strategic objectives.
The idea, as far as I can tell, is to separate out the wholesale and retail segment, each of which has a different margin structure. To that end, the "tracker stock" is meant to illustrate purely the higher margin retail segment; meanwhile, allowing the tracker stock to absorb the subscriber acquisition costs that are typical of a retail service. While the financial disclosure is difficult and caused ambiguity, it does seem that management has some rationale for the transaction - to create greater transparency. However, the risk here, is that Echostar gets put in the "too hard to analyze bin." Given the current valuation, I don't see a compelling reason to own these shares at these levels while the details of the "tracker stock" become more well-known.
Conclusion
Shares of Echostar look more or less fairly, but recent deals make the business harder to analyze and call into question investor transparency. We know that Dish and Echostar are controlled by Charlie Ergen, which, in turn, calls into question the motivation for the transactions.
While there are some growth opportunities from international expansion, it is hard to model the outcome of such growth. Recently, Echostar and Vivendi (OTCPK:VIVHY) ended talks regarding a pay-TV broadcasting tie up in Brazil. One has to wonder if Vivendi will put its GVT asset on the sale block again, and if Echostar would be a bidder (as it was rumored to be when Vivendi was shopping the asset in 2012).
In addition to confusing transactions, there do exist potential negative catalysts for Echostar with respect to the Viasat matter that could impact the competitive dynamics between the companies. Because of that, I'm staying on the sidelines and remain more interested in Loral as an event-driven idea, but not without its own risks.
Disclosure: I am long LORL. I wrote this article myself, and it expresses my own opinions. I am not receiving compensation for it (other than from Seeking Alpha). I have no business relationship with any company whose stock is mentioned in this article.